Jeep Joins Forces With AM General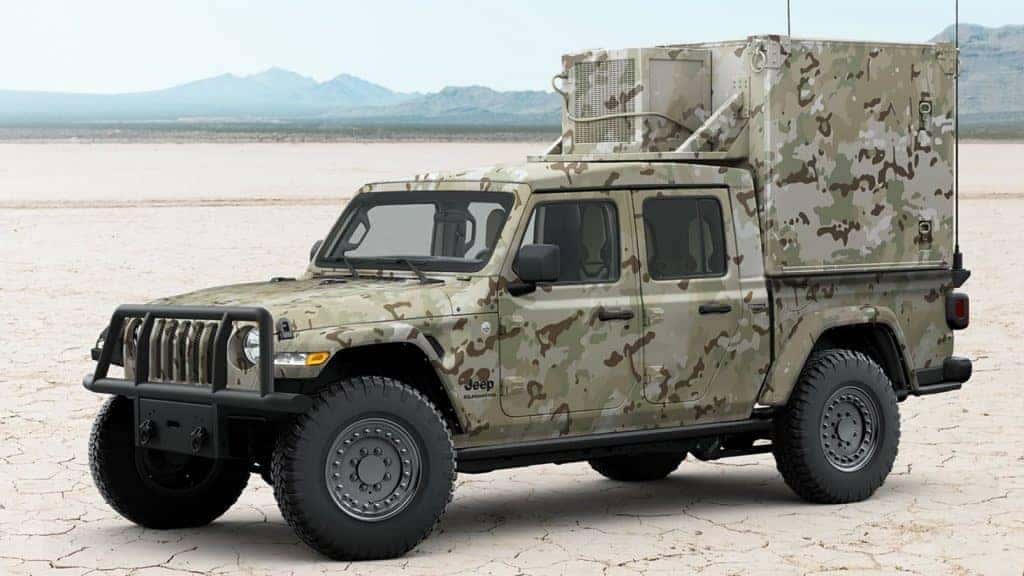 Jeep has teamed up with an unlikely ally to build a new war machine. AM General and Jeep united to create a military-spec variant of the all-new Jeep Gladiator, calling it "Gladiator XMT" for Extreme Military-Grade Truck. As the company behind the Humvee, Indiana-based AM General knows a thing or two about military vehicles. Just like Jeep, AM General traces its history back to World War II as a company that started off making military vehicles and eventually spawned civilian vehicles like the Wrangler and Hummer. Funnily enough, both brands are actually descendants of Kaiser Jeep, so the fact that they've now joined one another is like a big reunion of the two brands.
After taking notice of the Gladiator's capabilities, AM General approached Jeep and proposed to turn the pickup into a Light Tactical Vehicle. With its rugged 4×4 drive-train, very high payload, and impressive towing capabilities for a midsize pickup, the Gladiator was a shoo-in. Although exact specifications haven't been detailed, AM General debuted the concept Gladiator XMT at the Association of the U.S. Army's annual exposition. The exposition serves as a place where manufacturers expose a combination of commercially available parts and custom military equipment, with the focus placed on troop transport and communications. This isn't the Jeep brand's first rodeo when it comes to offering modern military vehicles as the brand offered the J8 — a military variant of the previous-generation Wrangler SUV — to foreign dignitaries in 2008.
"The Gladiator XMT, if pursued, would be offered worldwide but with a clear focus on providing a cost-effective solution to the U.S. military in a number of possible roles. We would expect the Gladiator XMT to be used for logistics and support, command and control, border security and peacekeeping activities. However, its flexibility and exceptional performance will make it suitable for a variety of additional military and governmental roles," said a Jeep spokesperson.
AM General is confident it could begin filling orders as soon as next year. It's not farfetched to think that the Gladiator XMT could become a standard fixture in military scenarios around the globe within the coming years. The civilian (and all-new) Gladiator has a starting MSRP of $35,040 (plus destination fee). It's been enjoying a lot of success since it finally launched — with a limited quantity of launch edition Gladiator pickups — this past Spring.
VisitMiami Lakes Automalland get yourself acquainted with the all-new 2020 Jeep Gladiator. If you're looking for a pickup that puts the fun in function, then look no further. Schedule your test drive today!
Photo Source/Copyright: Fox News
Previous Post The Multifaceted Jeep Cherokee Next Post Jeep Brings the Compass Model to the Melfi Plant