Best Parts and Accessories for the 2021 Jeep Wrangler 4xe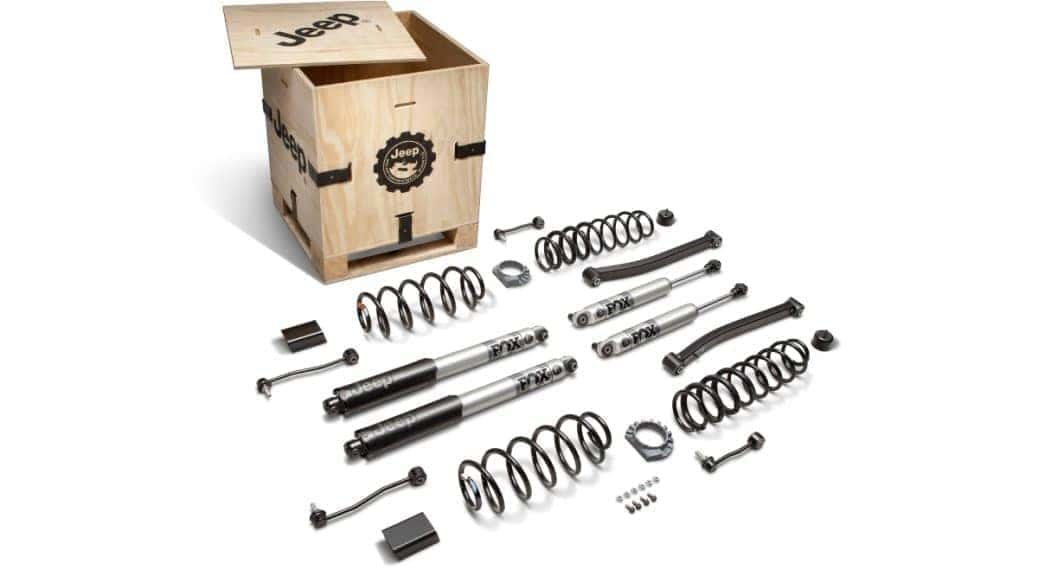 The 2021 Wrangler 4xe is coming in hot, ready to redefine what an eco vehicle should be. A hardcore off-roader, the Wrangler 4xe softens its impact on nature with a plug-in hybrid powertrain that retains all of its go-nearly-anywhere prowess. With its added efficiency and near-silent operation, the 2021 Wrangler 4xe is the perfect choice for those wanting to drive off the beaten path. Whether prospective buyers want more capability or a dash of personal style, Mopar and Jeep Performance Parts (JPP) covered all bases with their introduction of new performance parts and accessories for the Wrangler 4xe.
Available via the Mopar eStore, parts and accessories run the gamut from all-weather floor mats to a new front bumper, a molded cargo tray, a reinforced swing gate, and everything in between. The most important accessory or part introduced by Mopar and JPP is arguably the 2-inch suspension lift kit — a first for a plug-in hybrid Jeep — that retails at $1,495. Kit components include four springs, FOX shock absorbers, a bucket of fasteners, new stabilizer bar links, and more — all packaged in an exclusive wooden crate.
Another important accessory that lets owners of the 2021 Jeep Wrangler 4xe take full advantage of their vehicle is an at-home charger. To maintain 21 miles of all-electric range, Mopar currently offers buyers two different choices of 240-volt at-home chargers, including the HCS40 model that retails for $621.50 and is designed to be hardwired, be it in the owner's property or garage. The pricier HCS40P model retails for $647.90, but the _ P _ in its name alludes to it being portable. Additional accessories and parts to highlight are much more traditional in nature, including new rock rails designed to protect the lower part of the Wrangler from rocks or other jagged terrain.
Jeep also offers a set of tube doors compatible with the Wrangler 4xe. It'll be $1,195 to complete Jeep's open-air driving experience, the durable doors not only look fierce, but they should also last a lifetime. Durable 2-inch steel tubing that's designed exclusively to match the fit as factory-installed doors make open-air off-roading a breeze. Another important accessory is the available JPP Warn winch. Both waterproof and entirely submersible, the winch can help off-roaders out of the stickiest situations, especially while on the trail. The winch has a rugged three-stage finish that adds to its long-haul durability — it's essentially a spool of 100 feet of synthetic rope.
There are many other parts and accessories available for the 2021 Wrangler 4xe; explicitly designed to take this already-capable off-roader to new heights. Like every other Wrangler trim, the 4xe is Trail Rated and comes standard with solid front- and rear-axles that give it up to 30 inches of water fording. The plug-in powertrain has an incredible 470 lb-ft of torque — the highest figure of any current Jeep Wrangler trim, and the secret touch while out on the trail.
Learn more about how you can plug and play with the Jeep Wrangler 4xe from our dedicated staff here atMiami Lakes Automall. Follow Miami Lakes Jeep on social media to be the first to know when the SUV arrives at our lot. In the meantime, if you're looking to get familiar with the features the latest Jeep Wrangler has to offer, check out the Jeep Wrangler inventory atMiami Lakes Automalland get behind the wheel today!
Photo Source/Copyright: Stellantis
Previous Post Jeep Grand Cherokee L vs Wagoneer: Which One's Right for You? Next Post 2021 Jeep Grand Cherokee Highlights