All-New 2020 Gladiator is Ready for Battle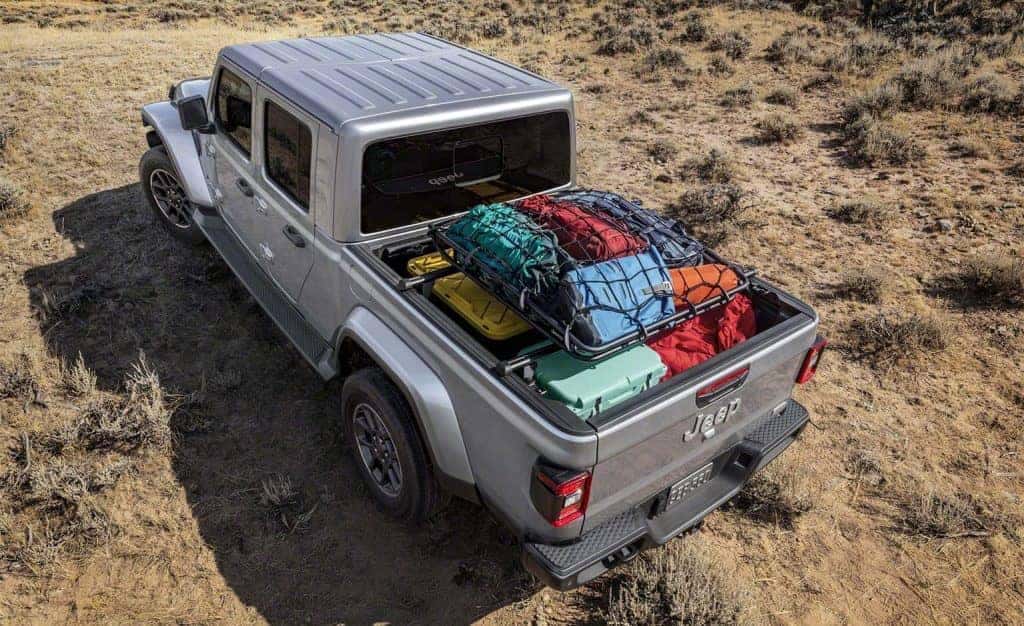 On average 1,400 midsize pickups are sold per diem in the U.S, but until now none of them can offer removable doors. In just a few weeks, the Jeep Gladiator will enter the market to fill that small (but noteworthy) gap. The all-new Gladiator represents Fiat Chrysler Automobiles' (FCA) and Jeep's first venture into one of the industry's hottest segments after a 27-year absence. Drastically different from all rival trucks, the long-awaited Gladiator offers much more than removable doors.
Not only does the Gladiator have removable doors, but it also offers a windshield that folds down and a hard top that comes off so that Jeepers can continue to enjoy motoring en plein air. The tailgate has a cool feature where it can be locked at a half-lowered position to support a stack of plywood. A manual transmission is also standard, a rarity these days when it comes to the midsize pickup segment.
Eric Lyman, an analyst from the _ TrueCar _ publication, recently said "There's nothing like it out there. A lot of people are going to look at it and say, 'Wow, that's the coolest truck I've ever seen."
Jeep designers and engineers seemingly snuck a bunch of left-field ideas onto the assembly line – ideas that make the rest of the pickup industry pale in comparison. Several factors, such as cost-saving measures that stem from consolidation and changes in regulation are some of the biggest influences when it comes to pushing the envelope in terms of design and capabilities.
The Gladiator serves as an aesthetic antidote for all the parking lots that are riddled with generic pickups. "A lot of these trucks are interchangeable – not necessarily different other than the sheet metal. We sweat the details on how to package and deliver something that's different and unique. Those little nuances I think are really what's going to set it apart," said Scott Tallon, head of Jeep marketing.
Fun bits aside, the Gladiator can also check the boxes of any standard truck expectations as well. Its standard engine – a 3.6-liter Pentastar V6 – is capable of generating 285 horsepower and can tow up to 7,650 pounds. The bed of the pickup is sturdy enough to sustain a weight up to 1,600 pounds, while the interior offers numerous locking cargo bins and plenty of gear ties. Jeep will have to get creative when advertising the Gladiator if it intends to convince prospective buyers and steal market share from other direct competitors.
One specific competitor is the Toyota Tacoma, a pickup that has dominated the midsize pickup game for decades. While Toyota has been dismissive so far when addressing the looming competition, FCA does expect 15 percent of the consumers looking to buy a Jeep Wrangler SUV will ultimately opt for a Gladiator instead. Additionally, about 10 percent of current Jeep owners trade in their SUV for a pickup truck each year, likely increasing the demand for the Gladiator.
TrueCar's Eric Lyman believes that the Gladiator will eventually take a large number of customers away from other truck brands. Apparently, there's quite a big group of people who genuinely desire a truck but can't justify the cost, but the Gladiator might be the one to convince them to take the plunge. "It's functionality for fun's sake and that's going to appeal to a certain buyer. It doesn't come with some of the baggage of a full-size pickup truck," Lyman said.
Browse the 2019 Jeep Wrangler inventory near Brickell at Miami Lakes Automall if you'd like to see the kind of vehicle that inspired the 2020 Gladiator before its inception. Follow Miami Lakes Jeep on social media to stay up to date with the latest Jeep news – especially if you want to be the first to know when the all-new 2020 Jeep Gladiator is available.
Photo Source/Copyright: Jeep
Previous Post A Three-row SUV Will Soon Join the Jeep Lineup Next Post Jeep Introduces the 2020 Gladiator Launch Edition