2015 Jeep Renegade vs. 2015 Chevrolet Trax | Jeep Dealer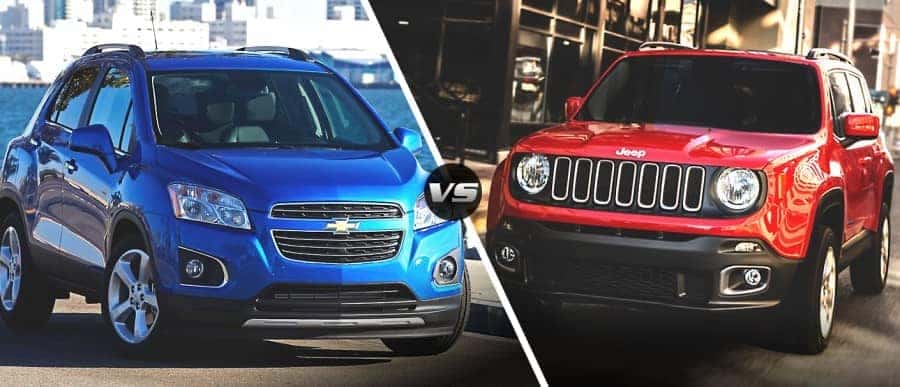 From the way things are panning out, this year may be remembered as the battle of the small SUVs. With efficiency improving so rapidly, consumers are opting away from sedans and into the versatility of compact crossovers.
And that trend has been a catalyst for a number of automotive producers who have developed new lineup additions to meet their customer's ever-growing demand for something big but small.
Jeep is no exception. Their Renegade will make its debut at your local Jeep dealer in 2015, and many people are calling it the "gateway Jeep." Though it holds onto the brand's classic design and off-road focus, it also brings in new elements.
It's designed to be stylish and nimble enough for city dwellers and confident enough for hitting the trails on weekends. Straddling different sections of the market, the Renegade has appeal for a diverse crowd.
But how does it stand up against the flood of compact SUVs that are also arriving for this model year? Well, when you hold it up against other new entries, like the Chevy Trax, it doesn't take long for its strengths to steal the spotlight.
Getting Some Attention
While the Chevy Trax tends to blend in with its competitors, like the Nissan Juke, Jeep has given the Renegade a sportier, more unique design that will have people looking twice.
It's classic but modern, rugged but sophisticated. Instead of a bulbous appearance, the Renegade has trimmer lines with definition.
It's also designed to bring a little more adventure into your life. With the My Sky dual-panel roof, you can let the sunshine in and enjoy your drive even more.
Packing It Up
Because the Renegade just calls for taking a trip, Jeep has given it plenty of space for passengers and stuff. With the seats folded, it has 50.8 cubic feet of room for cargo.
You get that little bit of extra space to play with, versus in the Trax, which only has 48.4 cubic feet to offer. Plus the Renegade has a vey low cargo floor, making it easy to load and unload.
Whether it be luggage, shopping bags, or outdoor gear, the Renegade provides the space you need to have absolute freedom.
Hitting the Road
This Jeep is also a blast to drive. Its turbocharged engine delivers 160 horsepower and 184 lb-ft of torque, so it maneuvers quickly and agilely.
Though the Trax makes an effort to put some pep in its step, it only furnishes drivers with 138 horsepower and 148 lb-ft of torque.
Coming in at around the same price point, it's clear to see that the Renegade offers a lot more fun and flexibility than the Trax.
It's no wonder experts are already predicting that Jeep's all-new model is going to be a consumer favorite as soon as it arrives.
Previous Post What's New for the Jeep Grand Cherokee SRT in 2015? Next Post Why You Should Get Your Next Jeep Before New Year's