The New Red, White, and Blue: Drive the Dodge Stars & Stripes Edition Muscle – Miami Lakes Automall Dodge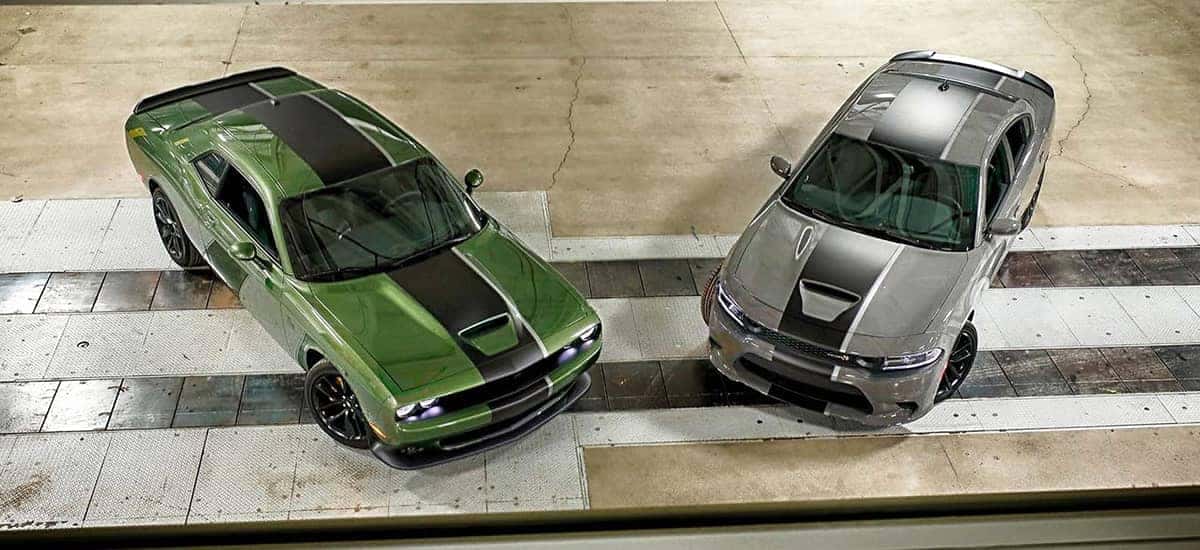 All-American Performance: Dodge Salutes U.S. Armed Forces with Stars & Stripes Edition on Challenger and Charger
Dodge is welcoming service members and fans of the military to get a taste and sneak-preview of their all-new Stars & Stripes special edition package. The special edition package will be available for both the 2019 Dodge Challenger and Dodge Charger models. These prized muscle cars are going to be first shown at the 2019 New York International Auto Show opening on Friday, April 19th through Sunday, April 28th, 2019. Dodge declared their Stars & Stripes special edition vehicles will be available to reserve in May 2019 and hit dealerships nationwide later in the summer.
*Step Into the Stars & Stripes Package *
The Stars & Stripes package will provide these muscle cars with a detailed and polished look. The color choices are not the typical American red, white and blue, but instead, Dodge has given these vehicles a robust military appearance with the green and silver body color display. Each model will come with various aesthetic interior upgrades, including gloss black interior accents, unique black-on-black cloth seats. Dodge added an embroidered bronze star, a bronze instrument panel, and sharp bronze stitching into the whole interior. This is a vehicle that any military service member should consider, especially if they want some pure muscle car fun with each drive. The distinctive feature is a long matte, satin black and silver accent stripe that stretches across the middle of the vehicle. Many will note the American flag fender decals and 20-inch gloss black wheels, black badging and the fact this package isn't for the base trims on either vehicle.
"We have a strong following of buyers who are in the military, as well as many buyers who are patriotic," Steve Beahm, Fiat Chrysler Automobiles (FCA) Head of Passenger-Car Brands.
Feel the Awesome Power of Dodge Muscle
Customers can't go wrong with either vehicle they decide on. The 2019 Dodge Charger is the fastest-sedan muscle car available today, and the 2019 Dodge Challenger presents a two-door experience that is comparable for owners. Both vehicles offer extraordinary speed, high-performance engine power and an outstanding ride to enjoy. The GT trims carry the well-known and trusted Pentastar 3.6-Liter V6 engine that produces 300 horsepower and 264 lb-ft of torque for the 2019 Charger and 305 horsepower and 268 lb-ft in the 2019 Challenger. A step up from the GT are the R/T trims, which have the mightier 5.7-Liter V8 engine that outfits 375 horsepower and 410 lb-ft of torque for both the Challenger and Charger. The Scat Pack trim combines the even more notable strength as the powertrain supplied is a 6.4-Liter V8 that drives up to 485 horsepower with 475 lb-ft of torque for both vehicles. Now that's some serious muscle any Dodge fan can enjoy.
Select Special Edition Pricing
For those considering this special edition package, the Stars & Stripes edition is available for an extra $1,995 for the following models: 2019 Dodge Challenger R/T Scat Pack and Charger Scat Pack; 2019 Dodge Challenger and Charger R/T models; and 2019 Dodge Challenger and Charger GT RWD models. Good news for any active or retired military service members, Dodge will offer a $500 military bonus cash incentive on select purchases and leases. This discount is available thanks to the FCA Honoring Those Who Serve program. When contemplating if either the Dodge Challenger or Dodge Charger is a perfect choice, we know where you can go to test them out and be better informed.
Want Dodge Muscle Cars? We Have'em!
When you come to Miami Lakes Automall , we treat our customers with respect and courtesy. We are proud to offer the 2019 Dodge Charger and 2019 Dodge Challenger . For phenomenal customer experience, visit us today. We appreciate our customers time and strive to assist our customers with any buying, leasing, selling or trade-in suggestions you have. Our sales professionals are here every day and can't wait to help you out.
Allow our well-trained service team to fix or service your current vehicle. Been in an accident lately ? We are capable of working nearly any job with an online appointment . Come to visit us today; you'll be glad you did!
Previous Post Dodge Durango Remains Ahead of the Competition Next Post The Dodge Challenger Scat Pack 1320 Named Drag Strip Worthy