Don't Forget To Do These 3 Things When Towing Your Boat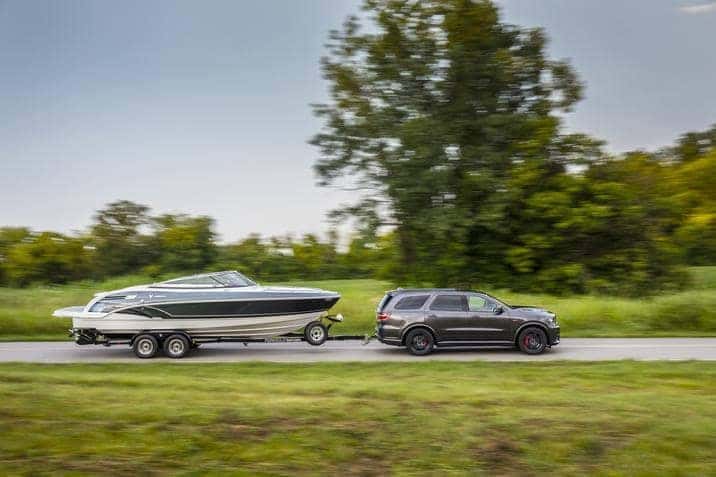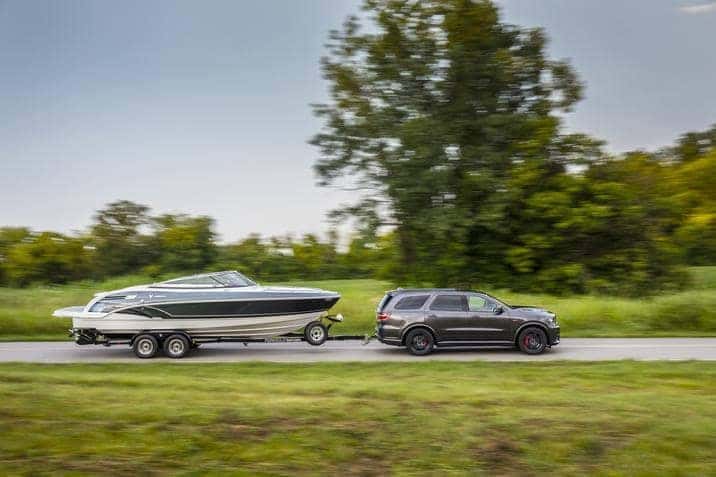 Boats are a lot of fun, but they come with a lot of responsibility, especially if you need to tow your boat to the water each time you want to use it. While the Dodge Durango has excellent towing capabilities (best-in-class towing capacity of 8,700 pounds) and convenient towing features, there are still a lot of things drivers need to remember each time they tow their boat to the water!
When Towing Your Boat to the Water, Don't Forget To:
*Know the Numbers Before Buying *
It doesn't matter whether you bought the boat or your tow vehicle first, but when it comes to buying the second item (boat or vehicle), you better make sure it is compatible with the first item you bought. For example, if you already have the vehicle you plan to tow with and you know its towing capacity is 8,000 pounds, don't buy a boat that weighs 8,000 pounds when it is out of the water! In addition to the weight of the boat trailer, stocking up the boat with ice, water and fuel adds a lot of weight to the boat and that could exceed the safe amount of weight your vehicle can tow. On the other hand, if you already own the boat and you need to buy a vehicle to tow it, make sure you know the weight of the boat and trailer so that you can make an educated decision on which capable tow vehicle to buy.
*Secure Items in the Boat *
When it comes to towing your boat to the boat ramp, your responsibilities start before you even leave the house. Before you leave with your vehicle and boat, be sure to check that all of the items in the boat are secured so they won't fly out! Not only is it really expensive to replace things like floats and cushions, it is also really dangerous for large items like that to fly out of the vehicle while on the road!
*2 Essentials *
There are two very, very important things drivers need to do right before heading down the boat ramp to get the boat in the water, and all too often, they are forgotten. Don't forget to put the drain plug in and don't forget to engage all-wheel-drive or four-wheel-drive. If either of those steps are forgotten, a driver has a really good chance of sinking their boat or their vehicle!
Towing Power of the Dodge Durango
The Dodge Durango offers best-in-class towing capabilities. New to the 2018 model year is the 2018 Dodge Durango SRT and it is equipped with a 6.4-liter HEMI V8 engine that produces 475 horsepower and 470 lb-ft of torque, which is enough power for the Durango SRT to tow up to 8,700 pounds. A step below the 6.4-liter engine is the available 5.7-liter engine and it produces 360 horsepower, 390 lb-ft of torque and gives the Durango a maximum towing capacity of 7,400 pounds, which is also best-in-class. The third available engine option is a 3.6-liter V6 engine and though it is the smallest on the lineup, it still has a great towing capacity. The 3.6-liter engine produces 290 horsepower, 260 lb-ft of torque and helps the Durango achieve a maximum towing capacity of 6,200 pounds.
In addition to powerful engine options, the Durango is also a great vehicle for towing because it has some helpful features. The 2018 Durango is available with a rear mounted camera that provides clear video of the items being trailered behind the vehicle, which is super nice when you are a little worried about how everything is going while you are driving. Secondly, the Durango is available with all-wheel-drive that has a low-range transfer case which helps ease certain maneuvers like pulling a boat up a steep launch or backing up with a trailer.
* Interested in a 2018 Dodge Durango ? Come by Miami Lakes Dodge to check out our available selection of Dodge Durango models . We have everything from the base trim to the all-new Durango SRT. We are open seven days a week, so come by and test drive them today! *
Previous Post No Production Car Has Ever Been Built Like the Dodge Challenger SRT Demon Next Post History Review of the Dodge Charger and Dodge Challenger