The Dodge SRT Demon Pricing Announced by FCA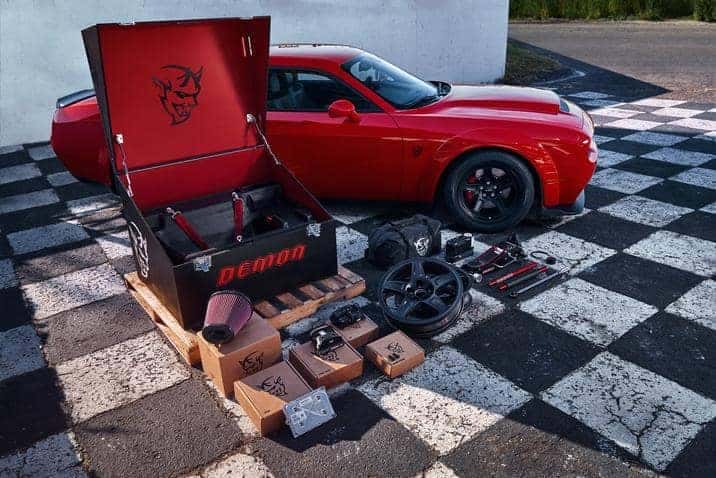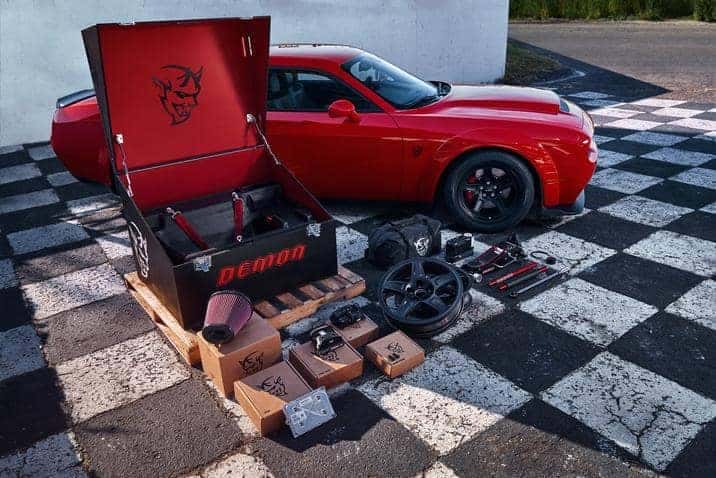 Just when you think the hype about the SRT Demon is dying down, Dodge is like "Naw, we just getting started." We covered the Demon pretty in-depth not too long ago, with a page on Dodge Challenger SRT Demon performance , but this next bit of news will shock everyone. Seems that the new 2018 Dodge Challenger SRT Demon, more powerful than the SRT Hellcat, will actually only cost $20k more than its predecessor to own. The starting MSRP is $84,995; with all the goodies in the Demon, that's a steal.
Anyone who's been following the SRT Demon already knows the kind of power it's packing. With the highest horsepower V8 production car engine ever made, the starting output is 808 horsepower and 717 lb-ft of torque. We say starting, because with the Demon Crate (see below), you can get the most out of the Demon, a whopping 840 horsepower and 770 lb-ft of torque. Able to accelerate from 0-60 mph in 2.3 seconds, and covering a quarter mile in 9.65 seconds, it's almost hard not to opt in for that little extra. Before we dive into it though, check out what comes standard on the 2018 Dodge Challenger SRT Demon.
Standard Features
Under the hood is the supercharged 6.2-liter HEMI Demon V8, paired to a TorqueFlite eight-speed automatic transmission with factory-production car exclusive TransBrake. The TransBrake can be used by the driver to rev up the engine and then release for that wheelie-popping launch, along with Torque Reserve that delivers a little extra oomph in all the right ways. With the largest functional hood scoop of any production car (45.2 square inches), the Air-Grabber induction system sucks in the the most air possible to burn through the Demon's engine. With all that fuel and air burning, the engine needs to keep cool, and that's why Dodge installed a factory-first, an innovative SRT Power Chiller liquid-to-air intercooler chiller system. This reroutes some of the power of the air conditioner system as part of the air intake to keep the engine cool.
All that power is brought to a stop with a Brembo lightweight high-performance brake system with two-piece rotors. After each run, an After-Run Cooler, another factory first, helps the SRT Demon cool down by running the cooling fan and the low-temperature circuit coolant pump after engine shutdown. Basically, the Demon will always be ready for another run on the track. It all rides in on 18-inch lightweight aluminum wheels, wrapped in street-legal drag radial tires designed and developed for the Challenger SRT Demon alone. Plus, enjoy a smooth ride with the SRT Demon-tuned three-mode Adaptive Damping Suspension (ADS).
Inside, there's only one seat, trimmed with premium cloth and Ballistic II inserts with a silver embroidered Demon head logo. For those of you who prefer manual shifting, you'll be welcomed by a flat-bottom SRT Performance steering wheel wrapped in Alcantara suede with paddle shifters. A serialized dash plaque and Dark Brushed II interior accents add a little class, and for just enough beats, a two-speaker system comes standard. For personalization, the 2018 Dodge Challenger SRT Demon will be available 15 exterior colors: B5 Blue, Billet Silver, Destroyer Grey, F8 Green, Go Mango, Granite Crystal, Indigo Blue, Maximum Steel, Octane Red, Pitch Black, Plum Crazy, Redline, TorRed, White Knuckle, and Yellow Jacket.
Unleash the True Power of the Demon
Looking for a little more bang for your buck? Who wants the standard power of the SRT Demon after all that talk about 840 horsepower, right? Or maybe you'd like to ride around with some friends and jam out a little more. Well, you're in luck. A little more power and a little more comfort comes cheap with the Challenger SRT Demon.
Want all the power you can get? Opt in for the Demon Crate, for just a single dollar. It includes direct connection performance parts such as two narrow, front-runner drag wheels; a performance powertrain control module with high-octane engine calibration; a replacement instrument panel switch module with a high-octane button; a personalized ID badge with the buyer's name; a conical performance air filter; two valve stems; a passenger mirror block-off plate; and is personalized with the VIN and serial number. The crate also includes a hydraulic floor jack with carrying bag, cordless impact wrench with charger, torque wrench with extension and socket, tire pressure gauge, and a fender cover. All of this fits into a nifty tool bag – stow it away, along with the front runner wheels, in a foam case that fits into the Challenger SRT Demon trunk.
Now let's look at the comfort options, each priced at $1. You can install a cloth rear seat, a leather rear seat, a front passenger cloth seat, and carpet for the Demon's trunk. The rest of the goods will cost a pretty penny, with a simple styling choice of red seat belts going for $195. Here's what you're looking at for primo options.
– $1,595 gets you the Leather Front Seat Group with Laguna leather and Alcantara suede covered seats with an embossed Demon head logo, front passenger seat, heated and ventilated leather front seats, a heated steering wheel, premium floor mats, a power tilt/telescoping column, and bright pedals.
– For a better sound system and comfort without the leather trim, $995 opens up the Comfort Audio Group, with cloth seats, a front passenger cloth seat, an 18-speaker Harman Kardon Audio sound system (including two subwoofers and a 900W amplifier), premium floor mats, and bright pedals.
– Or you can get all of the above for $2,495 (listed as Comfort Group).
– If it's all about style, you can get a painted Black Satin Hood for $1,995 or opt in for the Painted Black Satin Graphics Package, available with all 15 exterior colors, it includes a satin black painted hood, roof, and decklid for $3,495.
– And for those of you who just need a little fresh air, get a power sunroof for $4,995.
Yeah, it all may seem a little steep, but keep one thing in mind. Only 3,300 models will be made, and 3,000 units are for the U.S., 300 for Canada. Production starts this summer, and deliveries begin in the fall. You either get the 2018 Dodge Challenger SRT Demon, or you don't.
*These colors won't be available until later in the year
* Photo Source/Copyright: FCA US Media *
Previous Post Brotherhood of Muscle Next Post Dodge Durango Brass Monkey is One Funky Monkey