Dodge Premieres Final "Last Call" Muscle Ride – Miami Lakes Automall Dodge Dodge Premieres Final "Last Call" Muscle Ride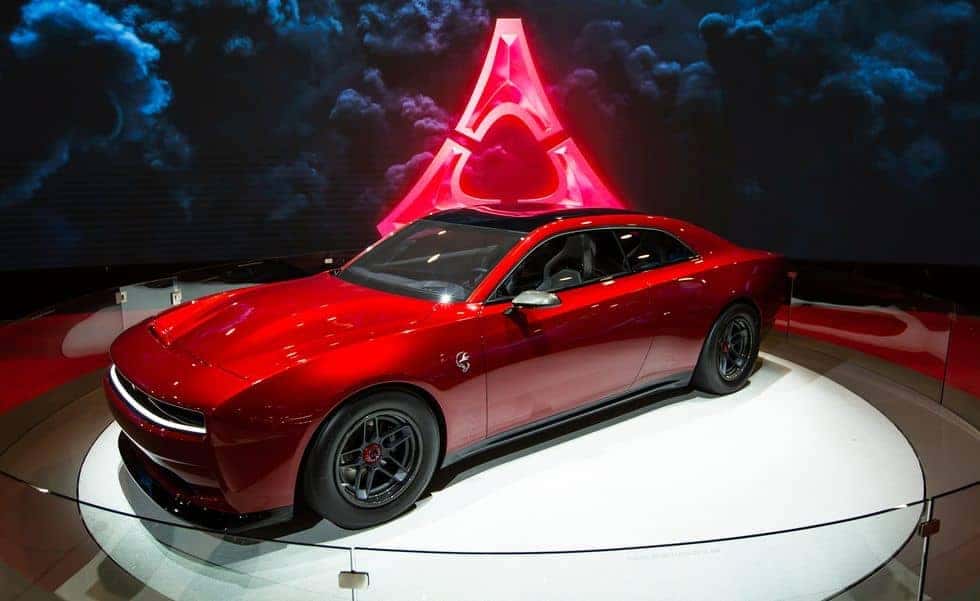 The Dodge Charger is virtually through as we know it, with 2023 set to be its final model year and a slew of special editions beckoning the Charger and its Challenger brother out the door. The replacement for Dodge's muscle cars will be electric, and Dodge has been busy prepping its V8–loving fanbase for a gas-free future with the Charger Daytona SRT concept that debuted back in August. Now Dodge is trotting its athletic concept again for the 2022 SEMA show with a few updates, popping off with power outputs from the wicked 400-volt electrical system. This is the final showcase for the * "Last Call" muscle car rollout Dodge began earlier this summer * .
Last Minute Change
While Dodge hasn't clarified how many electric motors the Daytona Charger SRT holds, the automaker has now shown us a lineup of power levels for the concept. The lowest trim—called 340 for the power output in kilowatts—makes 455 horsepower, while the next step up, the 440, brings 590 ponies. However, both examples offer two horsepower upgrade options, called eStage 1 and 2, as over-the-air purchases from Dodge's Direct Connection arm. The base trimcan be boosted to 495 or 535 horsepower, while the second tier can be pushed to 630 or 670 horsepower. Dodge also says that the most powerful model will be dubbed the SRT Banshee and will include an 800-volt electrical system, but the company is still quiet on the exact power output for this range topper. This ride will top even the * all-new King Daytona Charger * .
What This Looks Like On the Production End
Dodge also hasn't said how these trims will decode to production, with the Daytona SRT still officially a concept, but given the tons of thought Dodge has already put into this ride, we wouldn't be surprised if a similar lineup eventually reaches customers. The Banshee will also offer Direct Connection upgrades, and the upgraded trims will feature a "crystal" key (Dodge used quotes, so we presume it won't be a genuine crystal).
The revised concept at SEMA is characterized by its Stryker Red paint color as well as "Stage 2" badges on the fenders and 18-inch carbon-fiber wheels wrapped in 305-mm drag radial tires. Dodge will also use the SEMA show to get feedback from attendees on the concept's Fratzonic Chambered exhaust system, which Dodge says raises the hum of the electric motors up to a clamorous 126 decibels, although we envision this will be lowered down for the production car due to noise laws in some states. Dodge saw a 22% growth from this past third-quarter compared to the same time in 2021 . The seventh and final "Last Call" edition will be displayed live during the 2022 SEMA show. How's that for impressive?
Something Exciting Comes Your Way
Get ready to make heads turn with our strong muscle line-up of new Dodge Charger and Dodge Challenger models. Our sales staff is ready to help with any leasing, buying or trade-in options. At Miami Lakes Automall , we're more than excited to help our customers, we're thrilled. Looking for a new option to buy or lease? Take a look at our new vehicle inventory or our quality pre-owned vehicles .
We can help sell your current vehicle or bring it back to life like new with an online service appointment to our service center. Allow our professional techs to get started on all repairs or maintenance work. We're here to help with any financial help, needs or suggestions to help make paying for a vehicle easier. Stop by right now and see what we can do for you right now.
Previous Post Dodge Offers 14 Color Wrap Body Color For All Challenger Models Next Post Santa's Sleigh Might Be the 2023 Dodge Durango