Dodge Hornet May Return To Add Variety To Dodge Line-up – Miami Lakes Automall Dodge Dodge Hornet May Return To Add Variety To Dodge Line-up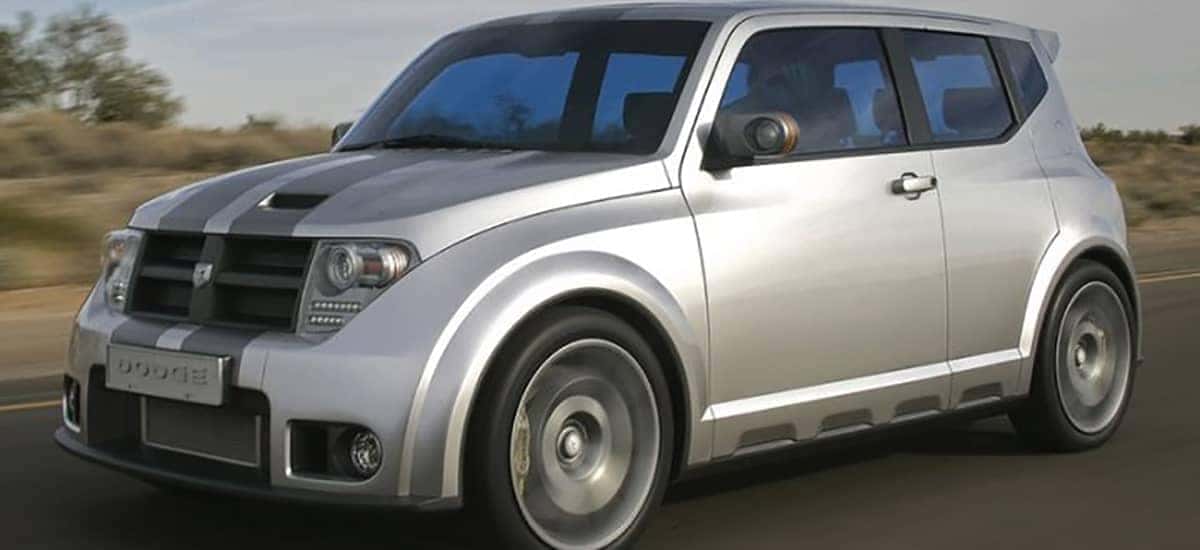 Photo credit: Dodge
Dodge may introduce a throwback nameplate in an upcoming vehicle due out later this decade. Fiat Chrysler Automobiles (FCA) has filed for trademarks of the "Dodge Hornet" and "Hornet". When our readers think of the Dodge brand, we're sure they will come up with the Dodge Charger or Challenger. Dodge enthusiasts are not only fans of the muscle cars in the line-up but have love for the Dodge Durango, which also offers an SRT trim. The newest Dodge vehicle on the horizon could possibly be the Dodge Hornet. Once a concept vehicle for Dodge fifteen years ago, reports have surfaced with these new trademark requests for the Hornet.
Future of the Dodge Line-up
By June 2020, the Dodge brand will solely have four vehicles once the Dodge Grand Caravan ends its thirty-five-year run; the Dodge Challenger, Charger, Durango, and Journey. The Durango and Journey are both SUVs, but there is room for various segments for Dodge to go with. The United States Patent and Trademark Office is responsible for granting the trademark to the Hornet name. We'll know before long what Dodge plans to do, but if the vehicle is anything like the first Dodge Hornet, Dodge will be producing a vehicle that looks very similar to the boxy Scion xB SUV.
More On the Dodge Hornet
Among the many concepts that have come and gone, there are few that look like the Dodge Hornet. The Dodge Hornet concept was created back in 2006 and expected to be ready a decade ago in 2010. The 5-door mini multi-purpose vehicle (MPV). Built with a 1.6-Liter supercharged 4-cylinder Tritec engine that delivered 170 horsepower, the Hornet didn't have the kind of horsepower that fit like a Dodge vehicle. By 2011, after Fiat and Dodge were merged, the concept was turned into a subcompact vehicle that would still delight today as the vehicle was pronounced to have 40 mpg, which is fantastic gas mileage. However, the vehicle that eventually came out as the Dodge Dart. Now Dodge is intending on delivering the Dodge Hornet after all.
What Else To Expect From Dodge?
We believe there's a chance the Hornet could end up as a compact crossover or SUV, as sales in those segments are more popular than ever in 2020. With the Dodge Grand Caravan set to end, FCA can produce a vehicle like the Hornet in the Windsor factory, the same plant where the Dodge Grand Caravan was built. Some stories have noted the Dodge Hornet as a future PSA Groupe vehicle. The merge of FCA and PSA Groupe has expanded the portfolio for both companies, but changes have not been seen yet to the catalog currently being marketed. The word on the street is usually hit-or-miss, but filings like these are interesting to note. Thinking about driving a new Dodge vehicle?
Find New Dodge With Our Help
Want to go on a test-drive today? From our new vehicles to our pre-owned vehicles , there's a wide selection ready to go at Miami Lakes Automall. If you're looking for pricing options, our auto financing team can support you for any buying or leasing needs.
Come visit us today at Miami Lakes Automall , we're located at 16600 NW 57th Ave in Miami Lakes, Florida. We welcome you to our business with the hope to make you leave happy. Located at 16600 NW 57th Ave in Miami Lakes, Florida. Our Chrysler, Dodge, Jeep, and Ram sales and service departments are open seven days a week to better serve you. See you soon!
Previous Post The End of An Era: Dodge To End Grand Caravan Minivan Next Post Is Dodge Adding A Hellcat RedeyeTrim To Charger?