Dodge Demon Configurator Goes Live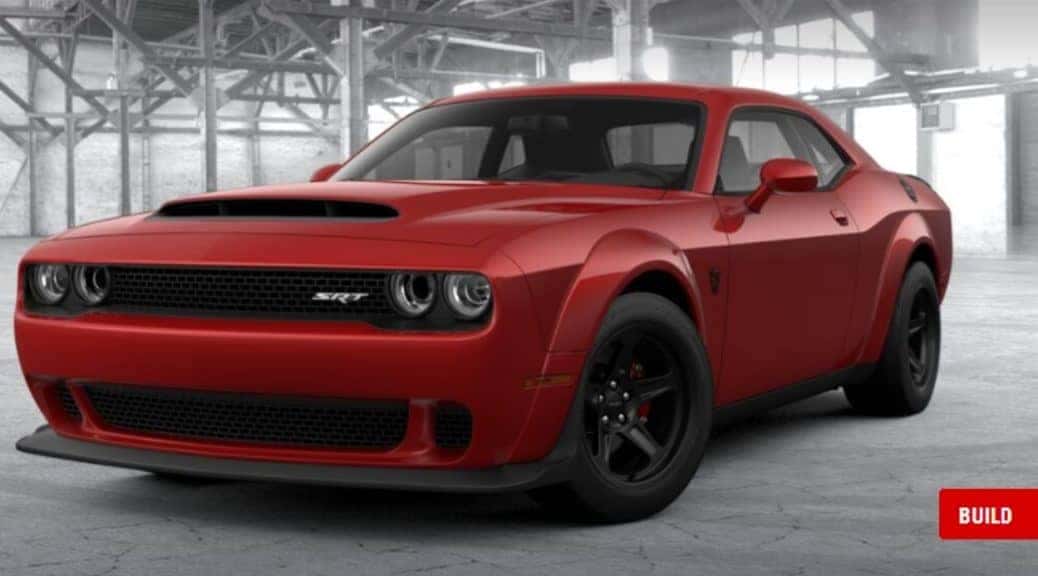 Well it's been a few months since the Dodge Challenger SRT Demon came out, and finally Dodge has put a configurator online. Anyone who has ever gone to the website of an auto brand and checked out a car model has most likely seen an option to "build" the car. Not from the ground up of course, but what the build configurator does is offer the consumer all kinds of options available to the selected car model. From there, they pick and choose what they wish to have. Although we may not all have $90k, those of you that are ordering a SRT Demon will be happy to know you can get it exactly how you want it.
The SRT Demon Configurator
If you click this link , then you'll be taken to the SRT Demon Configurator page. It lists all the good stuff the SRT Demon is known for, such as being the world's fastest acceleration factory production car (0 – 60 mph in 2.3 seconds), highest g-force ( 1.8 G's), and has an output of 808 horsepower, 717 lb-ft of torque before opening the demon crate and filling up on octane fuel. Then say hello to a whopping 840 horsepower and take a visit to the race track.
After clicking "Build," users are brought to the powertrain. It of course has all the standard features, a 6.2L Supercharged HEMI V8 -SRT Demon engine paired to a TorqueFlite 8-speed automatic transmission. It also comes with a $1700 gas guzzler tax. Hey, this thing burns high octane fuel like sugar on a stove, it ain't cheap. For those in the north, an engine block heater can be added on for $95 to warm the engine and engine oil to reduce startup wear.
Past the powertrain, many package options appear. The cheap ones we all know about are the option to add a passenger seat and a 60/40 split fold rear seat, each for only a $1; the rear seats can also come in leather for just a $1. If looking to get the passenger seat in leather (default cloth), then one has to opt in for the leather front seat group ($1595).
For another thousand, one could get the comfort audio group for leather ventilated and heated front seats, an 18-speaker premium sound system, a heated steering wheel, and small changes like bright pedals and a power 4-way driver lumbar adjustment seat. If leather passenger seating isn't that important, a cloth option for the sound system comes in at just $995. Think about it though, because one it's done it's done – there is no going back.
Oh, and for those of you who want to keep your SRT Demon protected, a vehicle storage package for $475 comes with a car cover with the Demon Logo – you can't just get a regular car cover, really.
For the exterior, there are 15 HIP legacy colors to choose from – Maximum Steel, Granite, Indigo Blue, Destroyer Grey, F8 Green, Plum Crazy, B5 Blue Pearl, TorRed, Octane Red, Redline, Billet, Go Mango, White Knuckle, Pitch Black, and Yellow Jacket. Standard features consist of 18-inch aluminum wheels and drag radial tires. A black satin graphics package for $3495 adds some aesthetic flare all along the length of the body, or just a satin black hood for $1995.
Most interior options are covered in the packages. Standard, it's just the front seat trimmed in cloth. A trunk carpet kit can be added for a $1. Drivers can get a fancy red seat belt for $195. If looking to cut a hole into the hood, a power sunroof can be installed for $4995.
* There are definitely a lot more options to choose from for the 2018 Dodge Challenger Demon, some a little outrageous. Though, it would be nice to get rid of the extra weight (rear passenger seats), and add in ventilated seats for when the car decides to use the a/c to cool the engine instead of the driver. Remember, not all dealerships are getting a Demon on the lot , and there are only 3000 units for the U.S. in total. We have some though, so get building and give us a call . *
* Photo Source/Copyright: Dodge.com *
Previous Post How Do Superchargers and Turbochargers Work? Next Post Stopping is As Important As Speed When It Comes to Performance Vehicles