My Dodge Challenger SRT Hellcat Experience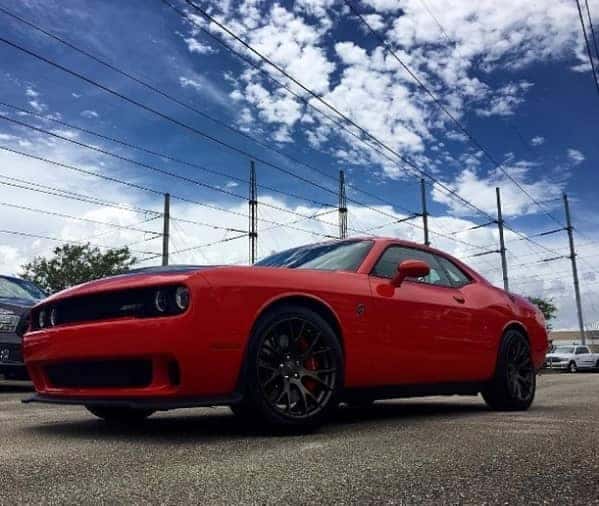 Between the months of August and September, Miami Lakes Automall was working with Polesport Champion and filmographer, Kristian Lebedev to create multimedia and promotional material for several car brands. During which time, I, Jordan Rodriguez was assigned to work with Kristian. I got to drive a lot of cars for the project, including the beloved 2016 Dodge Challenger SRT Hellcat. Here's what I experienced.
Oh man, I got to drive a Dodge Challenger SRT Hellcat. It was a-mazing. Also, a little intimidating. For the first hour or so, I was driving like my gramma – as slow as possible. I didn't want a single dent or scratch. I was riding in a vehicle worth nearly double the average salary in Miami. So yeah, I was panicking a bit.
Once we got on the highway though, that all changed. The Dodge Challenger is like none other. With a 6.2-liter supercharged HEMI V8 – SRT Hellcat Engine under the hood, putting out 707-horsepower, accelerating from 0-60 in seconds was an experience I'll never forget. Not to mention how fluid driving the Challenger was. I could feel the difference when I got back in my own car. Once I got used to the Hellcat, I felt invincible driving. The car was smooth and it handled perfectly.
I thought all the talk and hype about Dodge cars like the Charger and Challenger was just for marketing and advertising to get people to buy one. Oh how the veil has fallen, friends. It's really hard to describe how it feels to drive a Dodge Challenger SRT Hellcat. Plus the seating – it's so freaking comfortable. Nothing like what I'm used to.
The 2016 Dodge Charger SRT 392 was also a fun drive. The only thing that was a little buggy was having to step _ down _ when getting in the car. However, that's a quick fix with seat adjusters. I just had to raise the height of my seat so I felt more comfortable during the drive. Other than that, I didn't have much to complain about.
Technology like Uconnect was something new to me, as was having a touchscreen. SiriusXM radio was also included and I found some interesting stations to listen to. Although personally, I don't care for Satellite music, it's a great way to discover new music versus hearing the same songs on the radio. Perhaps that's why Dodge tends to throw in a 1-year subscription with the car?
The instrument panel was also a new feature I had never experienced before. I wasn't sure what I liked more, knowing how much estimated mileage I had left before I needed to refuel, or just shifting through the different car statistics. It was very neat, and I can see how it would make remembering to do routine maintenance (a very important practice) easier.
Both vehicles had automatic temperature control, which was nice and super convenient. Every time I stepped in after a couple of shoots, I'd think how hot the car was and reached for the A/C dial. Even if I had turned it up previously, it was set back to "low." Nice.
I could talk about it all day, but I'll leave on this. My next car without a doubt will be a Dodge.
Previous Post New Dodge Challenger Models AWD and ADR and Upcoming Barracuda Next Post Road Trip to the Red Planet? Dodge Challenger is the Best Choice