A Closer Look at the Uconnect Systems and Features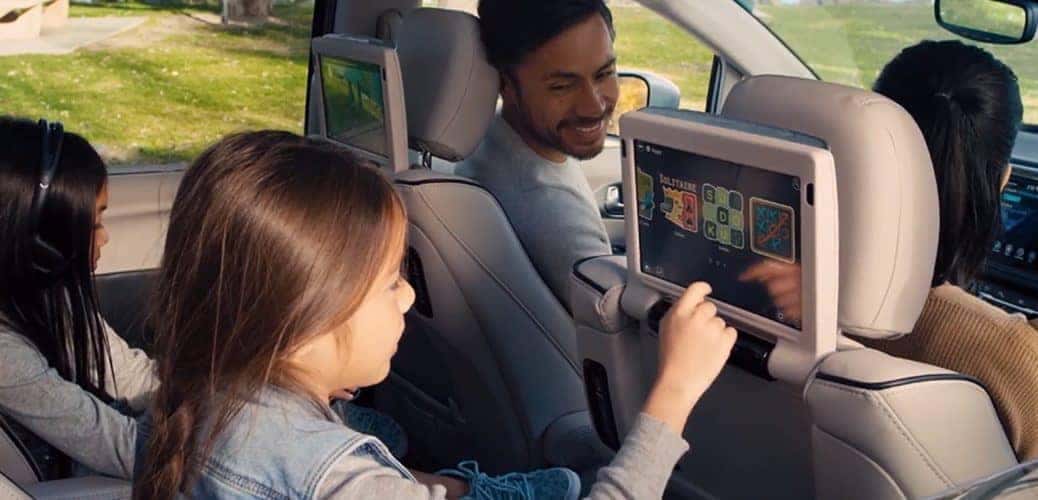 Ever hear of Uconnect? For those unaware, it's the brand name of the infotainment system used by the Fiat Chrysler Automobiles (FCA). That means every Chrysler, Dodge, Jeep, Ram truck, Abarth, Alfa Romeo, Lancia, Maserati, and, of course, Fiat vehicle can come equipped with Uconnect, depending on the trim and options and/or packages chosen by the consumer. If you never heard of an infotainment system before, it's a technological combination of one's stereo system and numerous apps and services that connect the driver to their car and third-party networks. So let's talk about Uconnect and what it does.
What's the Deal with Uconnect?
Depending on the type of Uconnect system a car has, Uconnect can include anything from working the stereo to music and games, as well as traffic reports and even car data. There are multiple versions of Uconnect denoted by a number, but in reality, there are only two versions of Uconnect out now. The previous generation and the next-generation Uconnect 4. Past versions of Uconnect one may see include Uconnect 5.0 and Uconnect 8.4, and it is actually the same version of Uconnect (possibly with additional functions) on a different screen size, i.e. five inches or 8.4 inches.
"Uconnect is the feature-packed navigation, entertainment, and communication system that lets drivers live their lives, connected. The award-winning system takes a bunch of great features and drops them into an elegant and customizable 8.4-inch touchscreen." – driveuconnect.com
Uconnect Features and Options
Aside from screen size, we mentioned a couple of additional functions one may have over the other. So let's first look at Uconnect 5.0 . The most standard of three, the Uconnect 5.0 infotainment system is, as noted, displayed on a 5-inch touchscreen. Consumers have access to their AM/FM radio, an auxiliary/USB media hub for a mobile device or mp3 player, and Uconnect specific functions such as speed-adjusted volume and phone functions. With Uconnect Voice Command, consumers can make calls or read and dictate texts by talking to the infotainment system, rather than looking down at a screen and taking their hands off the steering wheel. Depending on the vehicle, a "Do Not Disturb" mode can be activated to reroute all calls to voicemail and suppress notifications.
There are some optional features as add-ons for Uconnect 5.0, but consumers can get these and more if they upgrade to Uconnect 8.4 . Powered by an 8.4-inch touchscreen, the Uconnect 8.4 display usually comes available with steering wheel controls, a ParkView rear back up camera, and access to SiriusXM Satellite Radio, in addition to all of the features found on Uconnect 5.0, along with a few other features. With Uconnect 8.4, consumers also get access to Siri Eyes Free to control their phone with their voice, and some automakers also offer a 6-month trial of Uconnect Access with the purchase or lease of an FCA Group vehicle.
If looking for more, a consumer may be interested in Uconnect 8.4 NAV . Again, same system, on an 8.4-inch touchscreen, but also adds in HD Radio, Uconnect voice-command with hands-free calling and Bluetooth streaming audio, and navigation functionality. 3D maps are pretty helpful with noticing landmarks while on the road, help drivers keep their eyes on the road (or looking in its general direction), and for those that like to know what's up ahead, Uconnect 8.4NAV also provides traffic updates through SiriusXM Traffic, or details about weather, local movie listings, and more with SiriusXM Travel Link.
If _ really _ extra, then there's Uconnect Access. With an active subscription, users can personalize their Uconnect system with their favorite apps, and if a car is equipped with remote-start functionality, they can use the Uconnect Access smartphone app to remotely start the vehicle's engine from virtually anywhere. Other apps that come with Uconnect Access include the "Vehicle Finder" app that makes it easy for users to find their parked vehicle, vehicle health reports and alerts, emergency assistance, voice texting, engine performance pages, Yelp, and a 3G Wi-Fi hotspot. Of course, all this requires an active subscription though.
Then there's also the next-generation Uconnect 4 . You can read more about the Uconnect 4 system in that link, but here's a little breakdown: it's made for smartphone capability, so it comes with Apple CarPlay and Android Auto standard; it has sharper graphics and better performance; comes on a 7-inch smartphone link touchscreen display that literally displays the consumers connected smartphone home screen, and offers a 4G WiFi hotspot (with subscription) thanks to the deal Chrysler made with AT&T awhile back.
* Have Uconnect in your vehicle? Looking to get it? We have plenty of FCA vehicles at Miami Lakes Automall, like Dodge , Chrysler , Jeep , and Ram ! *
* Photo Source/Copyright: Chrysler.com *
Previous Post Is A Lot of Horsepower All That Necessary? Next Post The Perfect Road Trip Vehicle is a Dodge Durango