Can A Grand Cherokee SRT Keep Up With A Challenger SRT Hellcat?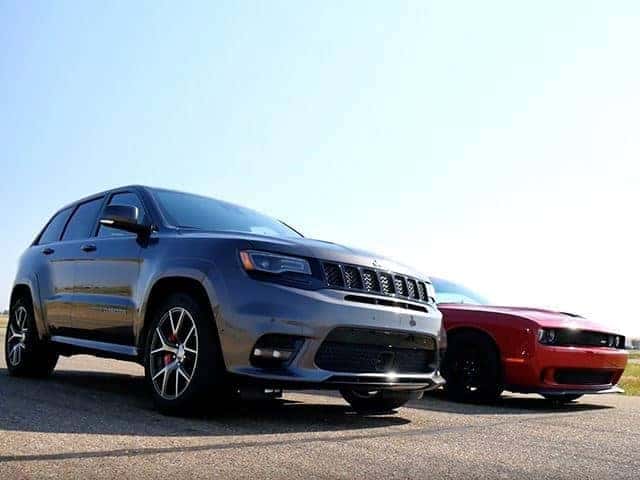 Can the AWD Jeep Grand Cherokee SRT keep up with a RWD Challenger SRT Hellcat? The short (and probably surprising) answer is yes. We found this out by watching an awesome video on that raced the two vehicles. The Fast Lane Car (TFL) is the name of the group that made the video and we are pretty impressed, check it out for yourself below.
Yes, if you watched the Challenger SRT Hellcat ended up winning, but can you believe how close the race was? The Jeep Grand Cherokee SRT was only behind by seconds at the finish line and also took off much faster than the Challenger SRT Hellcat. One thing is for sure, the AWD Jeep Grand Cherokee SRT can keep up with the best of them.
Facts about the vehicles pertinent to the race:
The Hellcat is equipped with a 6.2-liter HEMI V8 engine, that gets 707 horsepower and 650 lb-ft of torque. The Grand Cherokee SRT produces 475 horsepower and 470 lb-ft of torque with its 6.4-liter HEMI V8 engine.

The Challenger SRT Hellcat weighs 500 pounds less than the Grand Cherokee SRT.

The Grand Cherokee SRT is all-wheel-drive which means power goes to ALL four wheels as opposed to the RWD (rear-wheel drive) Challenger SRT Hellcat where power is only sent to the rear two wheels.
With all that being said, it is super impressive that the race between the Grand Cherokee SRT and Challenger SRT Hellcat was so close. If you are interested in either of these beasts, we have both at Miami Lakes Automall. Check out the Challenger SRT Hellcat and Jeep Grand Cherokee SRT inventory at Miami Lakes Automall online here .
Want to see the video for yourself? Check it out here .
Photo source: Car Buzz
Previous Post It's Official! '18 Dodge Challenger SRT Demon Coming To Miami Lakes Next Post Pricing for the New 2018 Dodge Durango SRT