The 2015 Dodge Challenger Drag Pak Has Arrived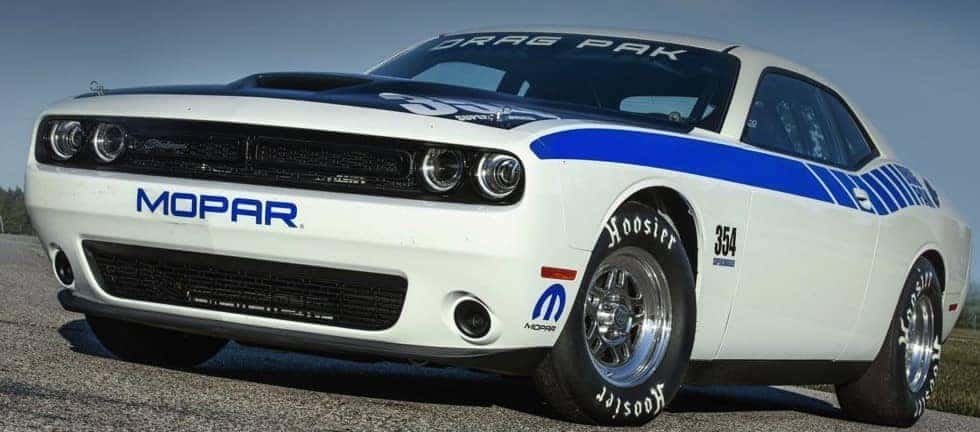 Finally !
It's been a long wait since Dodge first unveiled a prototype of this dragster last summer. But the wait is over and the Dodge Challenger Drag Pak has arrived.
Though you won't find them on the lot at your Dodge dealer in Miami , Dodge will be taking orders come late July and plans to produce only a small batch of these beauties.
Start Your Engines…
Inspired by the 2015 Dodge Challenger, the Drag Pak is race-ready and absolutely not street-legal.
Mopar's Pietro Gorlier introduced the 2015 Dodge Challenger Drag Pak as "…the next page in our performance playbook…a vehicle that offers, for the first time, a supercharged engine that provides our racers more options."
Equipped with the supercharged 5.8-liter 354 Hemi V8, the Drag Pak also comes available with a naturally aspirated 7.0-liter Hemi V8, which was featured on the prototype when it was first introduced in 2014 at the 60th National Hot Rod Assocation U.S. Nationals.
What's the significance of the number 354 on this Hemi?
Nostalgia. This throwback detail is a nod to the first generation Hemi engines that burned rubber long before the 426 Hemi roared to dominance.
But, the 2014 prototype was actually designed and intended to celebrate the 50th anniversary of the second generation 426 Hemi and so that model sports the 426 brand.
If you're interested in going the supercharged route, the cast-iron engine is finely calibrated for serious performance thanks to a forged steel crankshaft and Mopar-spec camshaft.
This supercharged engine comes with a supercharged sticker of $109,354. Save a few (a precious few) coins by choosing the naturally-aspirated engine, which runs (pun intended) for $99,426.
Or choose your engine based on personal color preference. Supercharged models have blue decals, and the naturally aspirated ones have black.

Color blind or still can't decide? Doesn't matter. According to Dodge, this is the most powerful Challenger Drag Pak yet, and this holds true with either engine option. However, specific numbers for horsepower and torque have yet to be shared.
Operated by Chrysler's own 727 automatic transmission, the Drag Pak is outfitted with an integral line lock stick shift, ready to maneuver the track.
Speaking of the track, this Challenger crushes the quarter mile in eight seconds.
Check it out…
Launching faster than its predecessors, thanks to stronger rear-axle mounting, the Drag Pak is able to stop using slotted front and rear brake rotors and designed-for-drag-racing calipers.
Sporting 15-inch wheels wrapped in Hoosier drag tires, measuring 28 x 4.5 inches in the front and 30 x 9 inches in the back, the Challenger is ready for the NHRA. Featuring a NHRA-specified roll cage, the Challenger boasts lightweight racing seats, safety nets, and five-point harnesses.
Mark your calendar for late July and get ready to race in a limited release Dodge Challenger Drag Pak.
Previous Post Used Dodge Avenger – It's a Steal! Next Post Goes Like Hell: The Dodge Dart?!?