FCA Invests $30 Million In Autonomous Driving Testing Facility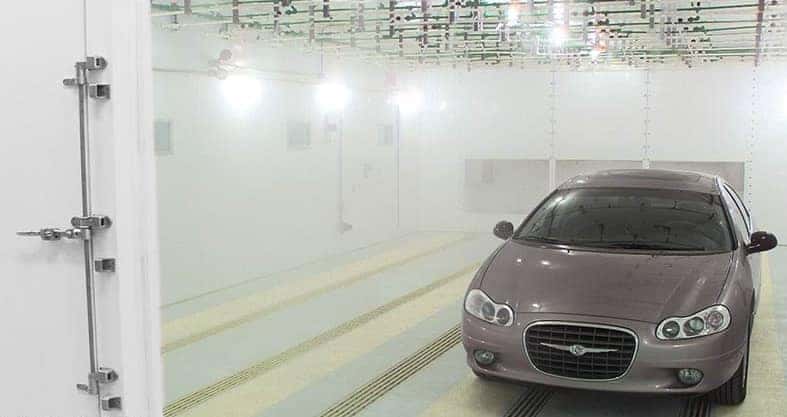 Photo Credit/Copyright: connectedautomateddriving.eu
The autonomous world is getting some major upgrades, ya'll! Thanks to Fiat Chrysler Automobiles (FCA) investing $30 million in their autonomous vehicle testing facilities, the upgrades will assist the automaker to improve the testing and evaluation of self-driving vehicles at the Chelsea Proving Grounds located in Chelsea, Michigan. The all-new facility, which initiates programs this month, features a dedicated autonomous highway-speed track, 35-acre safety feature evaluation area, and a high-tech command center.
"The all-new facility at Chelsea Proving Grounds will help support and enable the successful rollout of the company's five-year plan laid out earlier this year," said Mike Manley, Chief Executive Officer, Fiat Chrysler Automobiles and Chief Operating Officer, NAFTA region. "Our ability to test for autonomous and advanced safety technologies enables FCA to offer our customers the features they want across our brand portfolio."
Beginning with the autonomous highway-speed track, which consists of tunnels, obstacles, on-and-off ramps, and different lighting conditions, it will be used for highway-speed testing exclusively for autonomous vehicle prototypes. Secondly, a 35-acre paved area for testing parking and emergency braking systems will also be designed. Lastly, a 6,500 square-foot command center will be created for external control and tracking of prototype autonomous vehicles using computer monitoring systems.
After opening up in 1954, the Chelsea Proving Grounds has undergone numerous expansions. Comprised of nearly 4,000 acres, 100 miles of road-surface, and off-road replicas of challenging trails, the Chelsea Proving Grounds is in operation seven days a week, 365 days a year. Within the facility, various levels of autonomy will be evaluated, as well as enabling the company to assess FCA vehicles by using test protocols from third parties such as the Insurance Institute for Highway Safety (IIHS), U.S. New Car Assessment Program (NCAP), and European New Car Assessment Program (EuroNCAP).
Additionally, the Chelsea Proving Grounds facility has depended on partnerships with Uber and Google subsidiary Waymo to develop the hardware and software that self-driving vehicles utilize. In May of 2018, FCA announced that it would deliver up to 62,000 additional Chrysler Pacifica Hybrids to Google's automated driving technology company, while also making Waymo's tech available in consumer vehicles via a licensing deal. Not only that, but Chrysler is also contributing an additional 20,000 compact cars from Jaguar Land Rover.
"Fiat Chrysler Automotives is committed to bringing self-driving technology to our customers in a manner that is safe, efficient and realistic. Strategic partnerships, such as the one we have with Waymo, will help to drive innovative technology to the forefront", said the late and former CEO of FCA, Sergio Marchionne.
This is extraordinary news for people that are tired of traffic or having to commute to work. Someday, millions of people won't have to struggle with such daily inconveniences. Interested in taking the 2018 Chrysler Pacifica for a spin? Stop by the Miami Lakes AutoMall located in Miami Lakes, FL or visit our website for more information on our entire new car inventory selection .
Previous Post Chrysler Pacifica And No Kid Hungry Come Together To End Childhood Hunger Next Post Four FCA Vehicles Take Home Best-in-Class 2018 Ideal Vehicle Awards