University of Texas Fans can Get Special Pickup – Miami Lakes Automall Chevrolet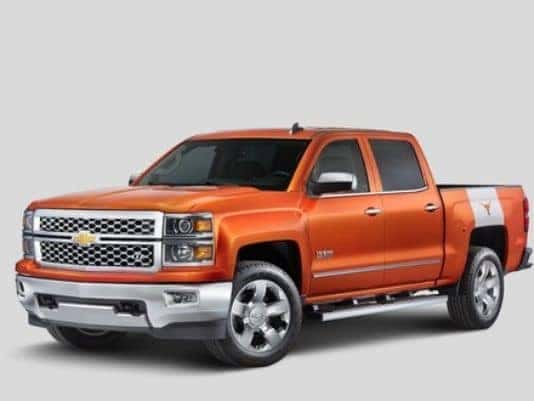 Chevrolet has announced that it will release a special edition of the Silverado designed for University of Texas fans. Even though UT is far from us, as one of the top Chevy dealers Miami has to offer, Miami Lakes Chevrolet is always excited about special edition Chevy pickups that provide our customers with special value. We just hope that Chevrolet follows up with a special edition for the University of Miami sometime soon.
The new Silverado will feature the same sunset orange paint as the Longhorns uniforms, and it will have a Longhorns logo on the sides and on the tailgate. Chrome detailing will be featured throughout, including chrome side steps, a chrome grill and chrome trim.
To get the Longhorns treatment on your new Silverado, you just have to order the special edition package when you buy a 2015 Silverado, which you can do at any dealership. The package costs $795, and it will go on sale in October — at the same time that the Longhorns football season will start. To get the package, you have to order the double cab Silverado in either LT or LTZ trim, or you have to order the Crew Cab with LTZ trim.
Officials with Chevrolet said that the truck is a natural fit for the University of Texas, which makes its home in the "heart of truck country." Chevrolet also signed a sponsorship deal spanning several years with the athletics program at the University of Texas , IMG College and the Texas Exes UT student alumni association. The Silverado will be the official truck of Longhorns mascot Bevo, as well as the Longhorns team and the Texas Exes.
You don't have to go all the way to Texas to order the special Silverado edition, and you don't have to live in Texas to be a Longhorns fan. You'll be able to order the Longhorns package or just pick up a 2015 Silverado from Miami Lakes Chevrolet, one of the top Chevy dealers Miami has to offer, in October.
Previous Post GM's New Pickups Beat Competitors on Efficiency Next Post How to Find the Best Chevy Dealers in Miami, FL