The Scoop On The Chevrolet Colorado ZR2 Bison And GMC Canyon AT4X AEV Edition – Miami Lakes Automall Chevrolet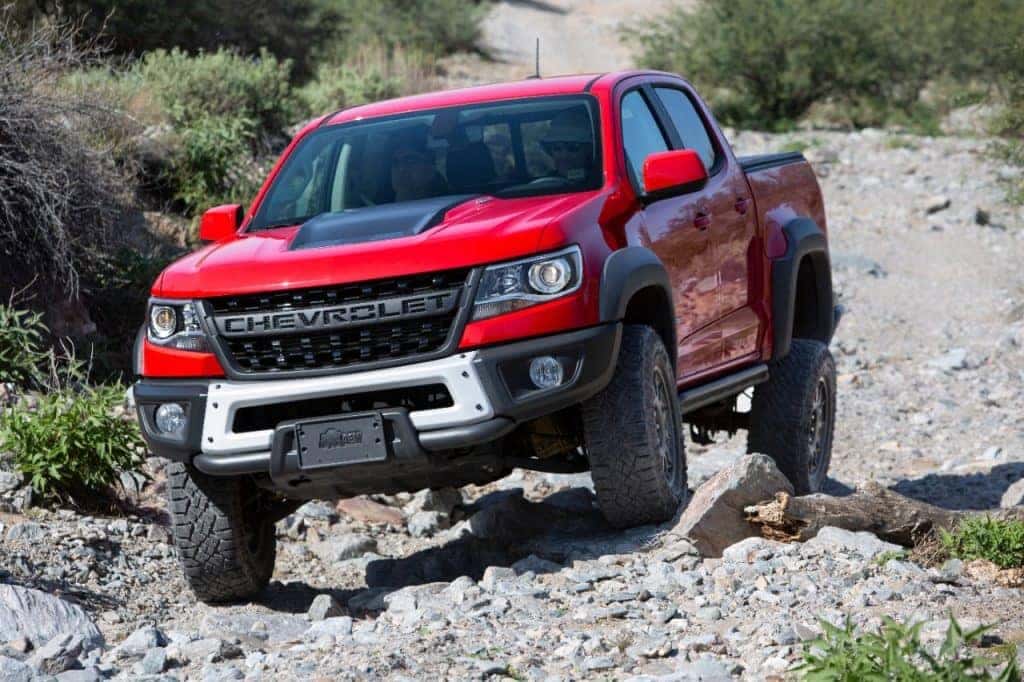 General Motors has shown the public the next generation of the Chevrolet Colorado ZR2 and GMC Canyon AT4X. While there are many upcoming midsize trucks to choose from, our curiosity lingers around the next step that will take these off-roading explorers even further. According to the car blog site Muscle Cars and Trucks, a GMC Canyon AT4X AEV Edition may be coming, while a next-gen Chevy Colorado ZR2 Bison is also close at hand.
GMC Canyon AT4X AEV Edition and Chevrolet Colorado ZR2 Bison
It's expected that the GMC Canyon AT4X AEV Edition will sport the same off-road bumper as the Edition 1 model while tacking on an integrated winch and the conspicuous incorporation of an American Expedition Vehicles-branded engine snorkel. At the moment, this item can be had on the adventurous Chevy Colorado, and it seems as though GM is open to offering the snorkel straight from the factory this time. In particular, the configuration will differ from the previous Colorado model, as the last generation of the snorkel was fixed on the vehicle's passenger side. The new snorkel appears that will be placed on the driver's side. Bearing in mind that the new Chevy Canyon and Colorado utilize a different engine than before, this is likely the reason.
Another case of car brands offering factory-fixed snorkels is those that may be found on the rare Ford Bronco Everglades, which Chevrolet deems to be one of the rivals to the new Colorado ZR2. More than likely, this new feature will make its way to the new Colorado ZR2 and the GMC Canyon AT4X AEV Edition. It's also a probability that both Chevrolet and GMC will have the optional snorkel in their distinct accessory catalogs.
Here's the part where it gets crazy. At long last, General Motors is providing its midsize off-road trucks their set of appropriately proportionate tires. While next year's Chevrolet Colorado ZR2 will get a set of 33-inch kicks, along with the ever-first GMC Canyon AT4X, the upcoming Colorado ZR2 Bison and Canyon AT4X AEV Edition will involve 35-inch tires, imitating what one may have seen on the Jeep Wrangler Xtreme Recon and Ford Bronco Sasquatch. Indeed, this will excite off-road enthusiasts, together with the potential of genuine Beadlock wheels.
It seems as though General Motors is making even more moves as it leverages its ties with American Expedition Vehicles with the next-generation Chevy Colorado and GMC Canyon. In doing this, the two automakers are reconsidering a vehicle segment where their relationship originally began. Only this time, it appears that it's pushing the supposed boundaries of OEM (original equipment manufacturer) off-road capability that hasn't been seen in the midsize truck market.
Miami Lakes Chevrolet
If you're interested in any off-roading vehicle from the Chevrolet company, check out our new car inventory on our dealership website, Miami Lakes Automall . We sell a wide variety of vehicles from the brand that range in several different shapes and sizes.
If you find something that suits your needs, feel free to chat with one of our representatives for more information.
Photo Source/Copyright: Chevrolet Pressroom
Previous Post 2024 Chevrolet Silverado HD Sees Major Upgrades Next Post Is The 2022 Chevy Bolt EV a Good Daily Commuter?