The C8 Corvette's Rapid Blue Becomes More Inclusive With The Camaro Pace Car – Miami Lakes Automall Chevrolet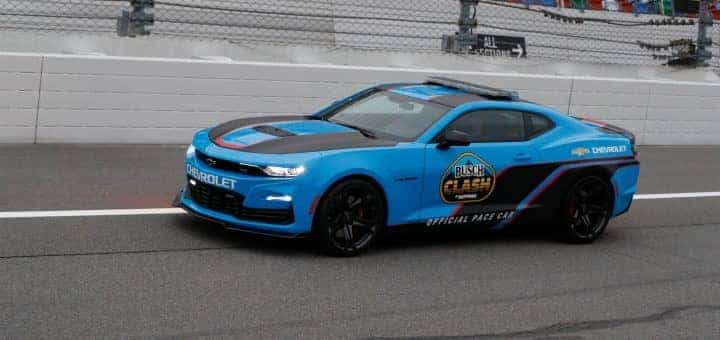 2022 Chevy Camaro Steals The Show With C8's Rapid Blue
The C8 Corvette Stingray is almost known more for its incredible engine options than it is for its athletic and muscular style, which is only enhanced by its color selection. However, it appears that the C8's dynamic paint selection will soon make a pact with another Chevrolet model , namely the Camaro with the color dubbed Rapid Blue.
Last Saturday, (Feb, 13th) the automaker's 2022 Camaro SS 1 LE led the automobile troops to green for NASCAR's Beef It's What's For Dinner 300 race from Daytona International Speedway. In the same way that the C8 Corvette paced the Daytona 500 the night after, the Camaro featured the Rapid Blue with a hint of red, white, and black. It was only until now that Stingrays have ever had this type of finish…and we couldn't be more thrilled.
This bold blue gets even more accessible, as it was also sported on the Chevrolet Silverado 1500 RST, which also paced NASCAR's Camping World Truck Series' NextEra Energy 250 race last Friday (Feb, 13th). Unfortunately, the Silverado won't embrace the Rapid Blue as an official member of its color palette for the 2022 model year. This denotes that the revamped Silverado seen in the last week could have been the only one ever made from the factory, and it's a mystery if we'll ever see one like that again.
Unsurprisingly, Rapid Blue is of the most popular exterior colors for the 2020 model year of the Corvette and made up six percent of all the vehicles that were produced. The most favored, however, Torch Red, fulfilling 25 percent, following suit by Arctic White by 15 percent, Black by 11.7, Sebring Orange by 6.8 percent, and Elkhart Lake Blue by 6.7 percent.
Of course, what most race car enthusiast are probably excited about is what's under the hood, and avid fans will be eager to know that that the featured Camaro is geared with a 6.2L LT1 V8 engine and Magnetic Ride Control suspension, undoubtedly giving the best performance that you can get from a pace car.
Highlighting Features On The Camaro
The wait for the 2022 Chevrolet Camaro may seem a bit unbearable for now, but loyal followers still have a great selection of colors to choose from such as Crush, Red Hot, Satin Steel Metallic, Summit White, Black, Shadow Gray Metallic, Shock, and Wild Cherry Tintcoat. The car even comes with some funky interior colors like Jet Black, Medium Ash Gray, Kalahari, Adrenaline Red, Ceramic White, and Jet Black with Red accents.
The perks only get better with a plethora of standard comforts such as power windows, cruise control, an 8-way-power driver's seat and a 7-inch touch-screen audio system that involves wireless Apple CarPlay and Android Auto Bluetooth, dual USB ports, AUX input, and GM's 4G LTE Wi-Fi hotspot.
Miami Lakes Automall is currently selling the 2021 Chevrolet Camaro with its lowest price for just around $25,000, (plus destination fee). Those who are interested in this model or any of our other vehicles can simply view our online new car inventory and chat with a representative for further assistance.
Photo Source: GM Authority
Previous Post The 2022 Chevrolet Camaro Is Near and Ready To Surge Ahead Next Post The Chevy Bolt EUV Skips Out On Automated Lane Change