The 2024 E-Ray Makes A Dramatic Entrance On The Corvette's 70th Birthday – Miami Lakes Automall Chevrolet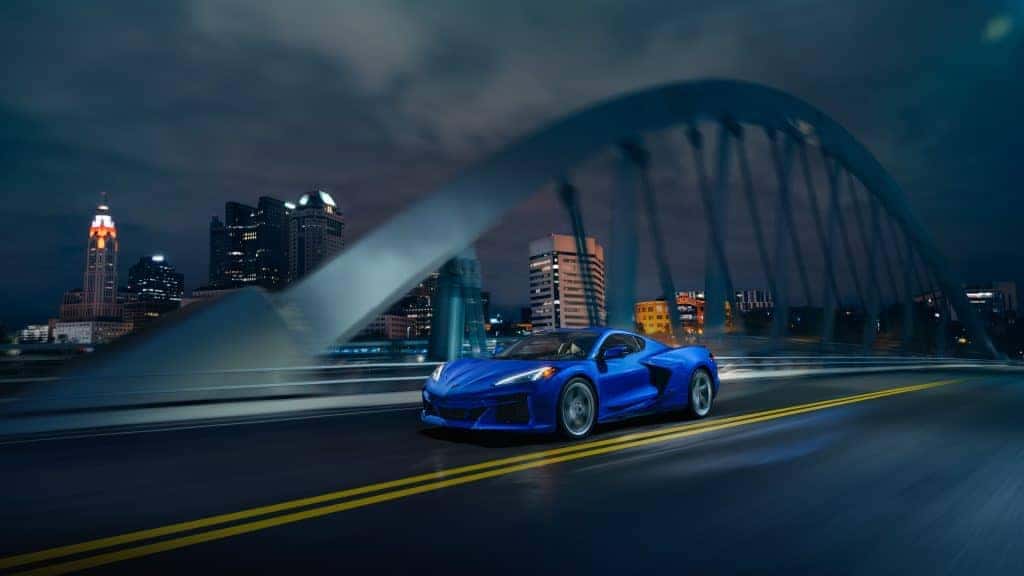 2024 E-Ray Debut
On the 70th anniversary of the Chevy Corvette, first introduced at Motorama in New York City, the automaker returned to show off its metamorphosed fully-electric version. Spinning off the Stingray moniker, the 2024 E-Ray is an all-wheel-drive (AWD) monster with a dynamic 6.2L LT2 Small Block V-8.
"In 1953, the enthusiastic reaction to the Chevrolet Corvette concept kicked off seven decades of passion, performance and American ingenuity," said Mark Reuss, General Motors president. "E-Ray, as the first electrified, all-wheel-drive Corvette, takes it a step further and expands the promise of what Corvette can deliver."
This new Vette, which comes in either a removable roof coupe or hardtop convertible, uses its electric power to augment the driving experience with a fierce straight-line performance, all-weather protection, and race-car-like capabilities that succeed thanks to eAWD.
The E-Ray is the only sports vehicle that matches two separate propulsion systems to provide a naturally aspirated V-8 power with swift responsiveness powered by eAWD.
"Corvette has been a halo for Chevrolet since 1953," said Scott Bell, vice president of Chevrolet. "E-Ray's unprecedented blend of confidence, luxury performance, sophistication, and style provides a new reason for more people to experience the Corvette."
The Stingray E-Ray is the fastest production Vette in history, scoring a 2.5-second 0-60 mph time before zooming through the quarter-mile in 10.5 seconds.
"Corvettes must provide an exhilarating driving experience on backroads and tracks, and E-Ray nails it," said Tadge Juechter, chief executive engineer, Corvette. "The electrification technology enhances the feeling of control in all conditions, adding an unexpected degree of composure."
The 6.2L LT2 Small Block V-8 is responsible for the high-intensity drive, producing 495 horsepower and 470 lb-ft of torque. It works with an electric motor that channels an extra 160 horsepower and 125 lb-ft of torque to the front wheels using a 1.9 kWh battery pack. Ultimately, this amplified Corvette produces a combined 655 horsepower from the electric motor and V-8 engine.
Upscale Design
The appearance of the E-Ray keeps its sporty and performance-centered style from the previous Corvettes. The car also maintains its wide-body Z06 proportions, with fitting wide wheels that allow for better torque delivery. The alloy wheels even have an excellent twisted five-spoke star design that solely belongs to the E-Ray.
"There's never been a Corvette like E-Ray, and its sophisticated design reflects that," said Phil Zak, executive design director, Global Chevrolet. "It starts with the body color trim, which draws your full attention to the exotic proportions of the E-Ray. The interiors allow customers to reflect their individual personalities with their choice of color executions that provide a refined or dynamic sport look and feel."
Standout design features include:
Four aluminum wheel finishes
Fourteen exterior color choices, like the new 2024 Riptide Blue, Seawolf Gray, and Cacti
A special body-length stripe package in Electric Blue
Standard carbon flash badging
Optional black exhaust tips and bright badging
Optional carbon fiber ground effects
Available carbon fiber wheels in carbon flash, visible carbon fiber finish, or visible carbon fiber with a red stripe
The all-electric Vette also brings in a new Artemis Dipped interior, with harmonious deep green tones on almost every surface. This will be the only color available on the new E-Rays. There are several options for shoppers when customizing their new ride, such as two carbon fiber trim packages, three seat choices, seven interior colors, and much more.
On top of this, new Charge+ and Stop/Start buttons are featured on the console, along with advancements to the infotainment system and instrument cluster centered at allowing a more cohesive appearance.
And Later…
The 2024 Corvette E-Ray is set to go on sale this year (2023) with a starting MSRP of $104,2954 (plus destination fee) for the 1LZ coupe and $111,2954 (plus destination fee) for the 1LZ convertible model. Production is ready to go at GM's Bowling Green Assembly facility in Kentucky from North American and globally sourced parts.
Miami Lakes Chevrolet
When the time comes to purchase the new and improved 2024 Chevy E-Ray, be sure to do it at Miami Lakes Automall . We sell an extensive range of vehicles from the brand in several different shapes and styles.
Check out our new online car inventory to see all we offer. Once you find something that suits your needs and interest, chat with one of our representatives for more information.
Photo Source/Copyright: Chevrolet Pressroom
Previous Post The 2024 Chevy Silverado HD Will Soon Open For Reservations Next Post GM Plans New Overhaul For Chevy Express Van