The 2020 Chevrolet Corvette C8 Officially Debuts – Miami Lakes Automall Chevrolet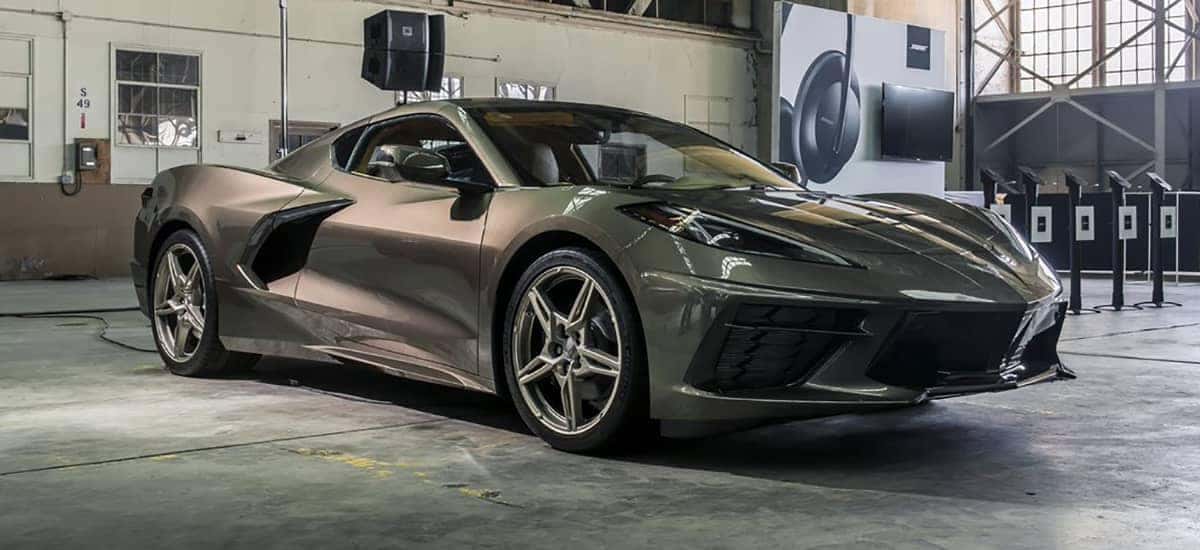 Photo credit: MotorTrend
In a class by itself, the all-new Chevrolet Corvette C8 will become entirely synonymous with "High-speed adrenaline" for all owners. Do not take this sports car lightly. It's one of our favorite vehicles to arrive in 2019. The all-new generation Chevrolet Corvette simply looks like a beautiful spaceship that landed on Earth! It's stunning and we want our readers to consider the 2020 Chevrolet Corvette C8 as the new champion of sports cars on the road today. Other sports cars may wish they could come as close, but they were not made in the same way the Corvette C8 was. Sleek, fast, optimal, and with the first mid-engine Chevrolet has ever added to their Corvette. Let's explore all the C8 has to offer customers.
Step Into the C8
The all-new 2020 Chevrolet Corvette C8 was built for the modern professional with a fitted connected charging port, an ultra-responsive touchscreen, and more high-tech goodies. Included in the 2LT and 3LT are improved safety features ranging from Side Blind Zone Alert Mirrors, Rear Cross Traffic Alert, Upgraded HD Rear Vision Camera, and an Updated Front Curb View Camera as all cameras capture video in HD. Park Assist will display the distance to the object near the Corvette. GM has truly gone all out to reward Corvette owners will top-notch safety and high-tech features.
"This car is very fast and aerodynamics play a big role in keeping this car stable at all speeds. It is easy to see the influence of aircraft design in the body shape. The body ridges help direct the airflow around the body and into the cooling inlets. Cooling and downforce help keep this vehicle stable," said Kirk Bennion, part of the C8 Design Team
Create the 2020 Corvette C8 From the Ground Up
Perhaps the most customizable Corvette, the 2020 Chevrolet Corvette C8 will allow more flexibility than before. Owners will have their pick at nearly anything important. For example, an improvement over previous-generation Corvette models, the C8 Stingray trim affords three seating options instead of two. Custom color options now go up for the tones, materials and seatbelt colors. In total, there are two different tones, three materials and six seatbelt colors the owner can decide over. Want LED lighting? That is an option as well. The former "Automobile of the Year" winner by Automobile Magazine and named to back to back Car and Driver "10Best list" in 2018 and 2019, drivers can expect only the best in top-notch materials from Chevrolet.
Carbon Fiber Anyone?
For those who prefer carbon fiber accessories, they can do that. Just want carbon fiber on the front splitter or roof? Maybe both of those and the side skirts, grille and side mirrors? The entire vehicle allows for the choice to be made by the owner. What does this mean? The chances are higher that each Corvette C8 Stingray will look different than any other. To keep customers even happier than all these available options is the low entry price to own a 2020 Chevrolet Corvette C8 Stingray; the starting price is $60,000 MSRP (plus destination fee). We recommend previous owners of the Corvette to consider trading in and upgrading to the latest Corvette. This kind of speed and horsepower may take getting used to for new owners, but that will be the fun part. Trust us. We can expect the C8 to come to dealerships nationwide by the end of summer 2019.
Come Drive the Newest Chevrolet Vehicles All at Miami Lakes Automall!
Rush over to Miami Lakes Automall , where we make every experience for our customers catered to their needs. We have the 2019 Chevrolet Corvette ready for you. Looking to lease? Buy? We have plenty of great options to drive away with an amazing vehicle at a fantastic price. Our friendly team is excited to show off o ur entire Chevrolet lineup . We're ready to assist with all sales as well as trade-in offers.
Check out our new vehicle inventory and our pre-owned vehicles. We carry a large selection that is second-to-none. If you're looking for pricing options to allow you to buy what you want, our financing department can support you for any buying or leasing needs. Come visit us today, we're located at 16600 NW 57th Ave in Miami Lakes, Florida. We hope to see you soon!
Previous Post Chevy Camaro May Be Discontinued After 2023 Next Post Chevrolet's new Electic Vehicle Is Called the Menlo and the Official Images Just Dropped