What Size SUV Do You Need? Chevy Has Them All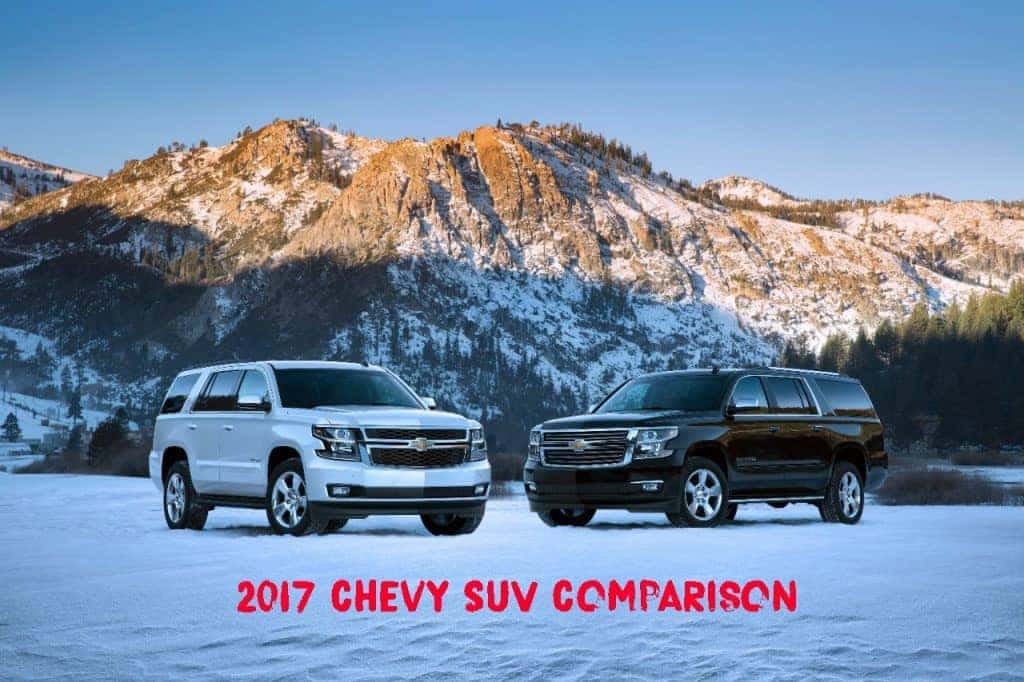 If you are interested in an SUV or CUV, look no further. Chevy offers five different SUVs with different features. But don't worry, all five vehicles have been named to U.S. News and World Report's list of Best Cars, so no matter your choice, you'll be in good hands.
Chevy Trax
The Chevy Trax is Chevy's smallest utility vehicle and it is a CUV. It is the perfect size for navigating tight city streets or going on long road trips. The 2017 Trax is a five-passenger CUV that has a 1.4-cylinder engine that pushes out 138 horsepower and 148 lb-ft of torque.
The Trax is equipped with fold down seats, including the passenger seat, so it is easy to maximize cargo space when needed. The 2017 Chevy Trax is one of the most affordable CUVs on the market with a starting price of $21,000.
Chevy Equinox
Awarded as the "Highest Ranked SUV in Initial Quality in a tie, Two Years in a Row" by J.D. Power, the Chevy Equinox is a favorite among consumers. The 2017 Equinox is a five-passenger compact crossover SUV and it is slightly larger than the Chevy Trax.
The 2017 Equinox comes standard with a 2.4-liter 4-cylinder engine that produces 182 horsepower and 174 lb-ft of torque. However, buyers have the option of a 3.6-liter V6 engine which produces an impressive 272 lb-ft of torque and 301 horsepower. The smaller 2.4L engine has an excellent highway fuel economy of 31 mpg, whereas the larger engine boosts the Equinox's towing capacity up to 3,500 pounds. The 2017 Chevy Equinox has a starting MSRP of $23,100.
Chevy Traverse
The Traverse is a midsize SUV that has 116.3 cubic feet of cargo room and comfortable seating for eight passengers. Equipped with a 3.6-liter V6 engine the Traverse maxes out with 288 horsepower, 270 lb-ft of torque and a towing capacity of 5,200 pounds.
The 2017 Traverse is a very safe vehicle and it is available with the industry-first Front Center Air Bag, which helps protect the driver and passenger from colliding with one another in the event of a side-impact collision. The starting MSRP for the 2017 Chevy Traverse is $28,700.
Chevy Tahoe and Suburban
The Chevy Tahoe and Suburban are much larger SUVs than the other three vehicles. They both feature a 5.3-liter EcoTec3 V8 engine. The engine is both powerful, yet surprisingly fuel efficient (for an SUV/V8 engine) due to its EcoTec3 technology. Both of these vehicles produce 355 horsepower and 383 lb-ft of torque.
The Chevy Tahoe is a full-size SUV, whereas the Chevy Suburban is a large SUV, and both SUVs are available with 7-,8- or 9-passenger configurations. The Tahoe has available power-release second-row and power fold-flat third-row seats, and up to 94.7 cu. ft. of cargo space. The Chevy Suburban has up to 121.7 cubic feet of cargo space. The Tahoe tows up to 6,600 pounds, and due to the weight and size of the Chevy Suburban it has a maximum towing capacity of 6,300 pounds
The 2017 Chevy Tahoe has a starting MSRP of $47,215 and the 2017 Chevy Suburban starts at $49,915.
* Interested in any of these SUVs? Check them all out down at Miami Lakes Chevy, or check out our full Chevy SUV inventory here. *
Photo source: Chevy Media Site
Previous Post Happy 50th to the Chevrolet Camaro Next Post 4 Reasons the Chevy Colorado is the Perfect Truck