Why Mike Trout Chose a Silverado for His MVP Prize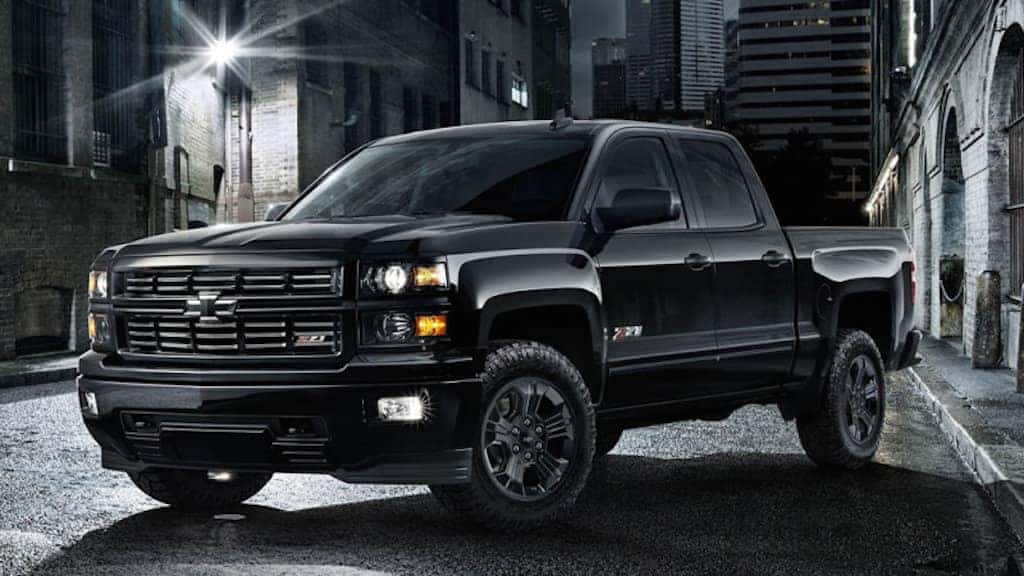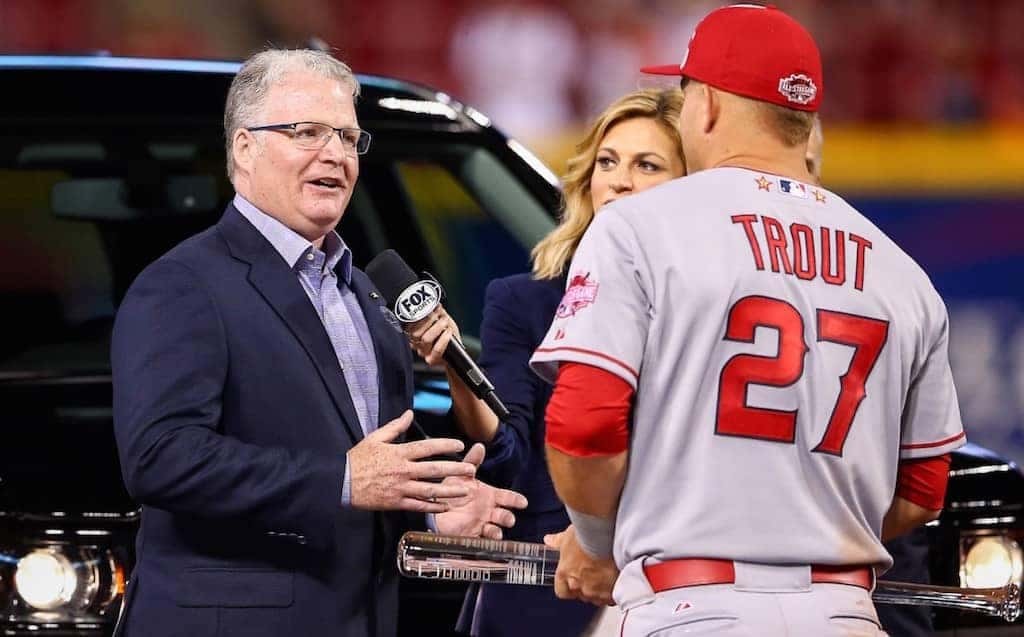 It's easy to be jealous of Los Angeles Angels outfielder Mike Trout. At 23-years-old, he's already won Rookie of the Year, MVP, and two All-Star game MVPs. As a car enthusiast, you'll probably be more jealous of Trout's rewards for winning two awards during the Midsummer Classic.
_Chances are, you'll never find yourself with an opportunity to win a new car. Luckily, you can still drive in style like Trout, and you can find a portion of his car collection at your local Chevrolet dealer in Miami … _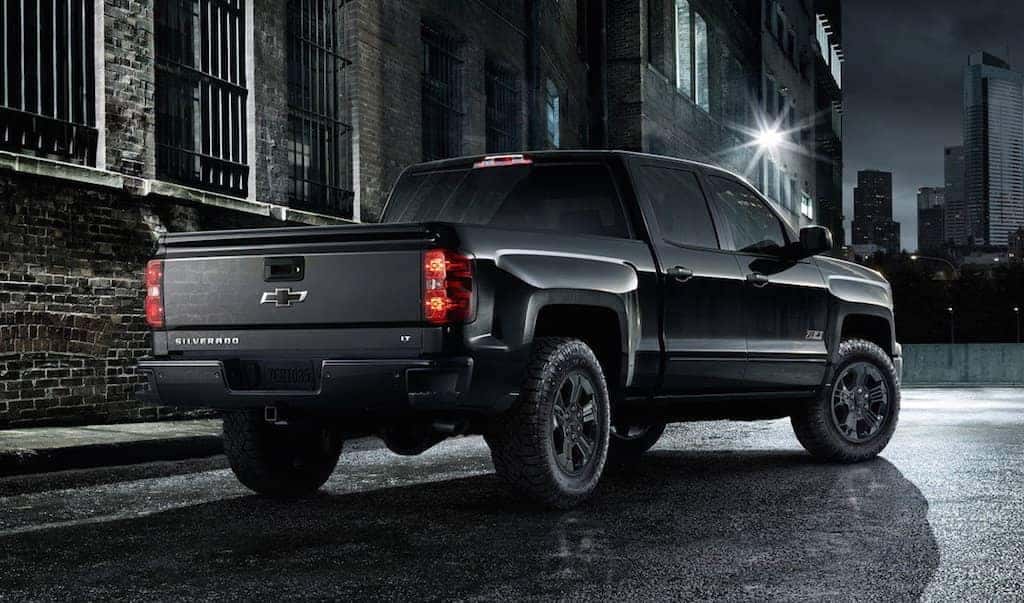 Having already taken home a 2014 C7 Corvette Stingray for winning the 2014 All-Star MVP, Trout was tasked with choosing from a pair of Chevy vehicles for winning the 2015 award: the 2016 Chevrolet Camaro and the 2015 Chevrolet Silverado Midnight Edition.
The star opted for the exclusive Silverado, and it's hard to criticize his decision. The truck is essentially a Z71, as it includes the 5.3L V8 engine, capable of producing 355 horsepower and 383 ft-lbs of torque. The interior is roomy with it's 45.3 inches of front leg room and 42.8 inches of front head room, and the 26-gallon fuel tank delivers 16/23 miles per gallon city/highway.
The Midnight edition also includes all of the special Z71 options, like the off-road suspension, Hill Descent Control, trailering package, locking rear differential, rear park assist and power-adjusted outside rear-view mirrors.
The special edition truck also comes with it's unique set of features, led by the all-black exterior and black side moldings and beltline moldings. There's also 18-inch black paint alloy wheels (accompanied by Goodyear Wrangler Duratrac all-terrain tires) and a black spray-in bedliner.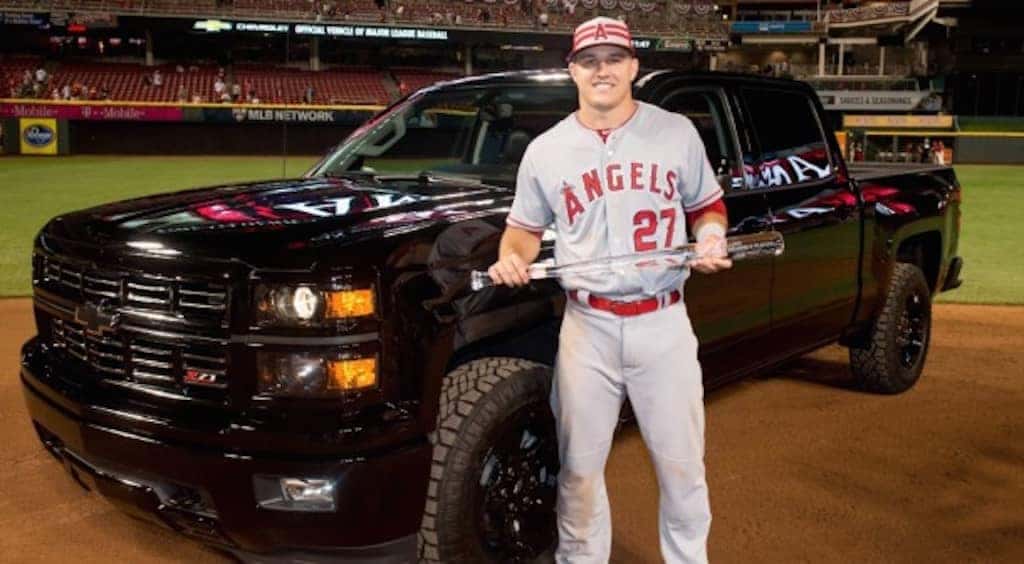 The Camaro would have been a nice selection, as well. The convertible offers three engines to choose from, led by the 6.2L V8, which produces up to 455 horsepower and 455 ft-lbs of torque. The technology is sophisticated and innovative, led by the center command center.
"Mike's on-field performance was All-Star caliber and worthy of one of Chevrolet's All-Stars," said Chevrolet's US vice president Brian Sweeney ( via Sean Szymkowski of GMAuthority.com ). "Chevrolet also encourages future All-Stars through our more than 1,500 dealers who support Chevy Youth Baseball."
Teaming up with Major League Baseball, Chevy Youth Baseball has raised more than $18 million over the past ten years, helping local teams and youth clinics.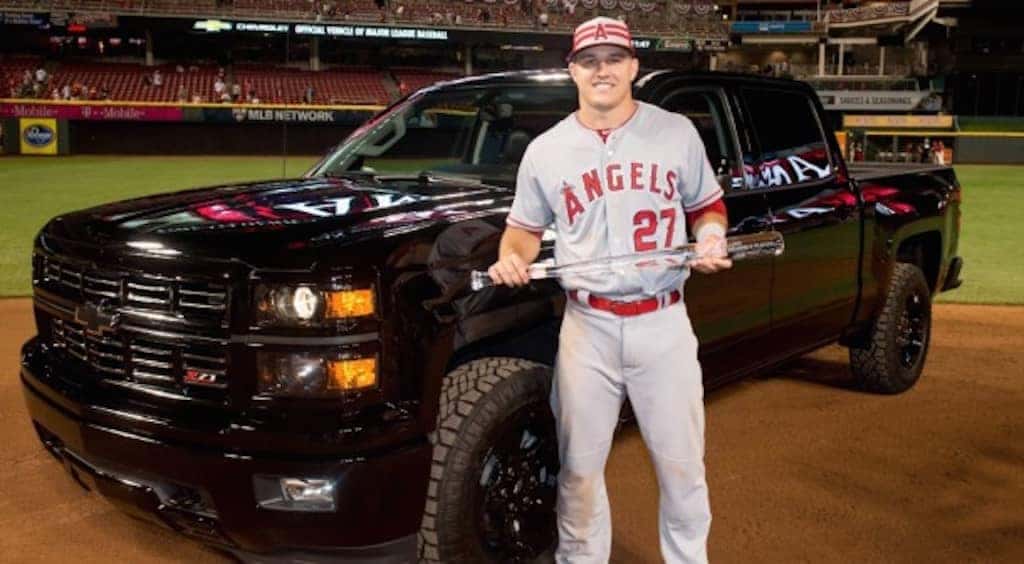 None of our lives will likely be as eventful as Mike Trout's, and it's unlikely any of use will have an opportunity to win a new Chevy vehicle. It's not impossible to own either the Camaro or Silverado, however. Head on down to Miami Lakes Automall, and the staff will happily assist you in finding your next Chevy vehicle.
Previous Post Chevy Accelerates Development on Bolt Next Post Why Trucks Buyers Love Diesel