Most Efficient Chevy Models for Urban Living – Miami Lakes Automall Chevrolet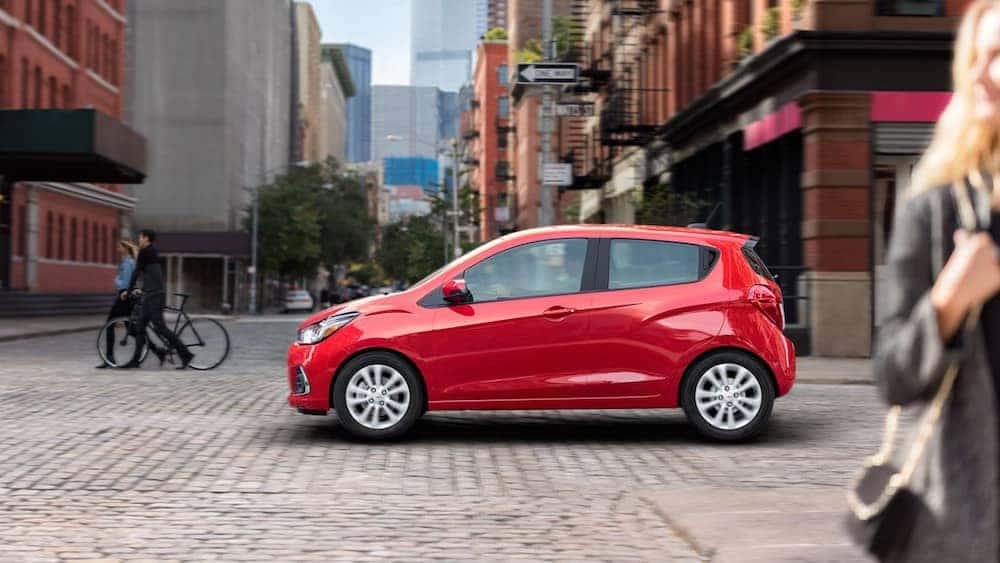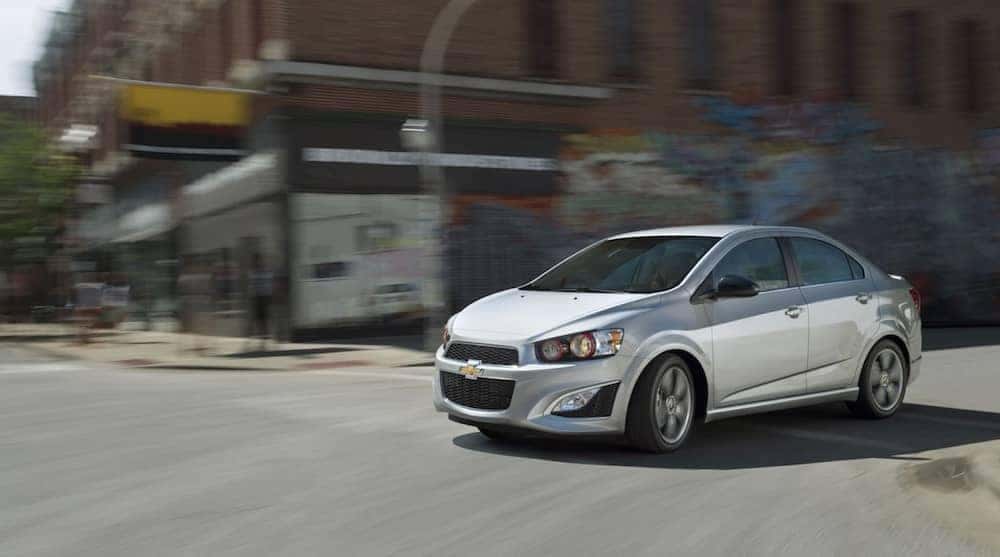 City drivers who've been around the block know that the old "You don't need a car in the city" adage is really just an excuse used by those too scared to take on city streets to justify their fears. For an experienced urban crawler there's no narrow corridor or parallel parking spot too difficult – especially if you've got the right vehicle by your side.
If you're a smart city cruiser looking for a quality car for the urban environment, look no further than your humble city Chevy dealer. There, you'll be able to find a number of excellent Chevy models, like the 2016 Chevy Spark , that are perfect for zipping around the concrete jungle. Here's a few of our favorites, and what you can expect out of a city-friendly Chevy.
Chevy Sonic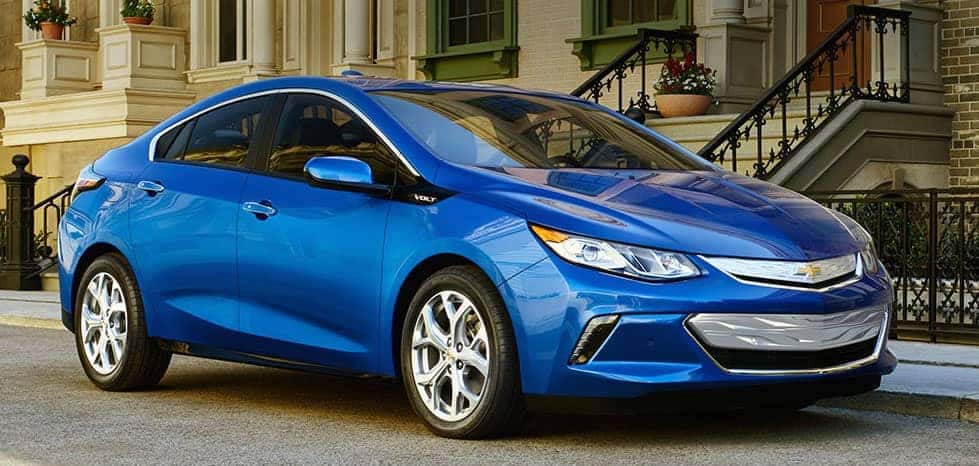 If you're in the market for something small enough to fit in a compact spot but ith enough power that it's actually fun to drive around, then look no further than the Chevy Sonic, a sporty compact with all the power of a turbocharged 1.4L engine. Boasting this much heat under the hood, the Sonic can push out 138 horsepower and 125 lb.-ft. of torque, and all at an incredible 40 miles per gallon highway.
This means that not only is the Sonic plenty powerful to make cruising the city streets a blast, but it's also compact enough to handle those narrow alleyways and side streets no matter where you are. Available in a hatchback model as well as a sedan, this sporty Chevy boasts a maximum of 47.7 cubic feet of interior cargo room for a surprising amount of storage space. This means you'll have as little difficulty getting out of the city for the weekend as you will simply getting home at the end of the work day.
For a small, efficient compact that can definitely provide you with the power you need, consider the Chevy Sonic.
Chevy Volt

There are, of course, those who will make no compromises when it comes to efficiency. Those living in the midst of pollution, especially city dwellers worried about smog and ozone, are looking more and more for clean, efficient vehicles – and with cars like the new Chevy Volt out and available, that's getting easier every day.
If you're looking to escape the clutches of the gas pump for good but still want the power and reliability of a gas engine, then look no further than the new Chevy Volt. The recent winner os Green Car Journal 's Green Car of the Year Award for 2016, this highly efficient model prioritizes electric power y providing up to a 53-mile range on electric power alone before the gas engine kicks in to assist.
For most city drivers, this means you'll never even activate the gas engine on your daily drive. And, if you do need to leave the city, expect up to 420 miles on a single combined charge and tank of gas. And, with a recharge time around 4.5 hours, the Volt may be just what that eco-conscious city dweller is looking for in a new car.
Chevy Cruze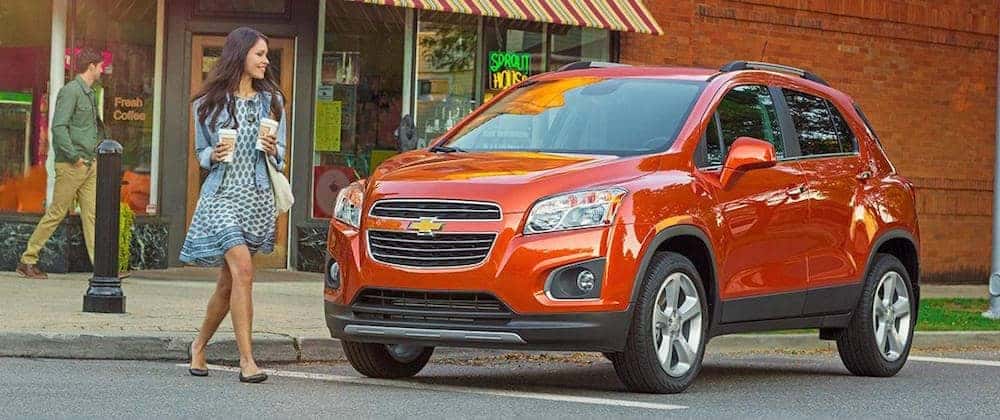 Of course, it would be foolish to forget that a big reason why people buy new vehicles is to be seen in that new model. Especially with the sleek, attractive models available for the 2016 year, drivers are more motivated than ever to not only shop for reliable, useful cars but also stylish ones. For the urban Chevy lover looking to keep everything looking fresh, there's a new Chevy for you: the 2016 Chevy Cruze.
Built to be stylish, this sleek sedan offers a level of premium style and comfort not found on many other compact, powerful sedans. Bult to handle both your daily commute and your biggest weekend adventures, this sporty sedan boasts a powerful 1.4L turbocharged engine also capable of an impressive 40 miles per gallon highway – meaning you can seriously upgrade your style without losing an ounce of fuel efficiency. And, since this turbo can push out up to 153 horsepower, you won't be lacking for power with this impressive Chevy model.
Plus, with plenty of standard amenities like a standard 7-inch diagonal touchscreen with Chevy MyLink and phone connectivity capabilities for the ultimate in connection, streaming entertainment, you'll be swaddled in the luxurious comfort of the Cruze from the moment you take off t the moment you land back home.
Chevy Trax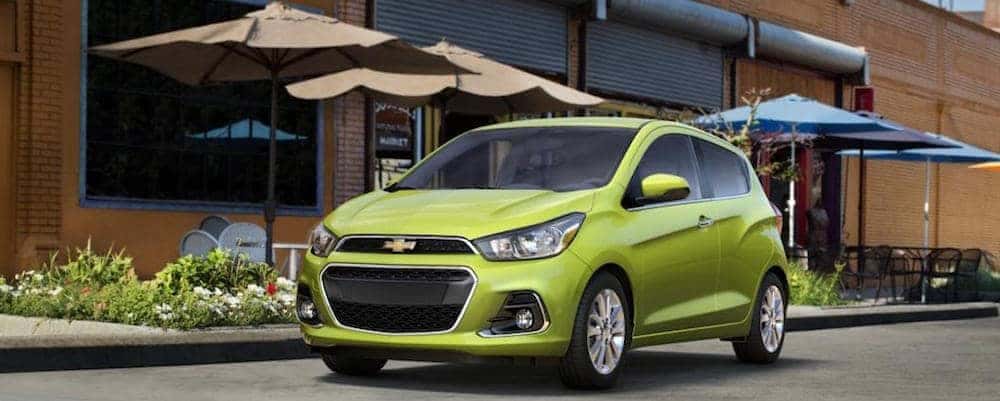 When a city dweller hears the phrase "city-smart SUV," he or she may just laugh; the phrase seems like an oxymoron, suggesting that an SUV could be anything but a big nuisance on small, congested city roads. Fortunately, the Chevy Trax is here to prove just how real the "city-smart SUV" can be.
Boasting a sleek, compact style that seems to hide its 48.4 cubic feet of cargo room, the Trax is one spacious SUV that certainly won't block traffic. Tat's thanks to its multiple available arrangements for folded 60/40 seats, including a foldable front passenger seat that allows for cargo items up to eight feet long to fit comfortably in the Trax interior. And, with an impressive 34 miles per gallon highway, you won't feel like you're driving an SUV – if only for he lack of time spent at the pump.
The Trax is also one of Chevy's safest city models, boasting a high-strength steel cage and 10 standard airbags to protect passengers from all sides in a collision, as well as Rear Park Assist and a standard rear backup camera to make even tight city parking a breeze. Thanks to all this advanced safety technology, you can ride safely knowing your Trax will protect you and your most important cargo on any city road.
Chevy Spark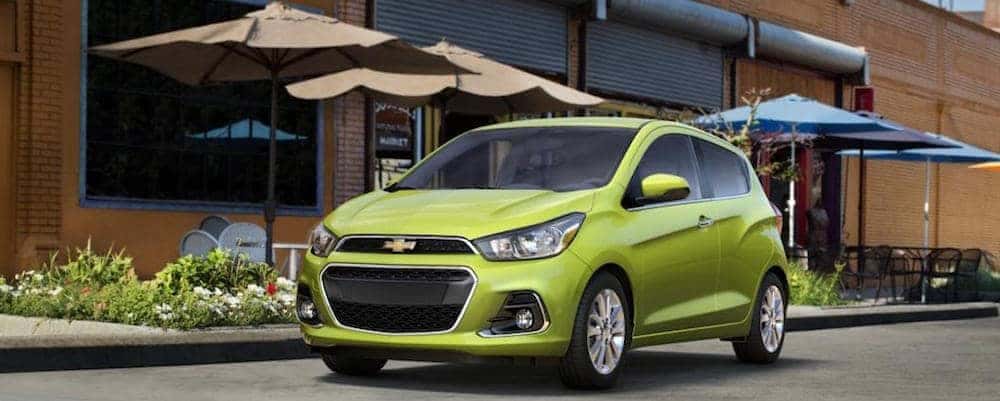 Last – and most definitely not least – is what is arguably Chevy's most aptly-designed urban vehicle, built with urban driving in mind and optimized to provide everything a city driver needs. This, of course, is the Chevy Spark.
Take all of the best attributes from Chevy's other city-centered models – the high strength steel cage, the 10 standard airbags, plenty of cargo space (27.2 cubic feet on the Spark), all the entertainment tech you could ask for, and an improved fuel economy (41 mpg highway), and you've got what Chevy is proud to call its 2016 Chevy Spark.
With all of the best features available for city life, the Spark sets a new standard for what urban drivers should – and could – expect out of their compact vehicles. And, for those looking to make good on Chevy's amazing fuel efficiency, the Spark also comes in an impressive all-electric model, the Spark EV, capable of a total electric range up to 82 miles with all the comfort and ability of a standard Spark.
For those who still believe it's not worthwhile to keep a car in the city, we say: hope you enjoy your taxi rides. As for the rest who know the power of a compact Chevy vehicle, these are some of your best options for your next efficient urban explorer. Through this impressive 2016 lineup, Chevy has proven time and time again that it is more than capable of making an excellent city car, and those who've had the chance to drive one would agree. If you haven't been down to your local Chevy dealer to take one of these compact models for a test spin around the block, then it might just be time you did so – before they're all gone.
Previous Post Chevy Spark Options: Building the Best Small Car Next Post Chevy Colorado Wins Truck of the Year, Two Years Running