The 2015 Sonic Outdoes the Competition | Chevrolet Dealers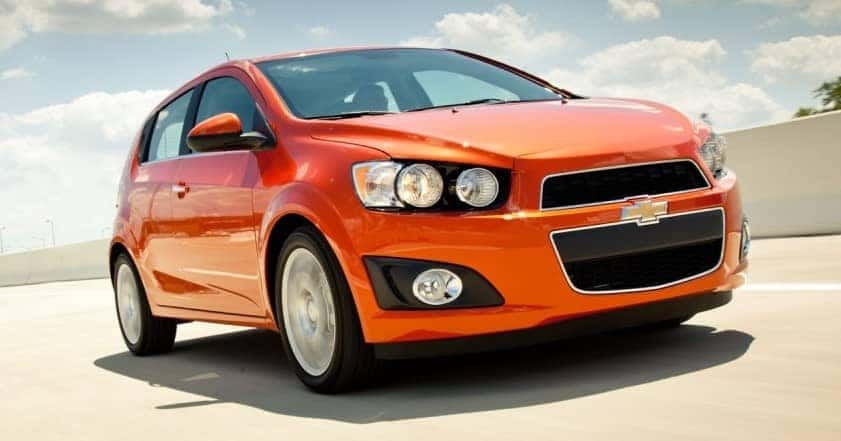 If you are looking for a dynamic little sedan or hatchback to transport you in style without emptying your pockets, the Sonic is a great choice.
Chevy has managed to give the interior and exterior swanky looks on a budget. You can have the Sonic fresh out of the factory starting at only $14,245.
When you see it yourself at one of your favorite Chevrolet dealers , you'll know instantly that it's an exceptional model.
It's ready to take on the competition with a sharp ride, copious features, and an overall hot style that will definitely delight drivers.
Snappy Ride
Buying a compact is absolutely no reason to give up your love of twisty roads or the mad skills you use to navigate through serious city traffic.
The Sonic offers a sensational ride that will keep you entertained and smiling all the way to your destination. And an available turbo engine sweetens the deal even more.
If you like a little performance with your morning coffee, the turbo may be the way to go for you. It's a 1.4-liter that will take you from 0-60 in under 8 seconds.
Pair it with the 6-speed manual engine, and you'll find yourself getting over 40 miles per gallon on the highway.
That's a lot of energy and a lot of savings. Once you've had the Sonic experience, your friends will think you're making things up.
Tons of Features
A long list of fantastic features elevate the Sonic's package even more. The available MyLink 7-inch color touchscreen is a good place to start.
It keeps you connected by syncing with your phone to give you Bluetooth, photo and video projection, music, top-of-the-line navigation, and calling capabilities.
You'll also get the OnStar Basic Plan for five years so you have access to vehicle maintenance services, emergency assistance, and remote usage, like locking and unlocking your car.
Plus you can add 4G LTE Wi-Fi to make your car a hot spot for you and your passengers. Connect up to seven devices, and use the Internet for whatever you need.
Superb Style
Now here's one of the real draws—flare. If you want a car with this much practicality and function, you usually have to go pretty bland.
But Chevy is changing that notion. The Sonic has an extremely upscale interior that makes you feel both comfortable and indulged.
And you'll definitely have bystanders taking a second look because when you purchase your Sonic, you can choose from a variety of paint jobs. Go as sophisticated or flashy as you please.
There's no need to compromise when it comes to buying your next car. Get a Sonic, and get everything you've ever wanted in a ride.
Previous Post Why Educators Love Chevy Next Post Woman Wins Dale Earnhardt Jr.'s Stingray