Love Off-Roading? The Ram 1500 Rebel is You!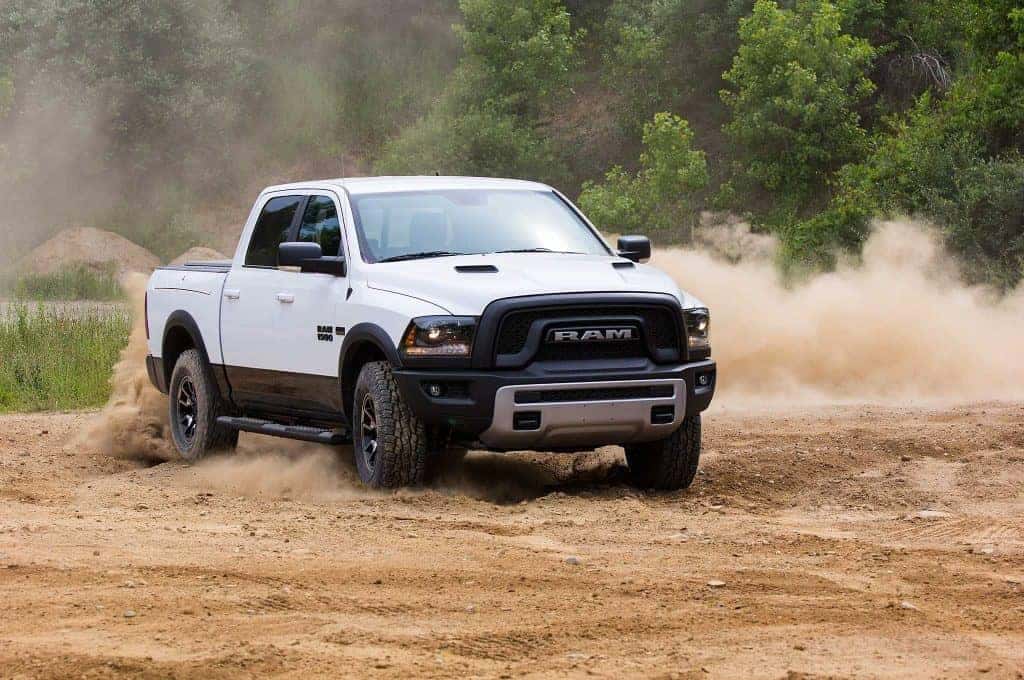 Do you love to off-road? If so, a Ram 1500 would be a great light-duty truck for you, but while you're shopping and seeing all of the Ram truck options, you may start to wonder which Ram 1500 trim would be best for you. Would the off-road monster, the Ram 1500 Rebel, be what you need and want, or would another Ram 1500 trim suffice? At the end of the day, the answer to that really depends on a couple things, how serious of an off-roader are you, what is your budget, and the style you want. These are all important factors to consider before making your next truck purchase.
Off-road
Obviously any truck with four-wheel drive is capable of going off-road, but exactly how capable? That depends. Adding simple mods here and there to any Ram truck can add more off-road capabilities, but if you want you truck to come pre-loaded with all the off-road mods you need, the Ram 1500 Rebel is your truck. The Ram 1500 Rebel comes with the following off-road features:
* An off-roading drive setting to adjust traction while off-roading 
* The Ram 1500 Rebel has an air suspension that gives the truck a higher lift in comparison to the other Ram 1500 models 
* The Ram 1500 Rebel comes standard with 17-inch tires wrapped in 33-inch Toyo tires which increase ground clearance for off-roading. 
* Bilstein shocks which are the leading selling shock absorbers. 
* Rear stabilizer bar which help protect and stabilize the truck off-road.

Style
What look do you want in your trucks? If you want a over the top aggressive styling (in the best way) and a unique/different appeal, the Ram 1500 Rebel is your truck. If you are looking for an aggressive, yet sleek and classic feel, check out any of the other Ram 1500 trims. For those that want bright colors, check out the special edition Ram trucks like the Ram 1500 Copper Sport , Ram 1500 Sport Ignition Orange or the Ram 1500 Sport Sublime Green .
Unique features of the Rebel:
Black, black, and more black. The Rebel comes with a blacked out bumper, black bezels, and a black exterior trim around the bottom of the truck.
The Power Wagon style arches over the 17-inch wheels
Power Wagon style RAM back tailgate and front grille
Toyo tread mark seats with the Rebel name embossed on them.
Red and black trimmed interior cloth seats, with the option to upgrade to leather.
Budget
Budget is a huge factor for most people which is why it is important to mention. Since the Ram 1500 Rebel has a lot of special equipment for off-roading, it is priced a little higher than some of the other trims in the Ram 1500 lineup, but spending that extra money for special off-roading equipment up front, could save you time and money if you are going to add it overtime.
* Tradesman: $26,495 
* Express: $27,895 
* Big Horn: $33,495 
* Sport: $38,295 
* Night: $38,690 
* Laramie: $39,995

*Rebel: $45,095 *

Laramie Longhorn: $49,675

Limited: $52,875
So, do you know which Ram truck is best for you? Whether you go with a new Ram 1500 Rebel or a different Ram 1500 trim, we have something for you at Miami Lakes Automall.
Photo source: Truck Trend
Previous Post Safety is a Ram Truck Priority Next Post 5 Reasons You Need a Ram Truck This Fourth of July