Florida Auto Shop Builds Monstrous Ram 1500 TRX 6×6 Pickup – Miami Lakes Automall Ram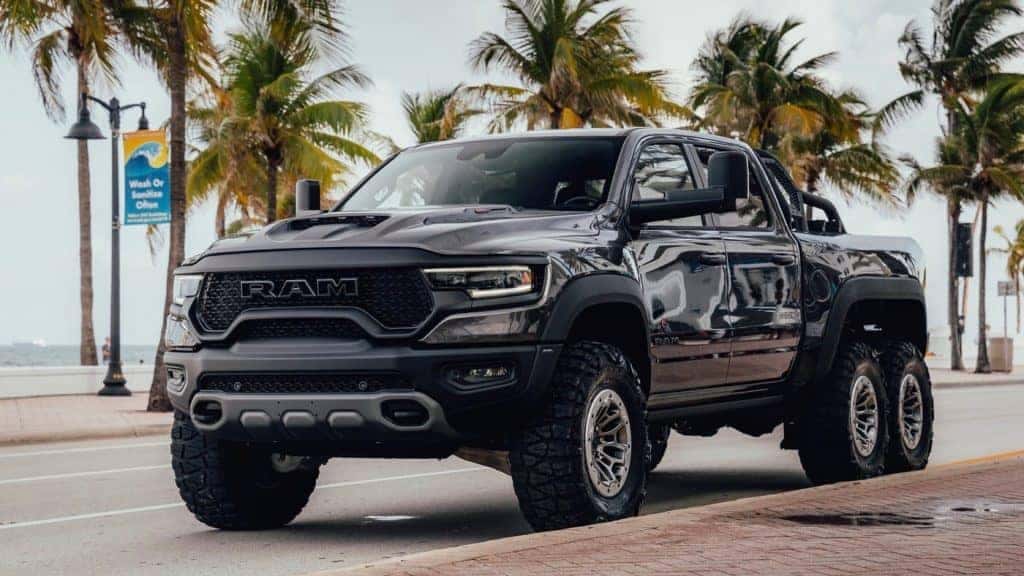 Florida has always been known for its antics. Whether it's the infamous 'Florida Man,' some exotic reptile escaping, or the creation of something nobody ever knew was needed. Thanks to Apocalypse Manufacturing, we've been graced with the third option. The creation of a monstrous pickup truck has been seen with a glint in the eyes of many young children. Those who grow up and still hold fast to the idea continue to envision such a beast. It seems one of those adults finally got their way. The beastly pickup comes to us in the form of the Warlord. This beast of a pickup is a Ram 1500 TRX with one heck of an upgrade. The Warlord as it's known features an additional axle that supplies it with two extra wheels. The 6×6 pickup doesn't seem too odd for Florida though. Rather, it is likely the huge Ram pickup was built specifically for the Sunshine State.
The 6×6 Ram 1500 TRX Dubbed Warlord
So, it seems Apocalypse Manufacturing did what most monster truck fans wish they could do. The Florida-based auto shop built a vehicle that is seemingly unstoppable. They decided to take the already powerful 700 horsepower Ram 1500 TRX and give it another huge upgrade. The addition of two wheels and the sheer size of the pickup display a dominating aura. Indeed, this monstrous pickup does leave quite an image. One can imagine it barreling down the interstate as other Floridians simply stare in awe.
What is most impressive about the Warlord is that the Florida auto shop managed to keep a general stock look for the pickup. It's as if Ram themselves built the powerful beast. The price tag tells us something different, however. For an entry-level Ram 1500 TRX, consumers are looking at a hefty $72,120 MSRP (plus destination fee). This Hellcat-powered pickup, on the other hand, costs a clean $250,000. Oof.
The price tag isn't entirely surprising though. To construct such a monster of a pickup, a lot of resources and money are required. For those critics, we have to agree that it doesn't seem too feasible to be grocery shopping in this beast. But just the fact that it exists lends itself to Apocalypse Manufacturing's vision and the child-at-heart spirit that spurs ingenuity. This custom pickup truck has certainly earned its spot among the crazy inventions of Florida. In fact, it really does represent the creative yet wild energy that makes Florida, Florida. A quick word to the wise, make sure to get out of the way when you see this beast in the rearview.
Come Test Drive a Brand-New Ram at Miami Lakes Automall!
Are you in the market for a Ram pickup ? At * Miami Lakes Automall *, we're more than excited to help our customers find what they're looking for. Check out our new vehicle inventory or browse our quality pre-owned vehicles . We offer suggestions like auto financing to help make paying for a vehicle easier.
If you're in need of service, schedule an online service appointment with our expert technicians. Allow our professional techs to get started on all repairs or maintenance work. Stop by today and see what we can do for you right now.
Photo Credit: Apocalypse Manufacturing
Previous Post A Breakdown of the 2021 Ram 1500's Towing Capacities Next Post Ram BandVan Returns with Back to Live Tour