10 Ram Truck Terms You Need to Know Before Truck Shopping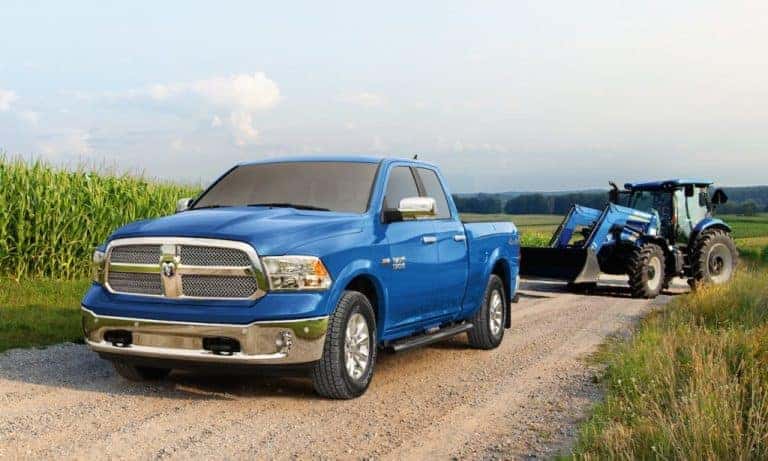 Still figuring out which truck to buy? These are 10 truck terms you need to know before making any purchase on a truck. What you end up with comes down to what you'll use your truck for, but consider all the reasons below when making your choice.
Cummins
Cummins is a engine designer and manufacturer that is well-known for their heavy-duty diesel truck engines. All Ram Heavy Duty trucks and Ram Commercial Duty trucks are available with a 6.7-liter I-6 Cummins Turbo Diesel engine. Depending on the transmission the 6.7L Cummins engine is paired with a Ram truck can produce between 650-930 lb-ft of torque.
Gross Vehicle Weight Rating (GVWR)
Simply put, a vehicle's GVWR is a weight restriction. The number is accrued from the weight of the vehicle, weight of additional accessories, cargo and as a rule of thumb, you'd not want your vehicle loaded with more weight than the vehicle's GVWR suggests. If the load is too heavy, problems with the ability to break effectively could arise and straining a vehicle's suspension or tires is a possibility as well. GVWR is an important factor when deciding on which truck to invest in.
Torque
When buying a truck, torque is usually more important than horsepower depending on your needs. Torque influences a truck's towing capabilities more than horsepower. You'll find that diesel trucks are better for towing due to their bore-to-stroke ratio of diesel engines (long stroke), producing more torque than gas engines of the same size. Diesel engines might have lower horsepower than gas engines, but they provide the power to pull tens of thousands of pounds because torque is the force behind a vehicle's ability to move forward in the first place.
Horsepower
In comparison to torque, horsepower is responsible for maintaining a truck at high speeds. Measured at higher RPMs, horsepower is important when considering any truck purchase. When you're in cruise control and maintaining your drive, that's where horsepower comes into play. If you're spending most of your time on the road, having higher horsepower is ideal over torque, depending on the job you're doing.
Dually
Dually is a term for trucks with two wheels on both sides of the rear axle. Dually trucks are primarily used to provide stability when towing large loads. In the event of a tire blowout while carrying large cargo, you'll likely still be able to tow and get to where you need; great for piece of mind. However, dually trucks are wider, so they can be a little harder to fit in parking lot spaces.
Axle Ratio
Axle Ratios are quite varied amongst automakers, on purpose. An axle ratio is the device that connects the rear axle to the driveshaft and engine. The lower the axle number, the better fuel economy. However, the higher the number the higher a truck's towing power. In more recent years, half-ton trucks with small V8 engines are able to tow over 10,000 pounds. Drivers who tow more often might want to have a higher axle ratio so they can tow more weight.
Towing Capacity
How much can your vehicle take with you on your drive? The towing capacity is the number that signifies how much your vehicle can tow. If you know what you need to pull on a regular basis, make sure you buy a truck that can get the job done.
Payload Capacity
Payload capacity is the maximum operating weight/mass a truck can safely carry. The figure is provided by the manufacturer. Whether you're in the market for a light duty or heavy duty truck, an important measure to know is a vehicle's payload capacity.
Air Suspension
Air Suspension allows trucks greater comfort while driving. Air suspension also creates boosted towing capabilities and drivers can sense firmness in their ability to pull heavier loads. For drivers that want a little bit of luxury to ensure their truck rides like a dream, this is a feature worth test driving to figure out if air suspension is a must.
Chassis Cab
Chassis cabs represent a body style, usually for medium duty truck commercial vehicles without any bed or other body panels. The vehicle is sold with solely chassis rails and a cab. The chassis cab is ideal for businesses or individuals that are going to put machinery ot an upfit in place of truck bed.
* If you have any questions about trucks or truck terms, don't hesitate to ask us! Miami Lakes Ram is a knowledgeable truck dealer and we have a huge selection of Ram trucks. Come by and test drive some models today. *
Previous Post Don't Miss the Big Finish Event: Ram 1500 Quad Cab Sign & Drive Lease Deals Next Post Christmas tree dilemma? Ram 2500 to the rescue!