Three Reasons to Love the 2016 Sedona – Miami Lakes Automall Kia
Minivans. As much as people love to hate them, they are the Swiss army knife of the automotive industry. They are essential to the modern day family, or the active older adult couple. They can haul, tow, carry, and accommodate just about anything you need them to, and they are doing it with more style than ever before. Embracing minivan ownership is one of the best decisions you can make for your active family, and Kia is helping drivers cope with the transition with the new 2016 Kia Sedona .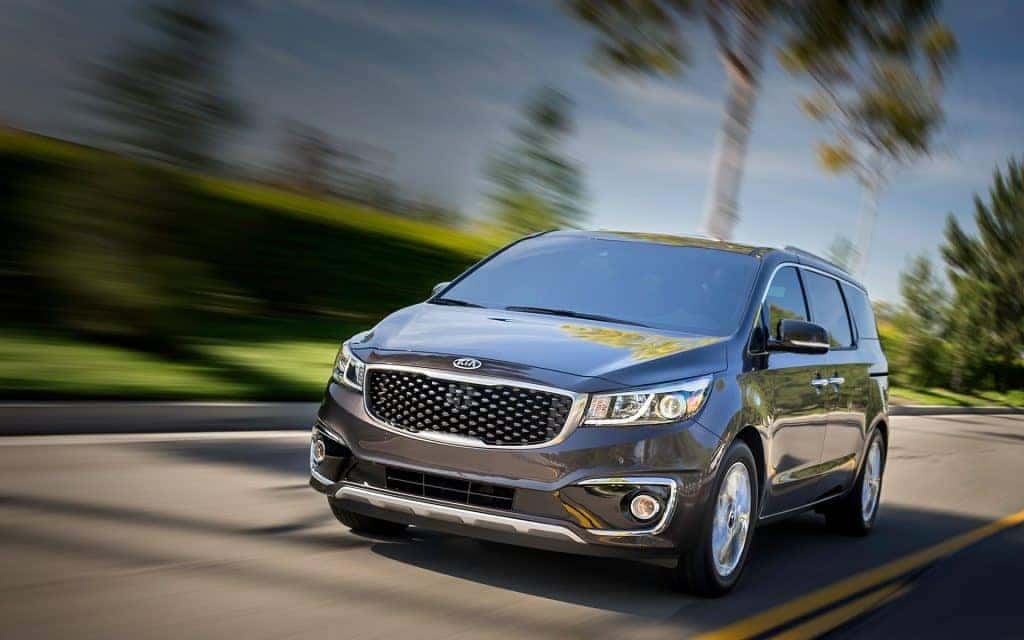 Designed to appeal to those who dislike the concept and look of the traditional minivan, the new Kia Sedona resembles a large SUV, rather than the dreaded grocery-getter of years past. Not only is the exterior styling more enhanced to look less like a minivan, but the new Sedona has some key features that we are super excited about sharing with you. There are countless ways to juice up your Sedona to help remind you that your vehicle is not something to be embarrassed for driving, but rather a multipurpose vehicle others will be jealous of. So, sit back, relax, and prepare to be amazed at just how evolved the modern day minivan has become – in the form of the 2016 Sedona.
The Features of the New Sedona We Know You Will Love
The Sedona has a lot going for it this year. With an updated exterior, refined interior, and incredible towing capabilities – the 2016 Sedona will be the last vehicle you ever want to own. There are a lot of exceptional features that were added or carried over from the Sedona's outgoing model year, and each one deserves an honorable mention. Let's take a look into some of the features of the 2016 Sedona that are helping it redefine what a minivan should be, and gives others a twinge of jealousy when they see you driving down the road in one.
Space Optimization
One of the best things about any minivan, is the amount of interior space it has. The new Sedona has seating for up to eight passengers, and plenty of room left over to store their things. Not only is the new Sedona spacious, but it is full of great ways to keep your items organized. From space optimization technology, to advanced storage solutions, the 2016 Sedona has it all. Let's explore some of those spacious features below:
Slide-N-Stow Seating: This advanced stowing feature comes standard on all Sedona models, with the exception of the upper-level SXL. With an easy one-hand operation, the second row of seats fold up, and slide forward. This handy feature allows optimum interior storage space, without having to remove any of the seats. Finding space for larger items is quick, easy, and hassle free.
Center Console: The conventional minivan does not feature a traditional center console – leaving less convenient space for storing smaller items. It's a good thing that the Kia Sedona doesn't conform to the conventions of its segment. The center console in the 2016 Sedona is a class-exclusive feature, and gives drivers maximum storage space complete with a cushioned armrest. It is as convenient as it is comfortable, thanks to the sliding tray that can easily be removed to store larger items. This unique feature is standard on all 2016 Sedona models.
Dual Power Sliding Doors: What good is a large interior space if you can't easily access it? The Sedona features dual power sliding doors on it's top three trim levels, which can be controlled by a push of a button. Whether you open the door from your key fob, or one of the locations in the interior cabin, getting in and out of your vehicle is a breeze.
Smart Power Liftgate: Another feature exclusive to the top three trim levels on the Sedona, the power lift gate allows hands-free access to all of your interior cargo. While other models may have you balancing on one foot while you try to initiate a sensor with other, the 2016 Sedona will automatically open when it senses your key fob. Leave the balancing acts to the other brands, and access your Sedona with ease.
Comfort and Convenience
If you plan to travel any amount of distance in your minivan, then you will want the comfort and convenience features that the 2016 Sedona offers. Check out a few of those features below, and find out which models offer each one as a standard feature.
Heated and Ventilated Front Seats: Cold in the winter? Too hot in the summer? Whichever end of the spectrum you fall on, the new Sedona has you covered. Both the front driver and passenger seats offer heated and ventilated seating, with three different settings to find the perfect amount of comfort. This great feature comes standard on SX and SXL models, and is available on other Sedona trim levels.
Lounge Seating: Transform the second row of your Sedona with first-class lounge seating. Featuring full-grain Nappa Leather, adjustable headrests, and footrests that retract, these seats will have you reclining in comfort on those long road trips. This option is standard on the top of the line 2016 Sedona SXL.
Dual Power Sunroofs: Another standard feature on the SXL, these dual power sunroofs ensure optimum outside light when you want it, and shade when you don't. The first and second row feature large sunroofs that offer a sunshade, and a tilt/slide option, offering the right amount of sunlight and fresh air.
Yes Essentials Fabric: Another class-exclusive feature from Kia, this Tricot Fabric Seat Trim is designed to repel liquid spills, prevent stains, and eliminate odor. This technology is standard on the entry level L, and LX models.
Power Inverter: Standard on SX and SXL models, this 115-volt power inverter allows you to keep all of your devices charged, and is there when you need it for something else.
Safety Technology
Every car should make you feel safe. Whether you are driving down the street or down the interstate, your vehicle should help keep you and your loved ones secure. Check out just a few of the safety features available on the 2016 Sedona by exploring below:
Rear Camera: Standard on all of the 2016 Sedona models with the exception of the base L trim, the rear camera display allows you to safely and confidently reverse your vehicle.
Blind Spot Detection with Rear Cross Traffic Alert: This advanced safety feature is standard on SX and SXL models, and available on other Sedona models. This system uses auditory and visual signals to alert you of objects in your blind spot, or those that are about to cross into your path.
UVO Services: While this may not be a definitive safety features, it is important to note its importance in keeping drivers safe behind the wheel. Updated with the latest UVO Eservices, Sedona models equipped with this feature will be able to keep their hands on the road with Siri Eyes Free technology. Drivers can text, call, or have messages read, without ever having to lift a finger off the wheel, or their eyes off the road. This feature is standard on EX, SX, and SXL 2016 Sedona models.
Whether you are looking into the Sedona to replace your current minivan, or are researching to make your first minivan purchase – we know you will love what the 2016 Sedona is offering for this model year. No other minivan in its class can match up to all that the Sedona offers, and we think you will agree that it is the best option in the segment.
Previous Post Why the 2016 Rio Needs to be More Than a Fuel Efficient Car Next Post 2016 Kia Optima Named International Car of Year