Kia Niro PHEV is a Great First-Time Alternative Fuel Vehicle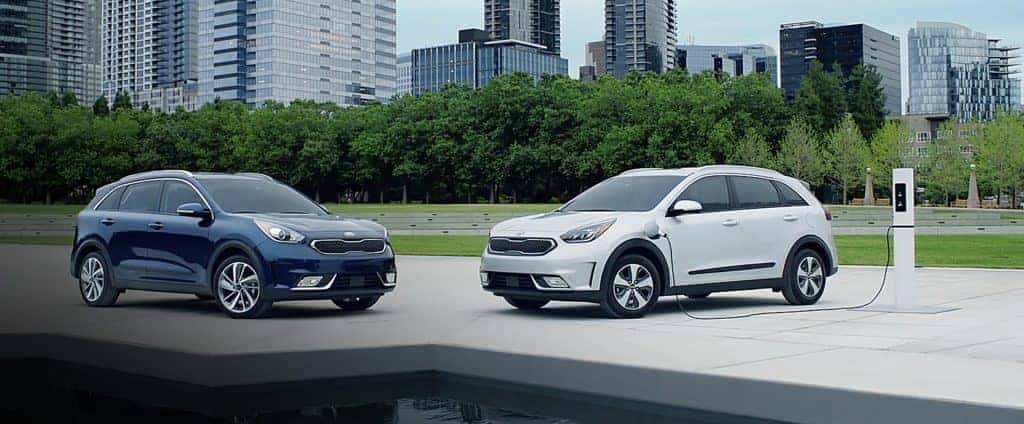 Thinking of going green, but not sure how you feel about losing the ease of a normal vehicle with an internal combustion engine? Vehicles powered by gasoline have been around since the automotive industry began – it's the kind of vehicle we know and we're used to. So when it comes to going green, some consumers are a little shocked with the changes that come along with driving an alternative fuel vehicle. A typical hybrid may be a good transition, but it doesn't do much for the environment. Plus, if going green, why not get some additional benefits than a pat on the shoulder? Check out the new Kia Niro PHEV if you are ready to take the plunge.
Charging
Because alternative fuel vehicles are still somewhat new to the general public, many people don't understand hybrids, plug-in hybrids, and electric vehicles all that much. Plug-in hybrid and electric vehicle recharging are actually pretty easy to understand. Just like plugging in an appliance, the majority of the work is plugging in one's car and navigating a menu to turn on the charger – not much different from pumping gas at the fuel station. Plus, in Miami, Florida, charging stations are popping up plenty.
When it comes to charging up the Kia Niro PHEV, consumers can install a 240V power outlet at their home to recharge the plug-in hybrid in just two and a half hours. If they wish to forego the installation, a normal 120V household electrical outlet (the same used for a phone charger) can be plugged in to charge the Niro PHEV overnight. Then there's of course public charging stations as noted above.
Driving
When it comes to an alternative fuel vehicle, most consumers are skittish about needing to stop and charge their vehicle if they want to go anywhere, but that's not true with a plug-in hybrid vehicle. With a plug-in hybrid, consumers have the choice of running the vehicle on just gasoline, just electricity, or both. The 2018 Kia Niro PHEV is powered by a 1.6-liter DOHC 4-cylinder engine, able to generate 104 horsepower and 109 lb-ft of torque, and an AC synchronous permanent magnet motor powered by an 8.9 kWh lithium-ion polymer battery and generates 60 horsepower, 125 lb-ft of torque. Assuming the battery is empty, consumers can expect a fuel economy of about 48 mpg in the city and 44 mpg on the highway.
Now, let's say the battery isn't empty. The new fuel economy, based on the Miles-Per-Gallon equivalent (MPGe), or the metric used to measure the average distance traveled per unit of energy consumed, sits at 110/99 MPGe city/highway. Able to drive on solely electricity, consumers can drive between 0-26 miles (depending on the level of charge the battery has) with zero tailpipe emissions. With a full tank of gas and a fully charged battery, the Niro can travel up to 560 miles before needing to fill up or recharge.
Savings
Also think of the savings. According to FuelEconomy.gov, in comparison to the average new vehicle, a consumer can expect $4,000 in savings. Fueleconomy.gov also estimates that it will cost about $1.04 to travel 25 miles on a single charge, which is $.45 less than the cost to travel 25 miles when only powered by gas. If that's not enough to make the change, for any consumers that purchase a new Kia Niro PHEV, they will receive a $4,543 federal income tax credit, or the opportunity to subtract $4,543 from the amount they owe in taxes for the same tax year the vehicle was purchased.
All these benefits, and the 2018 Kia Niro PHEV is a fantastic buy for someone getting an alternative fuel vehicle for the first time. Plus, the original 2018 Kia Niro was just named the best hybrid SUV for 2018 by the U.S. News World & report. They also had some positive things to say about the Niro plug-in regarding its competitors.
"It's also the most fuel-efficient hybrid SUV you can buy, boasting 49 mpg combined. Alternatives like the Toyota RAV4 Hybrid ($27,235), Nissan Rogue Hybrid ($26,240), and Toyota Highlander Hybrid ($36,670) are considerably more expensive than the Niro and return 34 mpg or less," – Rand and Anton from U.S. News World and Report.
The 2018 Kia Niro has a starting MSRP of $23,340* and the Kia Niro PHEV starts at $27,900*. Ready to take the leap? Check out the 2018 Kia Niro and other alternative fuel vehicles at Miami Lakes Automall.
*plus destination fee
* Photo Source/Copyright: Kia.com *
Previous Post Kia Motors is Developing Wireless EV Charging Next Post Plug-in Hybrid Electric Vehicles (PHEVs) from Mitsubishi Motors and Kia Motors