Kia EV6 Receives Straight A's on Cars.com 2023 Car Seat Fit Report Card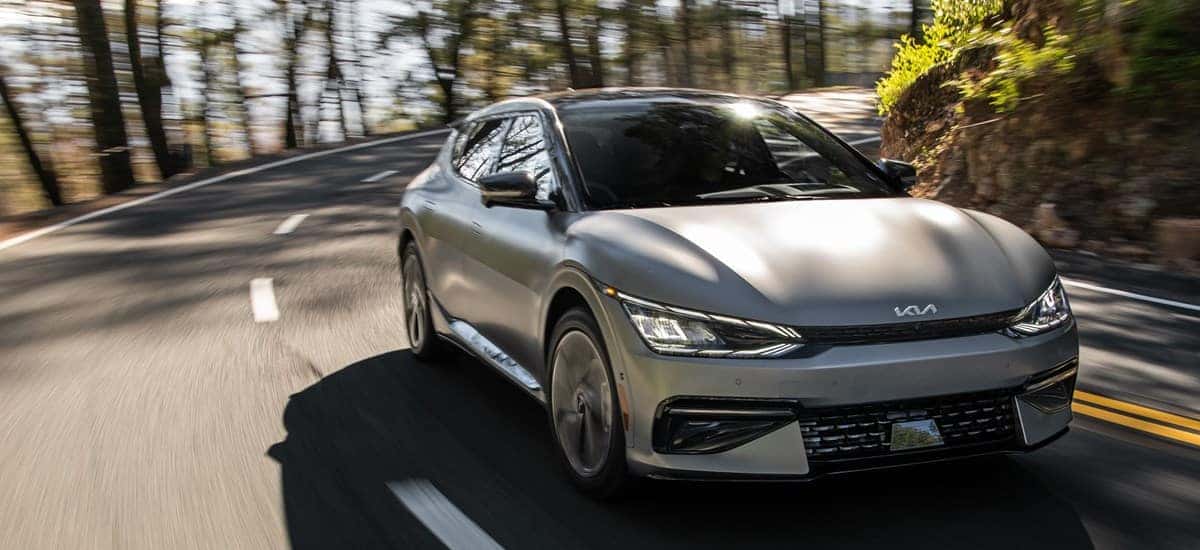 With more and more automakers releasing all-electric vehicles, consumers are going to start leaning towards that side of the auto market. It may be a new power source, but every car still brings with it the same questions about quality, technology, and safety. The latter is especially true for consumers that are shopping for a family. Thankfully, in print and on the internet, consumers can find many publications and detailed automotive journalism to give them all they need to know about new cars on the market, including battery-electric vehicles. Cars.com recently concluded its 2023 Car Seat Fit Report Card for child passenger safety, and the 2023 Kia EV6 earned straight A's.
"Its spacious backseat, easily reachable latch anchors and clear instruction labels make installing car seats a breeze — effortlessly scoring straight A's on our Car Seat Check…Add the lucrative combination of affordability, range and abundant passenger legroom, the Kia EV6 is a great family-friendly option for parents seeking an electric vehicle." – Jennifer Geiger, Cars.com News Editor and Certified Child-Passenger Safety Technician
Cars.com should be a well-known name in the biz, especially to new car consumers. It may not be around as long as some names, starting in 1998 as a digital marketplace, but Cars.com does the same as many others – connecting car shoppers with sellers, offering data-driven intelligence to ready-to-buy shoppers, and in 2018, acquired Dealer Inspire® to increase its outreach to create a faster and easier car buying process, offering consumers connected digital experiences to sell and service more vehicles. Today, Cars.com is another trusted source for car data that new car buyers will turn to.
When it comes to the Cars.com Car Seat Fit Report Card, the company combs through 12 months' worth of comprehensive Car Seat Checks conducted by Cars.com's team of experts. This includes outlet's certified child passenger safety technicians that are familiar with the installation of three types of car seats — infant, convertible, and high-back booster. Each new vehicle is evaluated, including its child seat latch system, if applicable, and how well it can accommodate different car seats. When it comes to the EV6, the vehicle received the highest grade "A" for all categories – latch, infant, RFC, FFC, and booster seats.
In addition to being flexible enough to accommodate other kinds of child seats, Kia models in general have been increasing the space and comfort of the interior cabin for years. Since the sporty Kia Stinger, released in 2018 but seeing a short lifespan, the automaker has been improving the cabin for drivers from all walks of life. The 2023 Kia EV6 has a really nice interior, and isn't just going the extra mile for comfort and safety. Kia is also reaching out to the animal lovers, trimming the upholstery with vegan leather interior, with vegan leather and suede (available for the Wind and GT-Line trims). Outfitted with an 8-way power-adjustable driver's and passenger's seat with two-way lumbar support adjustment in most trims, the entire lineup also comes with heated and ventilated front seats, a 60/40 split-folding rear seat, and dual-zone auto climate control with an auto de-fog system. Now how's that for comfort?
Throw in this new score from Cars.com's 2023 Car Seat Fit Report Card, and the Kia EV6 offers plenty of comfort, space, and safety for consumers. In the market for a new battery-electric vehicle (BEV)? Find the new Kia EV6 at Miami Lakes Automall today.
Photo Source/Copyright: Kia Media