2015 Kia Sedona Wins J.D. Power APEAL Award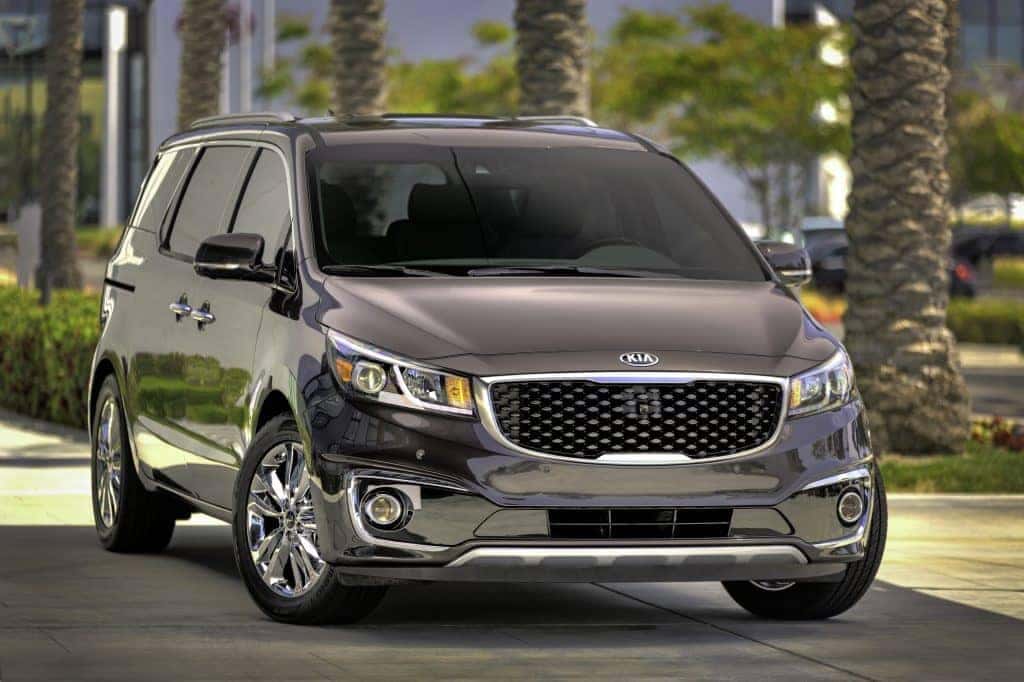 As you prepare for your closing of summer road trip there's something I want you to consider driving the Kia Sedona. Wait, a minivan? Is she for real?
Now, I want you to forget everything you've ever said about minivans. I promise, I have made the same horrible comments about minivans and one thing is certain; I said a lot of things in the 1990's that I'm not so proud of. Okay, two things. Two things are certain, that previous confession and the 2015 Kia Sedona is not your mother's minivan. (My snarky comment went something like "yadda yadda yadda, I'd never ever be someone who could drive a minivan." Yeah, yeah….wasn't I just soo cool. )
Well, good news: this isn't the 1990's, this isn't even the 2000's. We're more than halfway to the third generation in the new millennium. Your Miami Kia Dealer would love to tell you how there have been so many incredible advances in safety technology over the last twenty years, the 2015 Kia Sedona can hardly even qualify as a minivan. With updates to its style and design, touchscreen interface, on board navigation, seating configurations as well as storage and cargo space, this van has been updated and redesigned in a way that make you redefine what 'minivan' is.
When you consider that there just isn't a more efficient way to get travel in comfort with up to possibly eight passengers, fit luggage and cargo all while enjoying the latest and greatest in technology and safety features, you'll begin to understand what the very satisfied Sedona owners already know and love about theirs. But I don't need to tell you. The awards and accolades speak for themselves .
2015 has been a very exciting year for Kia.
Not only have they been climbing the ranks of consumer confidence and customer satisfaction as a whole company, but individual cars, vans and SUV's have been placing rank, too.
J.D. Power APEAL
In its 20th year, J.D. Power conducted its APEAL study to find that the 2015 Kia Sedona wins in the Van category. Standing for Automotive Performance Execution and Layout study, the APEAL study is completed by owners of 2015 model vehicles and taken within 90 days of vehicle ownership to get gain perspective on what the owners like about their vehicle.
Often referred to as "What They Got Right" survey, the questions and answers are there to help the manufacturer as well as future consumers. Separated into 8 categories; vehicle performance and design, engine/transmission, ride, handling and braking, comfort/convenience, seats, cockpit/instruments, panel, heating/ventilation and cooling, sound system and styling/exterior, a lot of information is received and processed.
Safety Technology is Most Important
This years survey was taken by over 84,000 owners and lessees of 2015 model year vehicles. It found that safety related technologies are what motivates a consumer to buy or lease a brand new vehicle. Blind spot technology was found to be preferred over voice monitoring because it offers the driver a better sense of security. They prefer this safety feature so much that they're shown to be willing to spend up to $750 more for this kind of protection.
Safety features like blind spot monitoring scored very high on the index. When looking at why this is, the study found that not only is it a prominent feature on so many new vehicle models, but that drivers are using it with such frequency. Manufacturers providing features to improve safety and visibility is proving to be not only profitable for them, but scores really well on the APEAL index. These are the features that drivers will remember when rating with positive feeling and reactions.
The APEAL study also shows that the margin between luxury and non luxury brands is smaller than it's been since 2006. Also, while luxury brands usually perform higher in ratings, this year the study shows that margin between the two has also lessened, proving that non luxury brands are scoring higher on the APEAL index.
The results also shows that scores in the non luxury brands have increased by five points while the luxury brands has only increased by one point. This means that either there are more people purchasing non luxury brands and are satisfied with them, or owners of luxury brands are not as happy with their vehicles as owners of non luxury vehicles.
Overall people are happy with their vehicles, according to the results, which is a plus for the auto industry as well as manufacturers. Studies like this conducted J.D. Power provide a great amount of pertinent information to car manufacturers about how to make their vehicles more appealing to the consumers. It is to the benefit of the everyone for these results to have the highest possible scores.
Given how high the overall scores were for the 2015 year it can be said that this was a good year for the quality of vehicles produced by manufacturers.
Kia Nameplate Finishes Second by Initial Quality Scores
The Kia nameplate alone did very well for itself according to J.D. Power. After another test conducted by J.D. Power on Initial Quality, the results showed Kia finishing a full 20 points ahead of itself from last year's personal best. In fact, the Initial Quality Score puts Kia as the second highest scoring nameplate among 33 brands. That's four places ahead of its place in last years' ranks.
Like the APEAL index, the Initial Quality Scores are given to the same group of people who take the APEAL tests. The motive behind this test is specifically to see what problems have occurred within the first 90 days of ownership. This tests obviously, yields different results but provides equally important information to the manufacturer.
Other Awards and Accolades
2015 has been an exciting year not just for Kia but for the Sedona in particular.
Autobytel named it the Van/Minivan of the Year for its class-winning design and elegant styling. Determined to be the best of the best by the editing team at Autobytel, the Sedona was recognized for its performance by placing first in its category.
The NHTSA (National Highway Traffic Safety Administration) gave the 2015 Sedona an overall 5-Star crash safety rating. As of 2011, the NHTSA introduced more difficult tests making the 5 Star Rating provide more information about the performance of safety features and crash avoidance technologies.
The IIHS (Insurance Institute Highway Safety) named the 2015 Kia Sedona Top Safety Pick. In order to gain such prestige, the vehicle must earn good ratings in the moderate overlap front, side, roof strength and head restraint tests. It must also have a good or acceptable rating in the small overlap front test.
Because J.D. Power lends itself to being 'the voice of the people' it comes with such great excitement for manufacturers to not only make the list but to then gain points year after year.
It's one thing to win awards for a wonderfully produced car, or for sales or dedication to perfection, but to win the award which is 'the voice of the people' means a lot more.
Ultimately, you want consumer to enjoy and love your product. You want there to be a connection to your brand and their loyalty. If these tests prove anything it's that customer satisfaction leads to customer loyalty and that is the best award.
For Kia to be scoring so high in vehicle owner tests shows how far they've come in the relatively short time they've been on the scene in America. It also shows how hard they are willing to work to stay in the hearts and driveways of their customers.
Previous Post Kia K900 Named Most Satisfying Vehicle by Auto Pacific Next Post 2016 Kia Sorento: Redesigned and Better Than Ever