Jeep Looking to Expand its Desert-Rated Lineup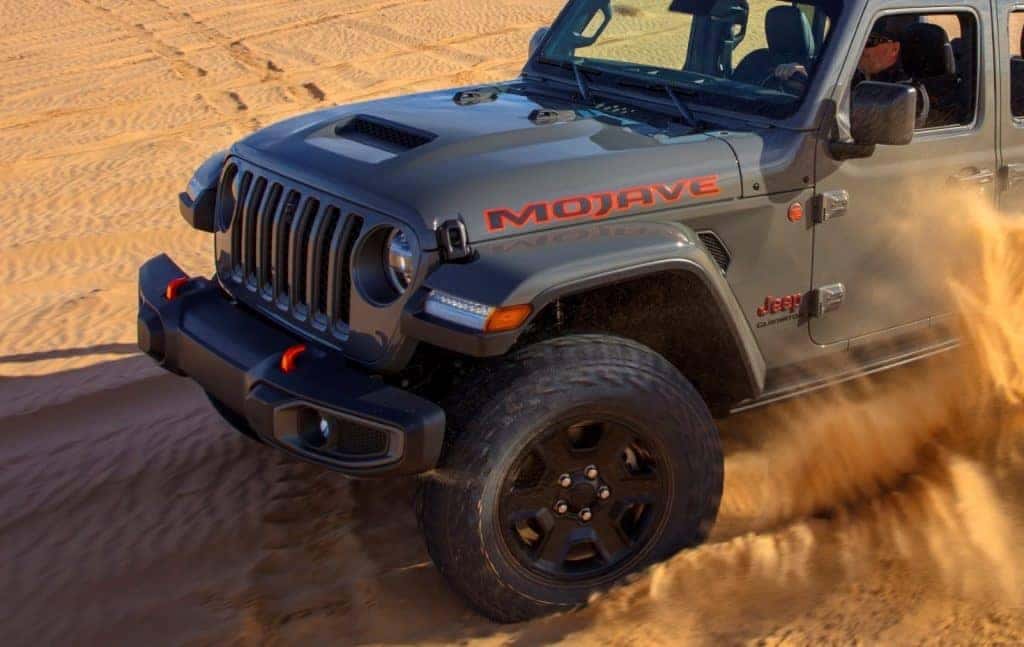 Historically, the top-tier Jeep Wrangler Rubicon has always been the undisputed king of off-road vehicles. However, the Jeep Gladiator Mojave, unveiled last year (2019), is calling the Wrangler Rubicon's bluff. Not that the Gladiator Mojave is higher in the pecking order of off-road vehicles, but it's got a different mission than the Wrangler. Although the Gladiator Mojave gives the Wrangler Rubicon a trim it cannot match, that's all going to change very soon if the rumor mill is correct.
According to Mopar Insiders, there's a Jeep Wrangler Mojave trim coming down the pipeline — clad with the same underlying features required to earn that new Desert-Rated badge. Both the new Jeep Gladiator Mojave and Wrangler Mojave will be available just in time for the 2021 model year. Insiders mentioned that the Gladiator Mojave's 2.5-inch Fox shocks with external reservoirs, a reinforced frame, and rugged cast-iron steering knuckles will transfer over to the Wrangler Mojave as well. Other carryovers between the two models are set to include the big 33-inch all-terrain tires and stronger axles.
Plenty of the Gladiator Mojave accents are expected to carry over to the Wrangler Mojave as well, including the aggressive fender flares, Mojave-specific rock sliders, and the sculpted hood with a broad scoop. On the inside, the Wrangler Mojave will have plenty of cabin room to accommodate the bolstered front seats, orange accent HVAC bezels, and orange accent stitching. There's no word yet on when Jeep might choose to unveil its latest gem, the Wrangler Mojave. The 2020 Easter Safari might've been the perfect occasion, but the event was cancelled due to the coronavirus pandemic. Jeep did announce that it would find ways to debut those vehicles as well throughout the year as the brand was looking to adjust its calendar.
FCA could possibly debut the model at its annual "What's New" event this summer for the press, but rumor has it that the event is already the stage where FCA is planning to unveil the new Ram 1500 Rebel TRX model instead. Unlikely to force two of its brands to share the thunder, FCA will find another venue to debut the Wrangler Mojave. Let's just hope the reveal date isn't moved closer to the end of the year.
Although we're a long while from the debut of the Jeep Wrangler Mojave, that doesn't mean you can't enjoy the best that Jeep has to offer right now. Visit us atMiami Lakes Automalland explore the latest Jeep Wrangler inventory. Schedule your test drive today! Already own a Jeep Wrangler and are looking to beef up your vehicle? Look no further than Miami Lakes Jeep, where you can shop for authentic Mopar aftermarket parts at our service department. Follow us on Miami Lakes social media for the latest news, offers, and all things Jeep!
Photo Source/Copyright: Jeep
Previous Post Next-Generation Jeep Grand Cherokee Readies for Its Debut Next Post The Jeep Wrangler Works Hard to Reduce its Environmental Footprint