Common Off-roading Jeep Terms Every Jeeper Should Know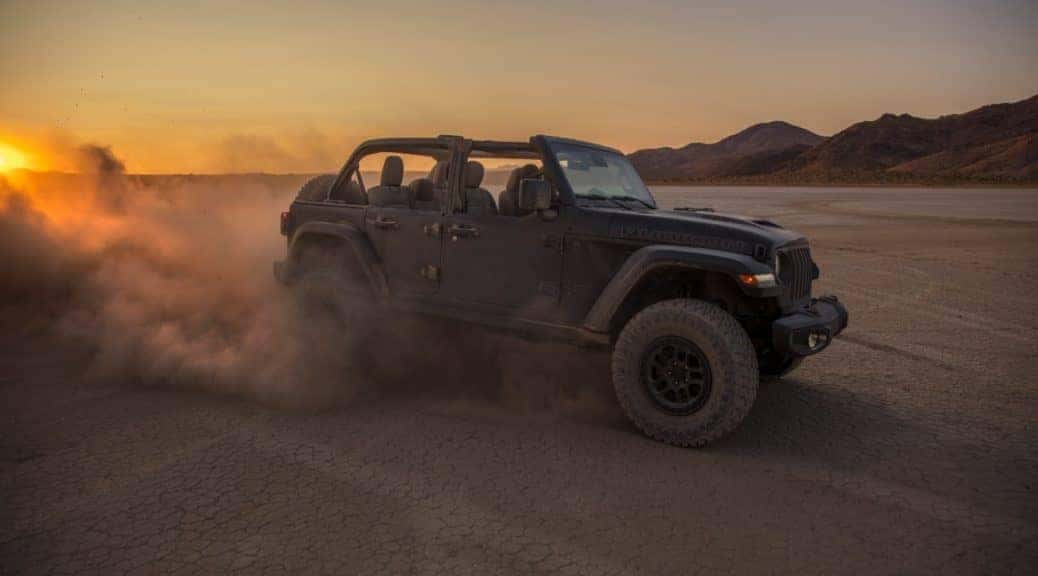 Off-roading takes quite a bit of skill to conquer the trails without damaging your vehicle, and Jeepers are largely known for their off-roading expertise. While off-roading may come naturally for some, it's important to start with a solid foundation of off-roading knowledge and where better to start than with some of the most common terminology. Here are a few off-roading related terms that all Jeepers should be familiar with prior to hitting the trails.
4xe
This expression is the new branding for the latest Jeep plug-in hybrid vehicles, such as the Wrangler 4xe. It is pronounced "four-by-ee."
Aftermarket
Often refers to parts and accessories manufactured by a third party and installed post-purchase with aims of personalization.
Desert Rated
This is the latest badge Jeep created, specially minted for the Gladiator Mojave, and signals the addition of heat and sand resistance as a complement to Jeep's already-existing Trail Rated badging.
Ducking
A popular activity in which people reward owners of impressive and unique Jeep Wrangler vehicles by leaving a little rubber ducky on the fender. Often accompanied by a nice message lauding their car, and a great way to make friends while on the trail.
Jeep Wave
A social convention in which Jeep Wrangler owners acknowledge one another by waving while on the road. Jeepers usually frown upon letting the tradition be used for other models. Jeep Wave is also the name of a Jeep owner membership program in which owners can access select benefits, including complimentary car rentals due to repairs or mechanical failures.
OEM
This acronym stands for Original Equipment Manufacturer. Jeep has been a pioneer when it comes to OEM customization options, often releasing special edition packages straight from its in-house parts and accessories Mopar division. Customization straight from the factory is a popular choice for both the Wrangler and the all-new Jeep Gladiator.
Solid Axle
Instead of the independent suspensions found throughout most cars, the Wrangler uses a dependent "solid-axle" instead. Wheels opposite of one another are connected by a bar and turned into a single unit. This setup simply offers a very strong advantage when it comes to off-roading: it's simpler and easier to repair.
Trail Rated
Just like the previous Desert Rated badge we mentioned earlier, this badge is granted to off-road capable Jeep vehicles that can meet the following Both the Wrangler and the Gladiator models come standard with a Trail Rated badge as they all offer one of Jeep's 4×4 systems. Crossovers such as the Renegade, Compass, Cherokee, and Grand Cherokee only feature a Trail Rated badge when the respective trim is off-road oriented.
To this day Jeep is often considered the lone automaker that inspired two lasting trends in the automotive industry. Accessorized off-roading became the standard once Jeep expanded and encouraged modifications of its Wrangler vehicle among others. Additionally, Jeep also helped pioneer the concept of the SUV as the ultimate family vehicle with the success of the Jeep Grand Cherokee. Recent moves, such as the creation of the Wagoneer series, indicate Jeep is aiming for a more upmarket position in the automotive industry.
Visit us at Miami Lakes Jeep before you hit the trail! Check out the latest from Jeep, including the all-new Jeep Wrangler 4xe , here atMiami Lakes Automall. Explore the rest of our Jeep inventory and schedule your test drive today. Follow Miami Lakes Jeep on social media and stay up to date with the latest Jeep news and offers.
Photo Source/Copyright: Stellantis
Previous Post Jeep Wrangler Wins Another Best Value Award Next Post Getting Your Jeep Wrangler Ready for Summer