CEO Offers Hope to Those Who Want Jeep Pickup – Miami Lakes Automall Jeep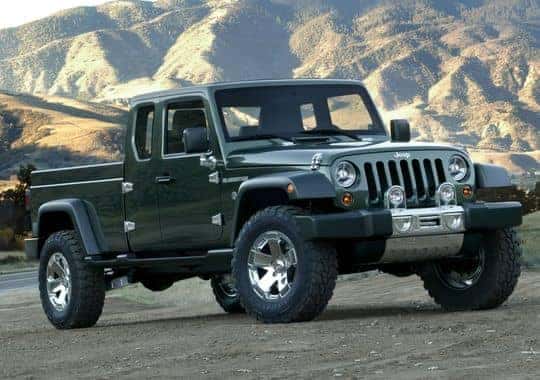 Jeeps have a lot in common with pickup trucks as both are rugged and dependable powerhouses. Yet Jeep doesn't have the same cargo space as a pickup thanks to its shorter body and enclosed back.
Some lucky fans might get a nice surprise when they shop for Jeeps for sale in the coming years: A Jeep pickup that combines the best of both worlds.
Jeep CEO Mike Manley said that he was a "big fan" of the idea of a Jeep pickup truck, which fans have been buzzing about for some time. However, he said that while Jeep is looking into the options, there are no current plans for the development of a Jeep pickup. Fiat Chrysler Automobile has not listed a Jeep pickup in its production plan dating through 2018.
Manley said that he thought a Jeep pickup deserved a place in the company's portfolio, but that the automaker has higher priorities for the time being — notably the next generation Jeep Wrangler. Yet Fiat Chrysler Automobile will need to start looking at its next five-year plan, and fans are hoping that a Jeep pickup can be included on it.
Jeep has a history of pickups in its line, dating all the way back to the brand's inception in the 1940s. The last Jeep pickup produced was the Comanche, which was retired in 1992.
Though the Comanche only sold 197,000 units in its six-year production run, analysts feel that a Jeep pickup may be well received if one were produced now. Pickup trucks are experiencing record sales, and the 2017 Jeep Wrangler will be built on a design base that could also be used for a pickup.
Before Jeep could add a totally new model to its lineup, it would need to address its production issues. Many of its facilities are having trouble keeping up with the current demand, and adding another model to the mix could strain resources or even result in unfulfilled orders.
Jeep is looking into expanding its facilities as it continues to enjoy record sales.
Jeep has looked into the possibility of a pickup in concept models such as the J-12 produced for the Moab Easter Jeep Safari in 2012 and the Gladiator produced for the 2005 Detroit Auto Show. Fans are just hoping that some of the design inspiration from those concept models sticks and a new Jeep pickup becomes a reality.
It's a great time to look at Jeeps for sale. Jeep continues to prove itself as a quality and reliable vehicle, and exciting changes are abreast for the line. Head down to Miami Lakes Jeep today to look at a large selection of Jeeps for sale at some of the area's most competitive prices.
Previous Post Jeep Grand Cherokee SRT: History of the Fastest Jeep Ever Made Next Post Toledo Pushes to Keep Wrangler Production in City