A Closer Look at the 2020 Jeep Lineup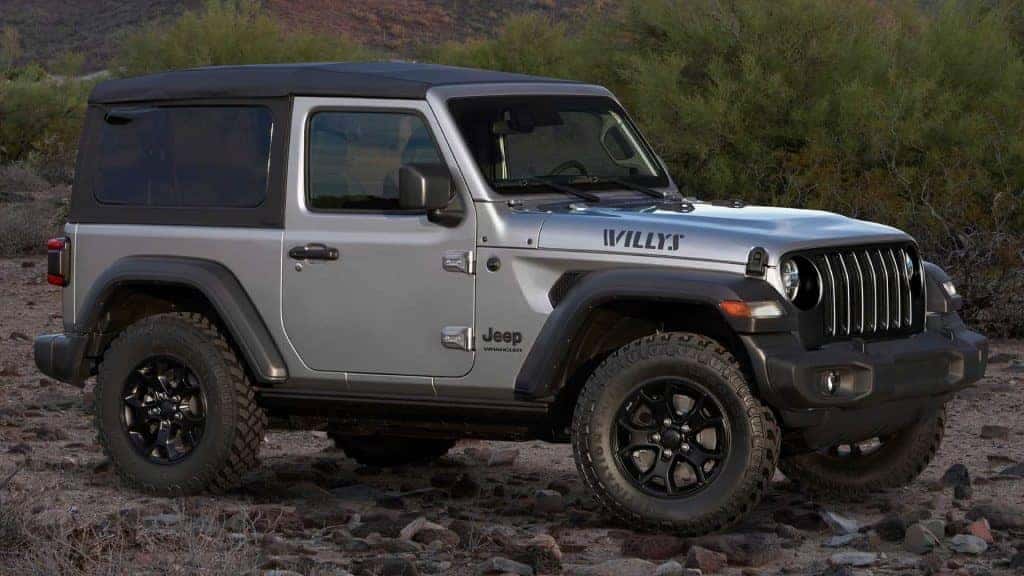 Experts may argue that it was simply demand that made the Jeep brand a success. Sure, plenty of drivers did make the switch to larger SUVs, but the brand's ability to make fuel efficient and equally capable vehicles has plenty more to offer than meets the eye. The current media darling is the all-new 2020 Gladiator, but the Wrangler, Cherokee and Grand Cherokee are not to be outdone. Here's everything Jeep is offering for the 2020 model year.
Jeep is a standout brand and people aren't just making the switch because they want bigger vehicles only. The all-American brand enjoys a lot of success because of its attention to detail and a penchant for manufacturing vehicles that feel as if they're nearly personalized. Superior off-road vehicles are Jeep's bread and butter and part of its heritage — in fact, the brand's motto is simple "Go Anywhere. Do Anything." For example, the 2020 Wrangler Rubicon required very little input from drivers to conquer any path less-traveled. With a 10-8-inch ground clearance, solid horsepower and torque figures, skid plates, and best-in-class 4×4 systems, the Jeep Wrangler is hard to beat.
Many other brands attempt to match what Jeep offers when it comes to off-road capabilities, but they consistently find themselves coming up short. For the 2020 model year, the Wrangler adds not only its first-ever V6 mild-hybrid eTorque-equipped engine, but also a brand-new Wrangler EcoDiesel option as well. Exact mpg figures are pending, but two new options bring the 2020 Wrangler engine options count to four.
Although it remains to be seen, the 2020 Gladiator is programmed to feature the EcoDiesel engine as well sometime in early 2020. Nearing Wrangler-type fervor among the masses, the 2020 Gladiator enjoys popularity for the same reasons: uniqueness, customizability, and overall off-road prowess. Off-roading in a midsize pickup with doors, a windshield and a roof? We can't think of any other truck in the midsize segment that can compete. More than a Wrangler with a truck bed tacked on, the 2020 Gladiator has a starting MSRP of $33,545 (plus destination fee). The 2020 Wrangler has a starting MSRP of $28,295 (plus destination fee).
The 2020 Jeep Cherokee and Grand Cherokee models offer buyers a modern take on a classic. Those buyers who seek modern luxuries without sacrificing off-road capability will be happy to turn to either of these models. It's suspected that this is the Grand Cherokee's last model year (2020) as its headed for a generational redesign come 2021. Rumors circulated that Jeep would add that highly-coveted third-row seating arrangement on the 2021 Grand Cherokee, but it looks like the brand will save it for the upcoming Grand Wagoneer model instead.
The 2020 Jeep Grand Cherokee comes in seven different trims — Laredo, Limited, Trailhawk, Overland, Summit, SRT and Trackhawk. The top-tier Grand Cherokee, the Trackhawk, is powered by a massive 6.2-liter supercharged HEMI V8 that generates 707 horsepower and 645 lb-ft of torque. As the premium offering, the strongest and fastest SUV on the market is mated to an exceptional eight-speed automatic transmission with all-wheel-drive and top-tier 4×4 systems. For 2020 the Trackhaw adds 20-inch wheels with Titanium Aluminum finish, does away with the diesel powertrain option, and adds yellow accents to the tailgate badge. The Jeep Cherokee, on the other hand, remains relatively unchanged for the 2020 model year after a quick refresh in the Spring of 2019. It has a starting MSRP of $25,740 (plus destination fee).
The Jeep Renegade and Jeep Compass models remain the two entry-level SUVs of the Jeep lineup with respective starting MSRPs at $22,275 and $21,095 (plus destination fee). Don't just take our word for it, get familiar with the Jeep lineup at Miami Lakes AutoMall. Miami Lakes Jeep has all the offerings to suit your needs, whether you're looking to rough it out in the Gladiator or Wrangler models, or need a more respectable and luxurious daily driver like the Grand Cherokee. Schedule your test drive today!
Photo Source/Copyright: Motor 1
Previous Post 2020 Jeep Grand Cherokee Highlights Next Post The Multifaceted Jeep Cherokee