2015 Jeep Concepts from MOAB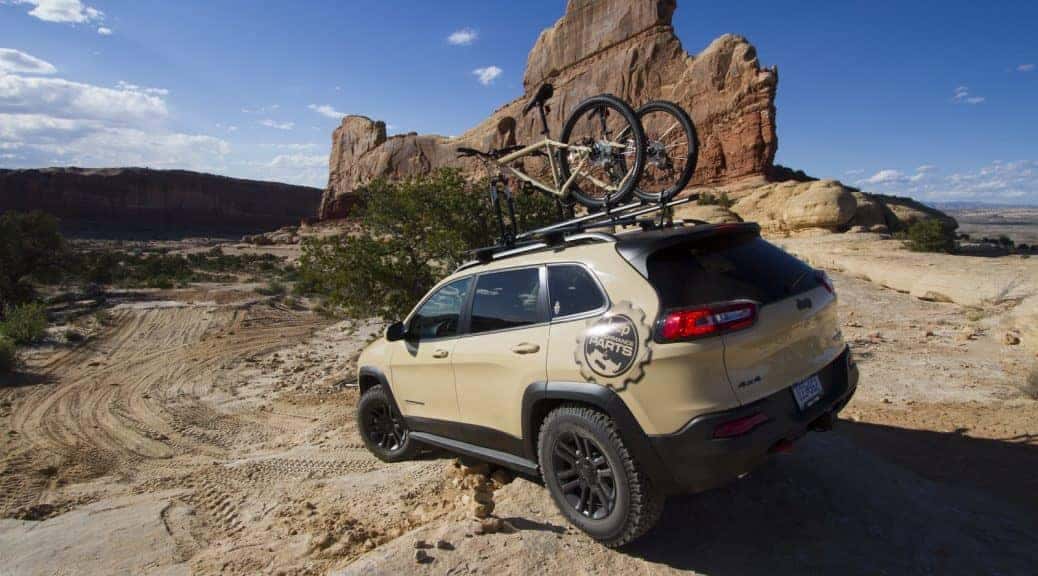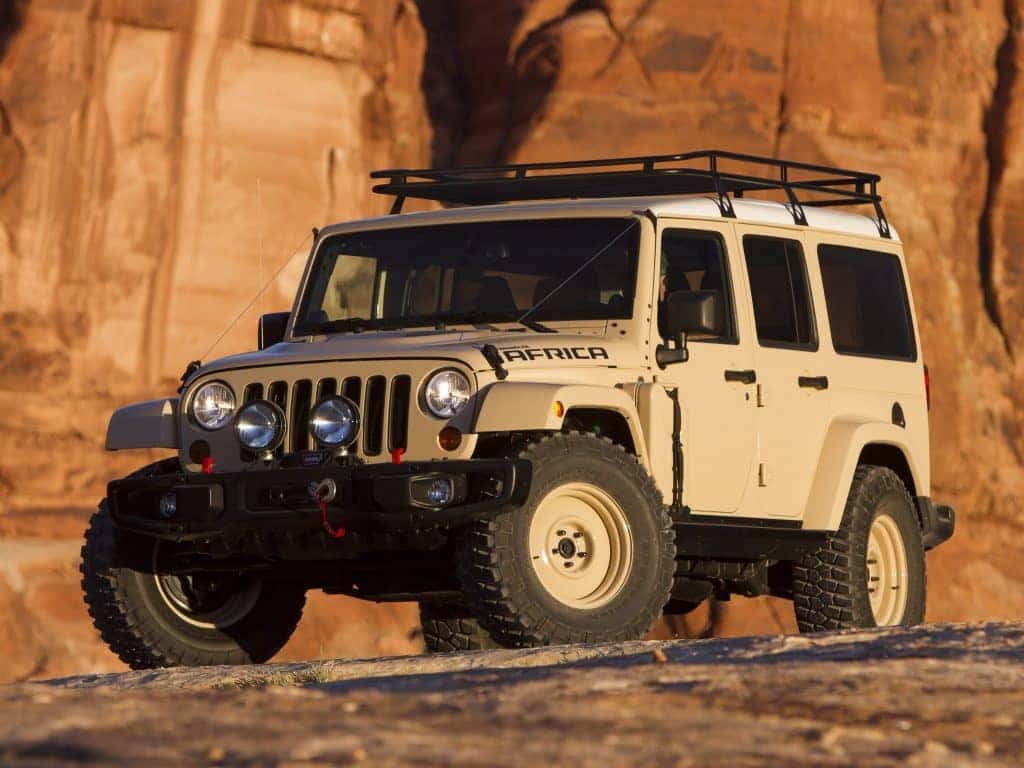 Not just a lucky number, seven is the total number of unbelievable Jeep concept vehicles created for the 2015 model year.
Unveiled right before the 49th annual off-roading extravaganza known as the Jeep Easter Safari in Moab, Utah, these vehicles are not only just plain cool, but possibly practical enough to make it to production lines in the future.
At least that's what this girl, a long-time Wrangler driver, sincerely hopes.
After all, what's the point of imagination if you can't set it in motion? And while these concepts are not found at your local Jeep dealership , much of their inspiration is. When's the last time you felt inspired?
One for Each Day of the Week
What a nice concept. Drive a new Jeep creation everyday and pick your favorite.
Although I haven't driven any of these, I already have my favorite.
But, I'd still take the rest out for a test drive.
The Jeep Wrangler Africa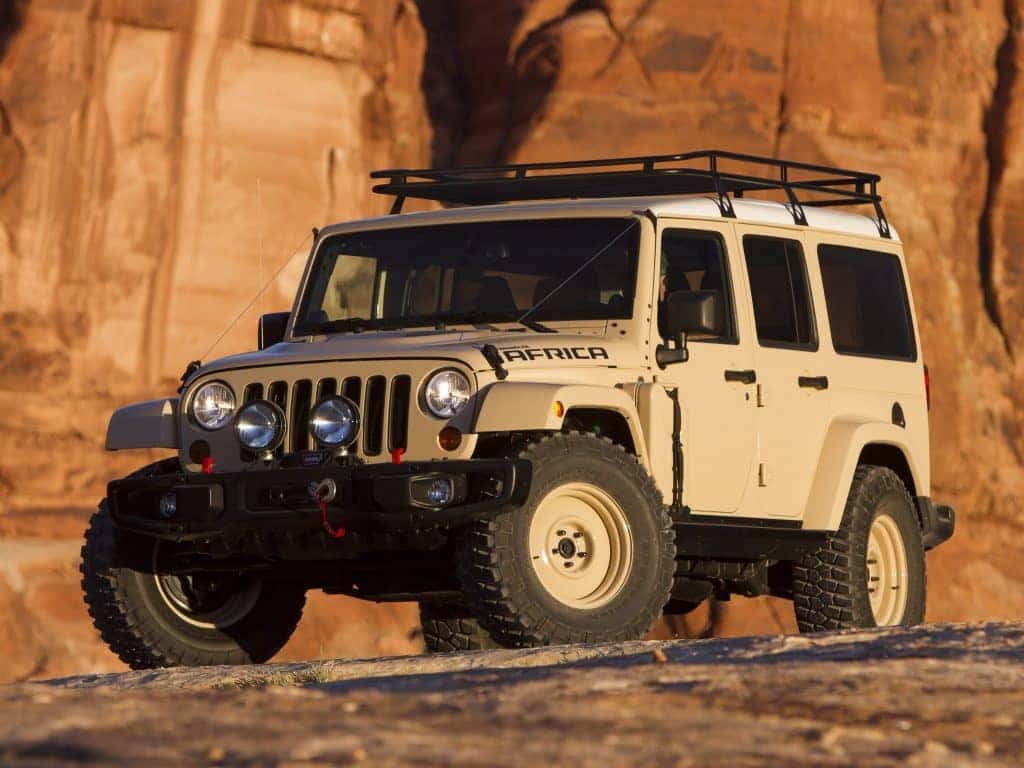 Based off the four-door Wrangler Unlimited, the Jeep Wrangler Africa concept is equipped with a 2.8-liter diesel engine, operated by a five-speed automatic transmission, and bolstered up on35-inch BFGoodrich Mud Terrain tires wrapped around heavy-duty 17-inch steel wheels.
Longer than the Unlimited, with a roof boosted more than four inches higher than a regular Wrangler, the Africa smuggles a spare tire beneath its body and actually has a spacious trunk space.
Reminiscent of the Land Rover Defender and the Toyota FJ40, the Jeep Wrangler Africa features stock fender flares with a two-inch Jeep Performance Parts suspension lift with Fox Racing shocks. To conquer uneven terrain on your next safari adventure, Jeep outfitted this concept with front and rear Dana 44 axles.
As much as I want to go on an off-roading adventure and test out the guide wires against low-hanging branches in my way, no to mention the automatic extending rock rails, I do wish that Jeep had kept the removable roof an option. It's tough for Wrangler drivers to give up that topless look.
The Jeep Cherokee Canyon Trail and Jeep Renegade Desert Hawk
Though not as exciting as the Jeep Wrangler Africa concept…or really the rest of this concept crew, the Jeep Cherokee Canyon Trail and Jeep Renegade Desert Hawk more road-realistic.
Made entirely of Mopar and Jeep Performance parts, featuring hood-decal maps of celebrated Moab trails, these vehicles have a sense of direction and purpose.
Dressed in the same tan exterior with matte black accents both cars have a variety of skid plates protecting their fuel tanks, oil pans, front suspensions, and underbodies.
Poised for adventure on 17-inch wheels surrounded by 30.5-inch BFGoodrich All-Terrain tires, the Jeep Cherokee Canyon Trail is what you might expect to drive day-to-day in your real life.
Same goes for its smaller sibling, the Jeep Renegade Desert Hawk. No doubt this car could successfully conquer the desert terrain, but it's destiny might be more closely aligned for the daily grind.
Getting you to and from your day job safely and in style. You know, when you're not busy pretending you're far, far, away on an African safari.
Jeep Chief
I want this car.
Upon first review, it was nearly impossible to refrain from humming the Beach Boys smash hit, "Surfin' USA."
It's not just the vintage look, but the "surf-rated" design and familiar-looking, but brand new "Ocean Blue" hue.
Borrowing the Wrangler Unlimited's body, the Jeep Chief looks like a refurbished classic Cherokee Chief, sure to inspire some nostalgic appreciation from onlookers.
Standing atop 17-inch slotted-mag wheels with 37-inch tires, the Jeep Chief concept is equipped with a 3.6-liter Pentastar V-6 engine, operated by a six-speed manual transmission enhanced by a cold-air intake.
Taller than the Cherokee by half an inch, the doors and windshield were shortened by two inches, the roof is redesigned as an homage to its predecessor, and the exterior handles were removed from the rear passenger doors.
No C-pillars interfere with the long side window, and neither does any glass for that matter. The rear windows and tailgate are glass-less, giving this concept even more of a barefoot, beachy feel.
Just in case you somehow missed the beach-theme of this boss, the interior will remind you. The seats are floral-patterned in pink, blue, and white, a color scheme inspired by the Hawaiian shirts Tom Selleck rocked on Magnum P.I.
Don't believe me?
Well, take a look at the tailgate and side panels, from which Tom Selleck's unmistakable mustache sits.
Extra vintage enhancements come from the rosewood slats in the cargo space, and the vintage surf logos decorating the console and door handles.
Oh, and the shifter is designed to look like a tiki.
Paging Brian Wilson…
Jeep Wrangler Staff Car
Okay, so here's where things take a sober, but still stunning turn.
A salute to Jeep's military history, the Wrangler-based Staff car concept was inspired by the original staff car from World War II.
What it does have and what it does not aligns with that original vehicle.
By way of illustration, the blackout lights, flat fenders and rear-mounted spare tire were all seen on the original military vehicle.
Headrests were not, and so the current Staff Car concept doesn't have them either.
What is does have are some heritage-nodding enhancements, like a whip antenna, and a little replica of a grenade balancing atop the manual shift knob.
This vehicle is door-free, passengers simply slip onto and off of the cloth bench seats. After all, who has time for opening and closing doors when you're traveling through a hot spot?
A new roll cage extends from the back seat to the windshield, and the Staff Car stands on35-inch Firestone NDT (non-directional tread) tires.
It's easy to feel a bit emotional looking at this car, when you consider where it came from, but the spine-straightening sense of pride inspired by its history comes just as easily.
Jeep Wrangler Red Rock Responder
While the other concepts, certainly the Chief and Staff Car, packed powerful style punches, the Red Rock Responder is…um…eye-catching, in a striking and head-scratching sort of way.
Pickup truck-esque the Responder is built for that. Responding.
Designed to move first responders to emergency situations, the Responder is painted bright red, with a cargo box brimming with an air hose, high-lift jack, fire extinguisher, first-aid kit, tools, recovery kit, and roadside emergency kit.
Traveling on 37-inch tires with beadlock rims, the Responder is outfitted with a 3.6-liter V6 engine with a five-speed transmission, the same drivetrain featured in the regular Jeep Wrangler models.
Other specs include the Dana 60 axles, Fox shocks, four-inch suspension lift, a Warn winch, LED lighting, high top fenders, and prototype rock rails, with Wrangler Rubicon 10th Anniversary Edition front and rear bumpers. All-weather mats protect the interior and the seats are covered in red and black leather.
So the back looks strange, whatever. If I was stranded or injured somewhere, I'd be delighted to see this baby rolling my way.
Jeep Grand Cherokee Overlander
This might just be the ultimate running-away-from home vehicle.
Consider this, the 3.0 -liter V6 engine with available air suspension is set to explore unchartered territory on 34-inch tires.
Durable features like the 9,000 pound winch, skid plates galore, and rock rails, make the off-road accessible, while "limb risers" stretching from the roof to the hood, clear away brush from your windshield for ultimate visibility, even if you have no idea where you're going.
But once you do reach whatever your destination might be, you can pop the two=person clamshell tent onto the roof and sleep under the stars, and well out of the way of snakes or other ground-dwelling creepies.
The sage green exterior color blends into any lush background and the LED light bar chases away the darkness when something goes thump in the night.
Grab a buddy and see what running away from reality feels like.
Here's the beauty of all Jeep vehicles, whether concept or production models, they back up the words of their motto with serious and dependable action.
In a Jeep it really is possible to "Go Anywhere, Do Anything."
Previous Post The 2015 Jeep Grand Cherokee: More Than Meets the Eye Next Post Ten Popular Jeep Grand Cherokee Accessories