2023 Dodge Challenger SRT Demon 170 Is the Champion of Muscle – Miami Lakes Automall Dodge 2023 Dodge Challenger SRT Demon 170 Is the Champion of Muscle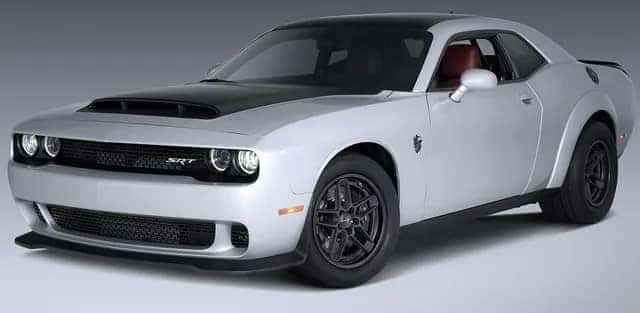 Make no mistake, Dodge has reached the pinnacle of production muscle vehicles and horsepower fitted with the average driver. The limited-production 2023 Dodge Challenger SRT® Demon 170 brings the first-ever 1,000-plus-horsepower production HEMI® powertrain. This was the seventh and long-awaited Last Call Special Edition entry that has become already banned in its stock form by the NHRA thanks to decimating the quarter-mile with a certified 8.91-seconds ET at 151.17 mph. This is a remarkable ride that ties back to the powers created in * 2018, five years ago, when the Challenger SRT Demon * debuted.
What Does the Demon 170 Bring To the Table?
Buyers with just a red key in hand, horsepower levels are measured by the percentage of ethanol fuel detected. A recalibrated powertrain control module optimizes fueling and spark timing for equal premium and high-ethanol-blended fuel to unlock the full horsepower potential.
The absolute power to go from 0-60 mph in 1.66 seconds and generate the highest g-force acceleration of any production car represents the best of the Brotherhood of Muscle. Dodge has promised only limited to 3,300 at most based on production capacity, with 300 destined for Canada. This is truly the special muscle car among * the Last Call muscle series * . Ordering opened for customers launched this week in the U.S. MSRP of $96,666. Buyers have the options to choose from including 14 exterior colors, 2 Satin Black paint options, 4 interiors and optional carbon fiber wheels.
Get A Step Ahead, Previous Demon Owners
Are you a current 2018 Challenger SRT® Demon owner? When you place your order for the new 2023 SRT Demon 170 from a dealer with allocation, they'll have the unique opportunity to request it to match to the original Demon VIN.
The 2023 Dodge Challenger SRT Demon 170 comes with customized, limited-edition and serialized items available after customers gain delivery. From the included personalized, commemorative Demon decanter set and a custom instrument panel badge, to an appearance mimicking Goodwool breathable mesh car shell available for purchase. There's no greater muscle car to ever purchase than this instant champion.