2016 Dodge Charger Pursuit Integrates Uconnect System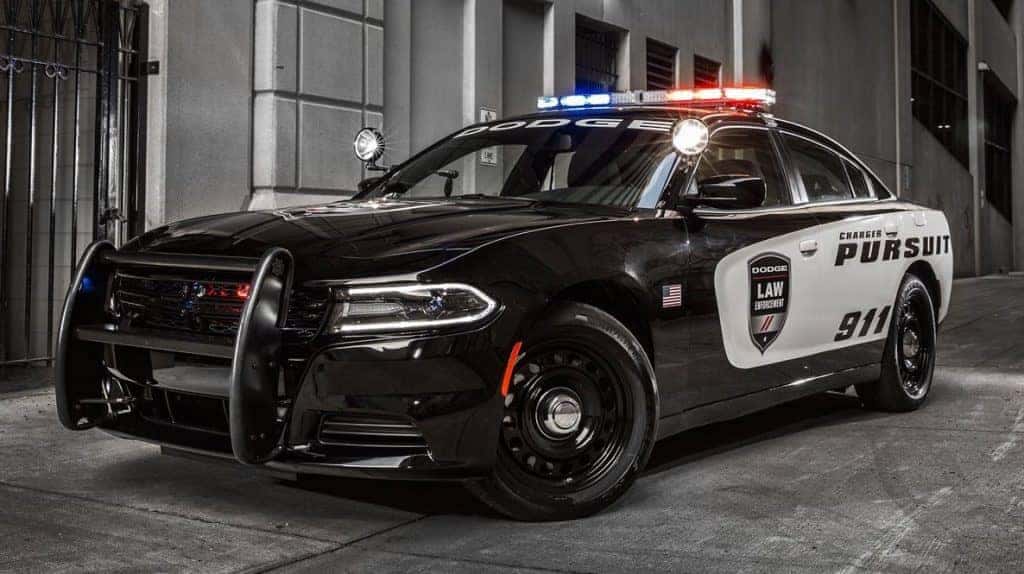 For the first time ever, Dodge's Uconnect system will be integrated with law enforcement's computer system to upgrade their Charger Pursuit; America's high performance police vehicle.
Designed by police officers for police officers, this integrated system is accessed via computer which stays tucked away in the trunk and is displayed on the segment's largest 12-inch touchscreen located on the center instrument panel.
This touchscreen will eliminate the need for the officer's laptop in the car which also eliminated the need for oversized bulky components that can be unsafe and contribute to disorganization. The 12.1-inch touchscreen is about the same size as a laptop and will be able to provide and pull up all the necessary information for police officers when responding to a call or reporting a traffic violation.
This segment-exclusive integration will further ensure that Dodge will be able to provide our everyday heroes with the proper tools and most secure vehicles to succeed in their job. Your Dodge dealership in Miami knows how important it is to provide security for our officers so they, in turn, can provide safety for us.
Uconnect Integrated Interface System
"As America's high-performance police vehicle, Dodge Charger Pursuit is going big for 2016, offering a massive, Uconnect touchscreen system that streamlines a law enforcement officer's system with our easy-to-use Uconnect system – on an all-new laptop size 12.1 inch touchscreen display," Tim Kuniskis, President and CEO of Dodge and SRT Brands attested. He went on to explain, "Designed and tested to Charger Pursuit's stringent test requirements, our all-new Uconnect 12.1 system is the latest piece of tactical hardware that is neatly integrated into the instrument panel for a mobile command center that could only be delivered from Dodge."
Cleaned Up Instrument Panel
Engineered exclusively to improve command capabilities between vehicle and officer, the Uconnect system is designed for ease of integration and operation. Featuring a 'plug-and-play' solution which will connect an officer's mobile computer through the trunk of the Charger, allows for the information to be displayed on the 12.1-inch touchscreen. Borrowing the idea of stowing away all the unnecessary buttons, controls and wires, this connection that now happens via the trunk keeps everything hidden away, promoting organization and easier function.
Ergonomically located in the center of the instrument panel, this screen is now more than double the size of its previous 5-inch display screen. It provides large pixel display as well as clear presentations of Uconnect radio and vehicle controls. Because crime doesn't cease to exist even in cold weather, the Uconnect touchscreen was engineered and tested to work with an officer wearing gloves and to operate in both extreme hot and cold temperatures.
Designed By Officers For Officers
Design of the Uconnect 12.1 was a team effort. Addressing the issues of today's enforcement were FCA's law enforcement vehicle design team, engineers, fleet and Uconnect team, along with a 19 member Police Advisory Board. The goal: find a solution for use of a mobile integrated command center.
Joni Christensen, Head of Uconnect Marketing, "This is a great opportunity to adapt our easy-to-use system to benefit law enforcement officers, making it even easier to keep their hands on the wheel and eyes on the road."
Because of advances in safety and technology, highly effective tools are now being utilized by our police force. Modern technology with laptops and data protection protocols have replaced old systems like two-way radios that are now antiquated. Sensitive information, like crime scene details and suspect identities require the newest and most updated systems.
As it is, police vehicles are full of additional displays, mounting brackets and keyboards that compromise comfort, organization and potential safety in the event of a collision. Police officers and engineers were tasked with how to dispose of the bulk, but combine all systems into a working on-board computer which wouldn't compromise security or safety.
Safety First
Safety and security take top priority when designing tactical equipment for America's high performance law enforcement vehicle. Because it was discovered that a traditional center console-mounted laptop or screen positioned between driver and front passenger have added more dangerous impact points or even interfere with airbag deployment during a crash, a more tolerable and safe solution had to be designed. In an attempt to avoid visual distraction,
disruption of controls and display, as well as dispense with antiquated devices that made for a bulky and unsafe center console, the new Uconnect system had to be better than all the bulky equipment and safety hazards as well as provide the inclusion of those things.
The Chargers Pursuit's team of Law Enforcement specialists was presented with the unique opportunity to adapt the easy to use Uconnect interface to the police officers' mobile technologies. This new system had to be ergonomically correct for an officer's reach, safety, stability, and organization.
In 2012, the Law Enforcement team of specialists introduced the Uconnect 12.1 to a Los Angeles Police Department's Dodge Charger Pursuit test vehicle.
Award Winning Uconnect System
Leveraging the strengths and continued improvements of the Uconnect touchscreen, the all new 12.1 adds to the innovation of Uconnect system. Featuring the largest touchscreen in the segment, it also offers Bluetooth connectivity for mobile devices, Bluetooth streaming audio, ParkView rear back-up camera, SD card slot, and a USB with auxiliary ports.
"As technology continues to evolve, the next wave of Uconnect features and services is in constant progression and our latest Charger Pursuit application with our massive 12.1 touchscreen display is just a taste of our in-house capabilities to expand and integrate different technologies for our customers," explained Christensen.
New features to the Uconnect system include drop down menu bar, Siri Eyes free, and Do Not Disturb. Siri Eyes Free is a button that can be pushed from the steering wheel and synced up with your Apple iPhone. Once activated, Siri is listening for normal voice activated commands to send text messages, set reminders, play music, place phone calls, and dictate navigation. Siri Eyes Free is further advancing safety features available in our vehicles.
Do Not Disturb is a feature that can be opted for by drivers who do not wish to be disturbed with phone calls or text messages while driving. Located on the Uconnect system's phone screen, once activated with the push of a button, all incoming calls will be rerouted to a voice messaging system and text messages will go straight to a default or reply with a customized response if specified.
As tactical equipment for our law enforcement, the Uconnect 12.1 underwent Dodge Charger Pursuit's rigorous field testing and engineering requirements. This Uconnect system is backed by a 3-year/36,000-mile factory warranty.
The Dodge Charger Pursuit
As America's high performance police vehicle, the Dodge Charger Pursuit is offering our brave men and women in blue the best in protection, technology, and top rated performance. The 2016 model gets the factory installed Mopar upfit packages. Adding to the segment's most advanced all-wheel-drive system for premium tactical performance as well as all-weather traction and fuel efficiency, is the even more powerful, best-in-class 370 horsepower output.
Dodge understands the importance of a vehicle to its owner. They know what a Dodge owner wants and needs. When that owner is a police officer who risks his or her life everyday and spends more time driving around, this vehicle becomes their office, their safety. Dodge engineers have taken it upon themselves to create the best environment for our officers. Departments can start ordering this Uconnect system in January. Production is slated to begin in March of 2016.
Previous Post (Fondly) Remembering the Dodge Neon Next Post 2016 Challenger Safety Rankings and Trim Highlights