Collision Center in Miami Lakes, Florida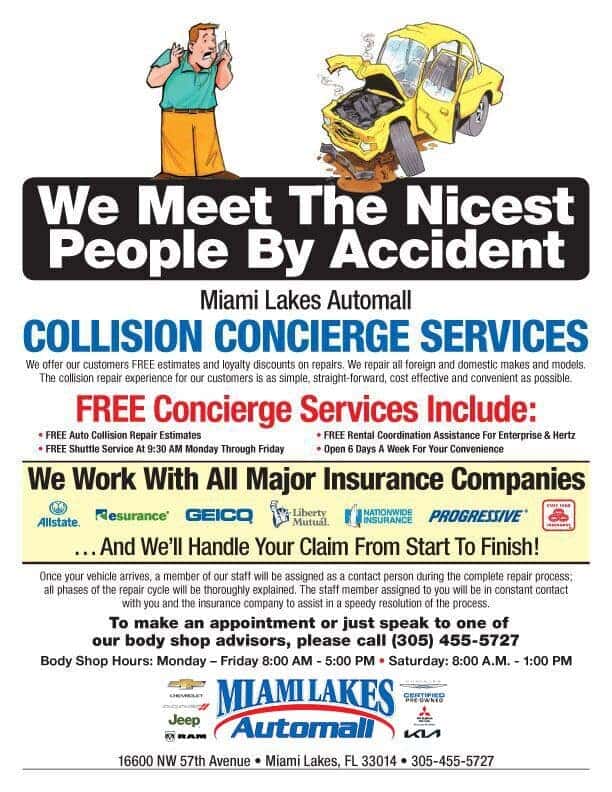 The utter dismay you feel when you get into an accident can often be overwhelming, and the headache of worrying about repairs, how you are going to get around, and more doesn't help either. As your Miami car dealer and service center, we do our best to get you back on the road quickly with professional repairs and the least amount of stress possible.
More Than a Fort Lauderdale Car Dealer: We Are Your Car Collision Repair Specialists
Why are we the perfect place to bring your car for collision repair? To start, we have convenient hours during the week from 7am-5pm and on Saturday 8am-1pm. As soon as your vehicle arrives, a staff member will be assigned to your case and he/she will be your dedicated contact throughout the process. So now that the headache of where and when your car will be repaired is out of the way, what about your day-to-day? You can't be expected to sit around and wait. This is why our Pembroke Pines car dealership helps you coordinate rentals from Hertz and Enterprise. We love their prices and their service, so we will help you get exactly what you need whether it is catered to your budget (or what the insurance company is willing to pay) or the style of car you need. Don't worry; if this is all happening too fast, you can take it at your own pace. The best thing to do is head to our service center to get a free estimate. This way you can shop around, but we do warn you, we are extremely competitive and it will be hard for you to find a better deal. We promise your car is in great hands at our Fort Lauderdale car dealership, so call us today at (305) 455-5727 to get started.