2015 Dodge Charger – Miami, Fl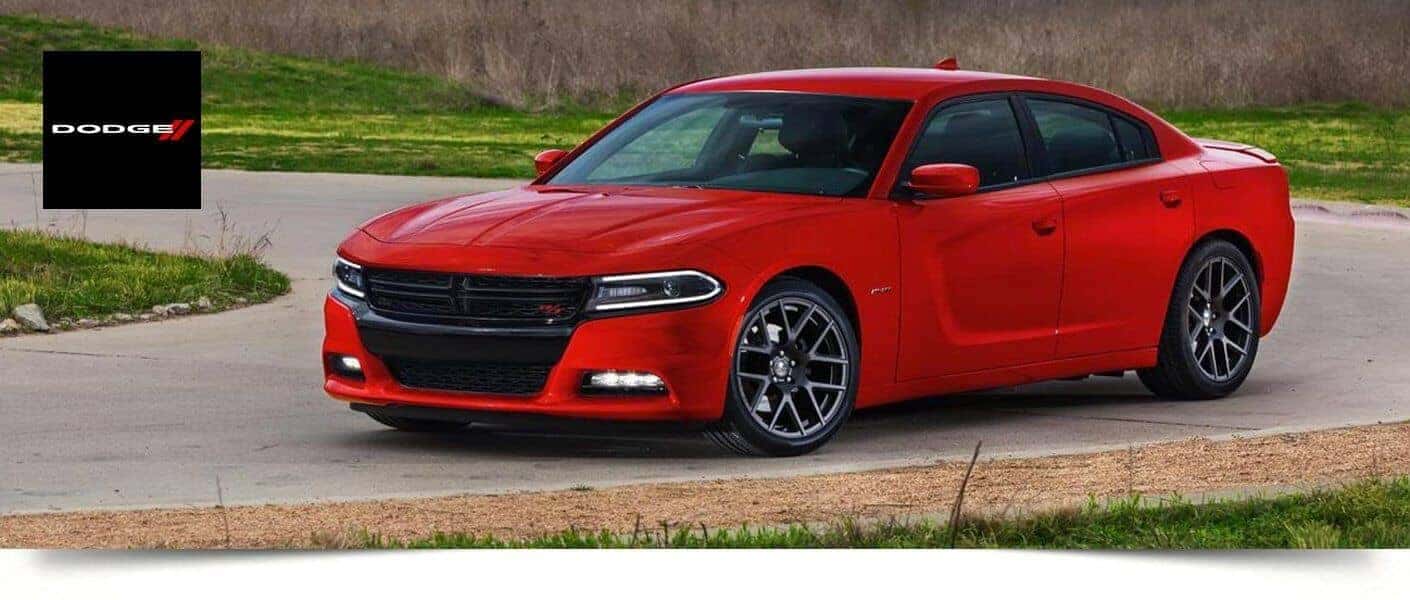 With a new look comes a new attitude. The 2015 Dodge Charger has been redesigned, bringing its appearance up to date without losing any of its distinctive charm that makes it impossible to mistake for anything but a Dodge. Just about every aspect of this new Charger has been revised and improved, from the exterior all the way down in to the powertrain lineup, safety features, and interior look and feel.
You'll definitely want to experience the 2015 Dodge Charger in Miami FL for yourself here at Miami Lakes AutoMall. We'll be happy to take you for a test drive and show you all of the exciting changes that have been made to the Dodge Charger for 2015. Whether you're looking to get behind the wheel of your first Charger or you've been driving an older model and want to upgrade, we're your source!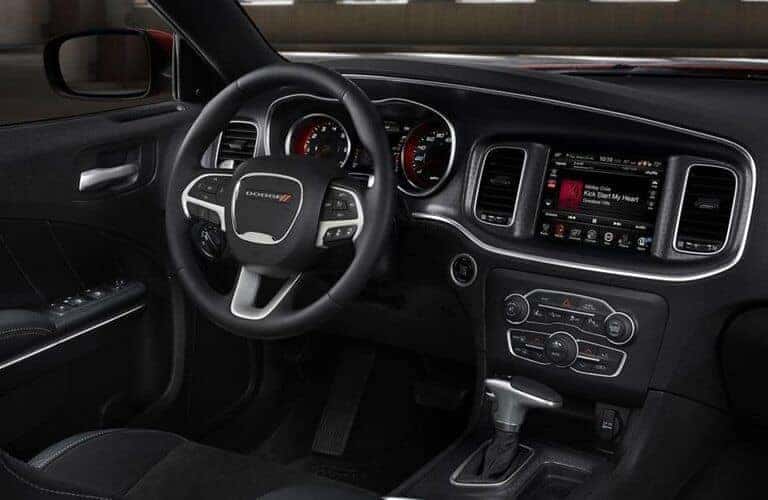 Power When You Need It
If you're one of those drivers who puts performance at the top of your priority list when picking out a new vehicle, the 2015 Dodge Charger won't disappoint you with its highly capable engine options. Start out with the standard 3.6L Pentastar that offers you 300-horsepower and an incredible EPA-rated 31 highway mpg. What more could you ask for? Well, you could always ask for the 5.7L HEMI V8, which is your other option in the 2014 Dodge Charger. Now you're looking at 370 horsepower and 395 lb-ft of torque .
Whichever engine you choose, it'll be paired with the new standard TorqueFlite eight-speed automatic transmission with Autostick. We think you'll be truly impressed with how smooth, efficient, and powerful your ride will be in the 2015 Dodge Charger. Why not come in to and test drive one?
Your 2015 Dodge Charger in Miami FL Awaits
You'll love everything about this new Charger, from the way it handles and performs to the impressive comfort and convenience features you'll find inside every model. With pushbutton start, a power driver's seat, and a touchscreen audio system, there'll be no question who's in control. Let us show you all of the amenities and options on this vehicle here at Miami Lakes AutoMall.
When it's time to test drive or learn more about the 2015 Dodge Charger in Miami FL, give us a call. Our friendly and knowledgeable sales team will help you from start to finish!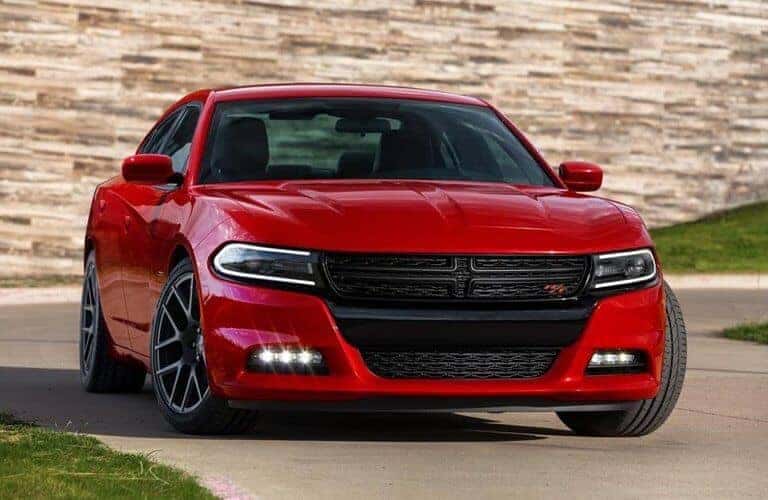 Incredible Selection of Trim Levels
Starting at just $27,995, the 2015 Dodge Charger has plenty to offer Miami, FL buyers as a base model, but can be upgraded to levels unseen on any other performance car on the market. The base level SE model is powered by Dodge's classic 3.6-liter Pentastar V6 engine, which makes 292 horsepower and has the efficiency to get up to 31 mpg on the highway. For the modest base price, you get a beautiful car, a capable engine, and plenty of modern interior features.
For $2,150 more, you can upgrade to the SXT trim, which features the 8.4-inch UConnect touchscreen dash unit , 18-inch satin carbon aluminum wheels, cloth sports heated seats, dual zone climate control, a remote start system, and a premium six-speaker stereo system. This trim doesn't offer an upgrade in performance, but it does provide the extra comfort and convenience features necessary to make for an enjoyable ride.
Speaking of performance, if you are looking to upgrade more than just the interior, the R/T trim on the 2015 Dodge Charger is the way to go. Only $3,600 more than the price of the SXT, the classic R/T model offers a 5.7-liter HEMI V8 engine upgrade , which is good for 375 horsepower and 395 lb-ft. of torque. It also sports slick 20-inch wheels on 245/45R20 all-season performance tires, a performance-tuned suspension, a dual performance exhaust system, and a body-color rear spoiler. In terms of overall value, the R/T offers a great balance of performance and price for every type of buyer.
Where the R/T is the middle ground for the 2015 Charger, the R/T Road & Track trim really takes it up a notch. Featuring Nappa leather-trimmed seats that come both heated and ventilated in the front and even heated in the back, it's got comfort for the road and performance for the track. For those track days, Dodge included its Performance Pages software, featuring 0-60 timing, braking distance, g-force measurement, and even launch control. Upgraded 20-inch polished aluminum wheels really give the R/T Road & Track presence on the road, while a sport-tuned suspension, three-mode stability control system, and upgraded brakes give it all it needs to perform at the track.
By now, you can see that the 2015 Dodge Charger has an incredible array of models. But we've only scratched the surface of its top-of-the-line trim levels. The SRT 392 is the model that completely separates Dodge from its competition. With an upgraded 6.4-liter HEMI engine, the SRT 392 boasts 485 horsepower and 475 lb-ft. of torque . That's 110 more horsepower compared to the R/T and 80 more lb-ft. of torque. With three-mode adaptive damping suspension by Bilstein, Brembo brakes with vented rotors, the SRT 392 builds upon the performance built onto the R/T and R/T Road & Track trims, but turns it up to 11.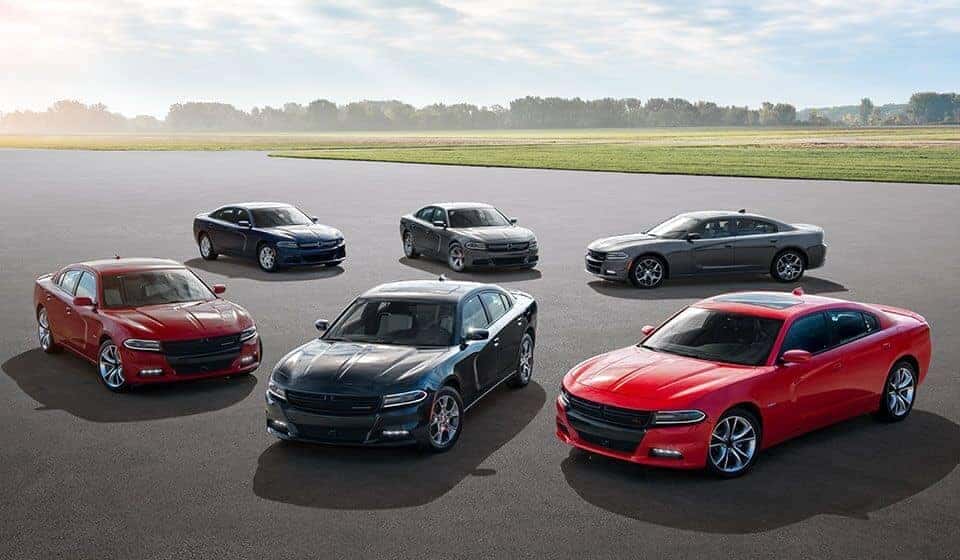 2015 Dodge Charger SRT Hellcat: The Most Powerful Production Sedan on the Planet
While you might be thinking there's no possible way to go beyond the incredible power and overall performance offered by the new and improved SRT 392 trim, Dodge and SRT weren't satisfied with just being the best. They wanted to make a statement, with a vehicle so powerful no other American car manufacturer would dare create something so audacious.
That statement is the most powerful sedan ever created, capable of generating over 700 horsepower, running a quarter-mile in 11 seconds flat, and hitting a top speed of 204 mph. This is the 2015 Dodge Charger SRT Hellcat , and it starts a bargain base price of just $63,995 . It's the car you always dreamed of, but thought no one would ever make.
Powered by a monster 6.2-liter HEMI V8 engine, it produces exactly 707 horsepower and 650 lb-ft. of torque . That's more than the new $237,000 Lamborghini Huracan! It even reaches 0-60 in just 3.4 seconds, which is faster than plenty of the world's most exotic supercars. And it does it for a fraction of the price.
But what really sets the Charger SRT Hellcat apart from other muscle cars and super cars is that it's so practical. It's a sedan, so it seats five, it doesn't suffer from visibility issues, yet it attracts the same amount of attention as supercars because of its reputation among enthusiasts.
Overall, Dodge has managed to do something that few manufacturers would dare, and have been successful in the process. If you want a performance car that actually does offer everything, yet doesn't break the bank, visit Miami Lakes Automall to order a Hellcat today!