The 2023 Chrysler Pacifica Hybrid Is The Pinnacle Of Comfort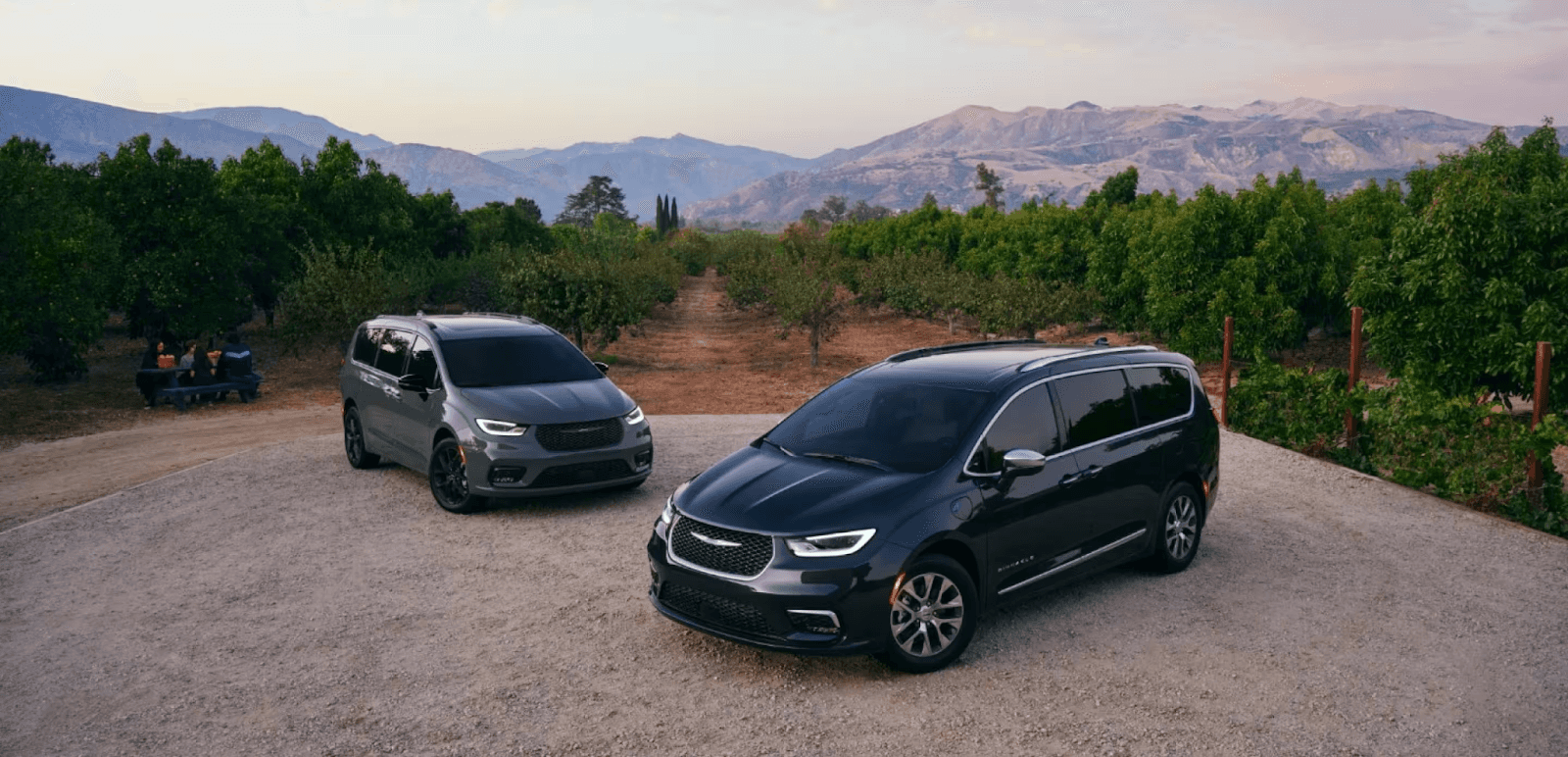 The Chrysler Pacifica Hybrid stands as a pioneering figure in the world of hybrid minivans. While other brands have ventured into the realm of hybrid minivans, the Pacifica remains the sole plug-in hybrid in its class. For families seeking an exceptional vehicle, the Pacifica shines with its seven-seat configuration and third-row Stow 'N Go seats that ingeniously fold into the floor, delivering unparalleled cabin versatility.
Beyond its plug-in hybrid powertrain and adaptable interior, the Pacifica hybrid minivan brings forth a wealth of cutting-edge technology. It boasts remarkable safety features and an array of entertainment options to keep the kids engaged and content.
The Chrysler Pacifica Hybrid delivers:
Advanced Safety Features: Catering to the safety needs of families.

Exceptional Ride Quality: Ensuring a peaceful ride for even the fussiest of passengers.

Abundant Space: Ample room for a comfortable and practical minivan, suitable for family vacations and hardware store trips alike.
Let's delve deeper into the features that make the Pacifica hybrid minivan a standout choice.
Powered by a V-6 Hybrid with 32 Miles of All-Electric Driving
Every trim of the Chrysler Pacifica Hybrid boasts an impressive powertrain that pairs a V-6 engine with two electric motors. These electric motors draw power from a lithium-ion battery, allowing the hybrid Pacifica to achieve an impressive 32 miles of all-electric driving before consuming any gasoline. When the minivan is fully charged and has a full tank of gas, it can travel a remarkable 520 miles before requiring refueling.
Up to 140.5 Cubic Feet of Cargo Space in the Chrysler Hybrid
Families demand versatility, capability, and comfort from their minivans. The Chrysler Pacifica Hybrid delivers on these expectations with ample cargo space and rear seats that fold to accommodate plenty of gear. While the third-row seats fold into the floor in this hybrid minivan, the second-row seats must be removed to utilize the full 140.5 cubic feet of cargo room available.
Behind Third Row: 32.3 cubic feet

Behind Second Row: 87.5 cubic feet

Behind Front Row: 140.5 cubic feet
Though the Pacifica Hybrid accommodates seven seats and lacks the second-row Stow 'N Go feature found in the gas-only Pacifica, it compensates with more comfortable second-row seats, ideal for multiple adults or older children. All three rows offer ample space for adults and provide four complete sets of LATCH connectors for secure child seat installation—a noteworthy feature in this hybrid minivan.
This hybrid minivan not only boasts impressive fuel efficiency but also offers comfort, advanced tech, and abundant passenger and cargo space. Its distinction as the only plug-in hybrid minivan on the market sets it apart, delivering remarkable fuel economy and an impressive all-electric driving range.
The 2023 Chrysler Pacifica Hybrid Pinnacle Trim Makes Sense
The Pinnacle trim represents the pinnacle of luxury within the Pacifica hybrid lineup, with a higher price point that the added features can justify. Opting for the Pinnacle trim provides the Chrysler Pacifica with a range of enhancements, including retractable sunshades for the second and third rows, 18-inch polished alloy wheels with gray pockets, and second-row captain's chairs featuring lumbar pillows.
This trim level also introduces an Ultra console, a 115-volt outlet, and platinum chrome accents on the door handles, grille surround, and Stow 'n Place roof rack. At the Pinnacle trim level, the Pacifica hybrid boasts Caramel Nappa leather upholstery, complete with an eye-catching quilted pattern along the side bolsters.
Chrysler Pacifica Hybrid Top Features and Tech
Power liftgate and sliding doors

Hands-free power doors

Harman Kardon premium audio system

Wireless Apple CarPlay/Android Auto

FamCAM
The inclusion of FamCAM stands out, allowing you to monitor rear-seat passengers while driving. This feature proves especially helpful for parents with small children in rear-facing child seats. FamCAM comes standard with the Pinnacle trim and is available as an option for the other two Chrysler Pacifica Hybrid trims.
In essence, the Chrysler Pacifica Hybrid combines innovation, practicality, and luxury to create a hybrid minivan that caters to the needs of modern families, setting a high standard in its class.
Miami Lakes Chrysler
When the time comes to purchase the 2023 Chrysler Pacifica Hybrid, be sure to do it at Miami Lakes Automall. We carry a multitude of vehicles from the brand in several shapes and prices. Check out our online new car inventory to see all that we have in store, then chat with one of our representatives for more assistance.
Photo Source/Copyright: Chrysler