Every Reason To Adore The 2022 Chrysler Pacifica Hybrid – Miami Lakes Automall Chrysler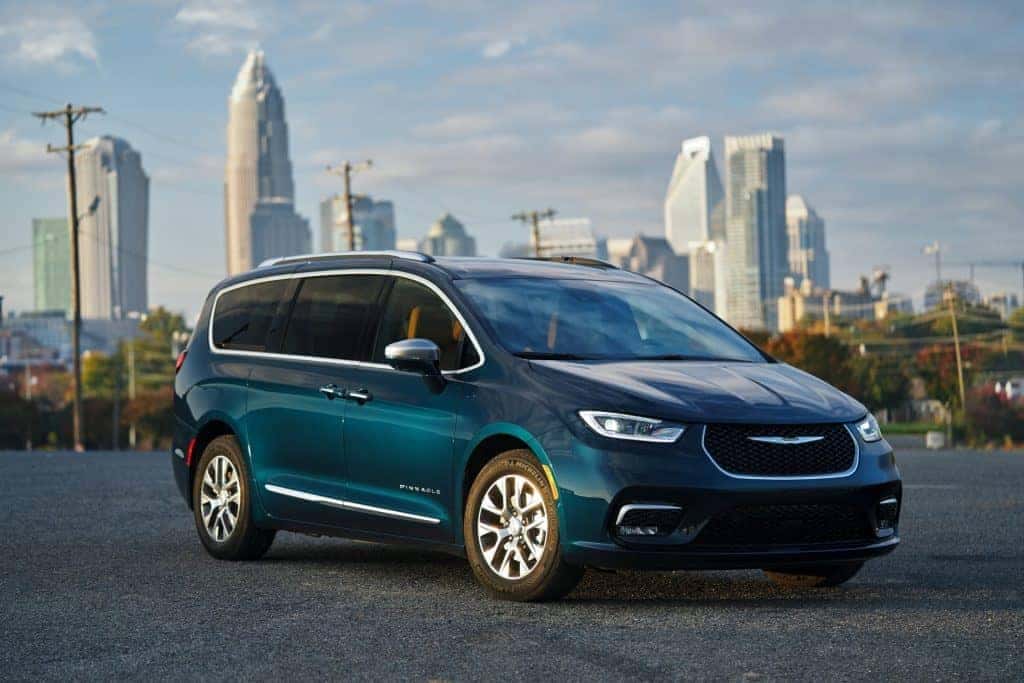 You can call the 2022 Chrysler Pacifica the author of determining what should be expected in a * premium minivan. This vehicle involves a 3.6-liter V6 engine and dual electric motors, which can be * utilized with an available all-wheel drive (AWD) system. On top of its ** eye-catching looks, it is pretty aware of its road manner, whether you're driving a short commute or a long-distance road trip.
Having a reputation for the most interior features in its segment, the Pacifica remains the reigning champ in this minivan regime. Here is Every Reason To Adore The 2022 Chrysler Pacifica Hybrid.
Sizableness
Be honest; there's a good chance you didn't opt for a minivan just for its features. Most shoppers in this segment are in desperate need of space, which the Pacifica and its Hybrid variant have plenty of. The cabin also lodges several compartments, storage areas, and slide-out bins.
Buyers can make room for seven people within the three rows. There's also an Easy Access feature that allows passengers to slide in and out of the third row by using the left of the lever. ** Furthermore, cargo space lengthens considerably by folding down the second and third-row seats.
Amazon Fire TV Compatibility
If you'd like to avoid the painfully consistent "Are we there yet question," the family-friendly car manufacturers have tacked on the entertainment features, starting with the available Amazon Fire TV feature. Through this technology, occupants can stream their preferred TV shows and movies through screens mounted on the rear seats.
Front-seat passengers have been included in the loop, as they can also revel in this feature as soon as the car is in the park.
Swanky Interior Design
The best way to illustrate the design of the interior is trendy with a refined twist. Of course, the overall quality depends on what trim level one selects, particularly with the higher ones, which ** include deluxe Nappa leather, quilted pillows, and distinctive accents. A suede headliner and Berber carpet crown are also involved in the Limited and Pinnacle models.
UConnect 5 Software
The Uconnect infotainment system is another essential part of Stellantis vehicles, with this year's Hybrid model involving the latest Uconnect 5. This new infotainment has built-in Amazon Alexa, Android Auto, Apple CarPlay, and even a wifi hotspot.
FamCam
Another prominent in-cabin technological feature is the FamCam camera. This system may be considered a gem for parents, as it allows one to keep an eye on their tiny tots in the rear seats via the front seat monitor; this can also be used for pet owners. So if your little critter, furry or not, has a bit of a troublesome streak, this monitoring system practically acts as the eyes in the back of your head.
Exceptional Safety Rating
Throughout the years, the Hybrid model has ** been given countless awards, and a large part of this reason is the wealth of safety features that it has, such as automated emergency braking, adaptive cruise control, lane-departure warning, blind-spot monitoring, rear cross-traffic alert, and pedestrian detection are all standard.
Even though the minivan hasn't been tested by the IIHS (Insurance Institute for Highway Safety), it has ** been given a "good" rating on all six crash tests. Meanwhile, it was given a five-star rating from the NHTSA (National Highway Traffic Safety Administration) this year (2022), with five stars for the side crash test and four for the rollover and frontal crash tests.
Environmentally Sound Powertrain
A positive attribute of the 2022 Pacifica Hybrid is its fuel efficiency, which is made possible ** due to the half-electric powertrain. The minivan can run on 32 miles of electric range, which is excellent for just a simple commute to the grocery store or a short errand.
This dual-setup of the V6 motor offers 30 mpg on the highway/city. When the electric motor runs, drivers can revel in an estimated 82 MPGe.
Power Sliding Doors
If you need a helping hand, you can count on the Pacifica Hybrid! The hands-free sliding doors are helpful when your hands are full, and all that's necessitated is to sway your foot beneath the door, activating it to open.
Using this same foot motion, one can open the liftgate. Moreover, the minivan has a Tri-Pane panoramic sunroof that brings one closer to the great outdoors.
Miami Lakes Chrysler
The 2022 Chrysler Pacifica Hybrid is everything one would want in an opulent minivan. Its conveniences cater to drivers and passengers and are nearly essential for families or those who want to save a bit on gas.
If you're interested in purchasing this vehicle or any other Chrysler model, look no further than Miami Lakes. We carry a wide range of vehicles from the brand, which you can easily find on our online new car inventory , and chat with a representative for further assistance.
Photo Source/Copyright: Stellantis Media
Previous Post The Chrysler 300 SRT8 Is A Vintage Gold Mine Next Post The 2023 Chrysler Pacifica Still Has New Tricks