Luke Bryan Chevy Suburban Concept For Huntin' and Fishin'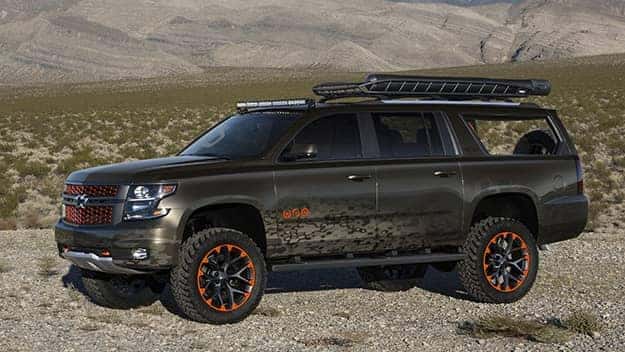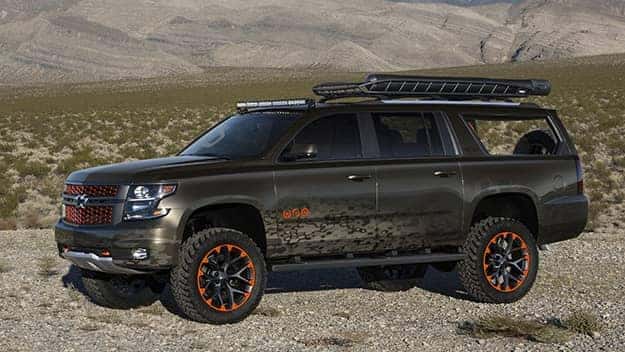 In the last few years Chevy has been partnering up with people and companies to create concept vehicles built for certain activities and lifestyles. Last year Chevy partnered up with Hurley, a surf company, to make the Colorado Z71 Hurley Concept, a concept specifically designed for surfers. At SEMA this year, Chevy introduced the Luke Bryan Suburban and it is designed for people that love country music, as well as fishing and hunting.
T he exterior of the vehicle has a couple features one might expect, like camouflage graphics and orange accents, on a truck built for hunting, and some features, like Huntin', Fishin;' and Lovin' Everyday exterior badges, that have never been seen on a vehicle before. The Luke Bryan Suburban also has bronze and dark carbon accents and a liftgate which has been re-engineered to swinger outward (not upward) according to _ One Country _ .
Since some of the best hunting spots are off the beaten path, the Luke Bryan Suburban concept has some features that make it a little more off-road capable. Off-road features include a lower skid plate extension and a six-inch lift suspension. The Suburban concept also has 22-inch wheels, dual tip exhaust, and a 8,000-pound towing capacity, which is plenty of weight to tow a boat for a fishing trip or a trailer full of four wheelers for hunting.
Love Luke Bryan, country music, and/or Chevy vehicles? Keep up with us at Miami Lakes Chevy on Facebook ! Looking for a new Chevy in Miami ? Check out our Miami Lakes Chevy Suburban inventory .
Photo Credit: The Drive
Previous Post Black Friday Specials: Chevy Silverado and 2018 Chevy Equinox Next Post 5 Affordable Ways to Protect your Truck Bed and More