General Motors Unveils Innovative Chevy Blazer EV Police Pursuit Vehicle in Latest Showcase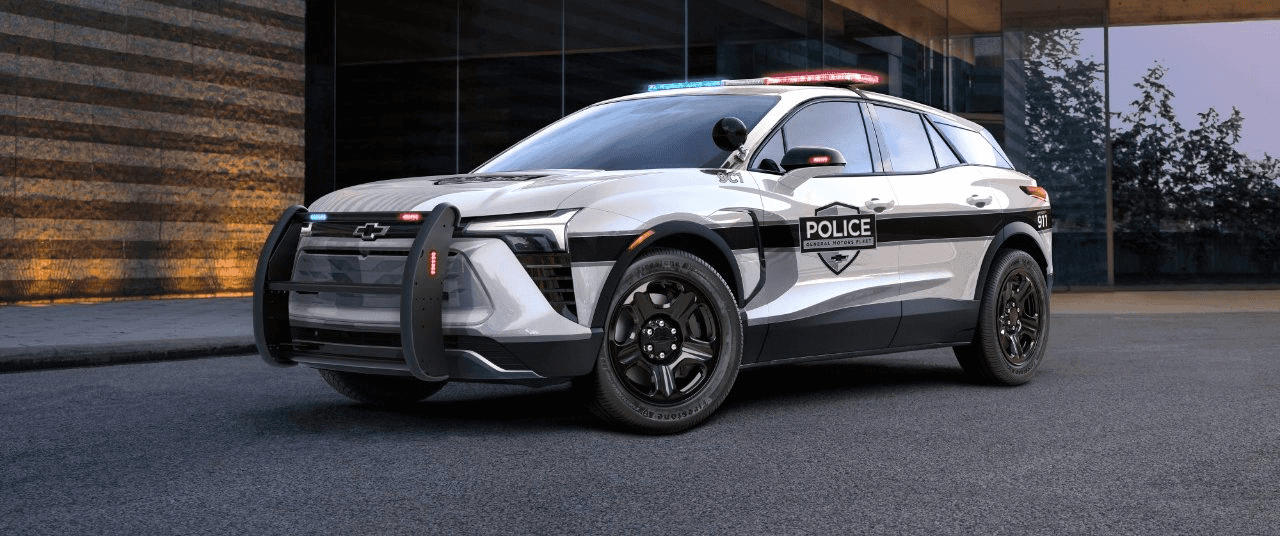 In a captivating new video presentation, General Motors introduces the groundbreaking 2024 Chevy Blazer EV Police Pursuit Vehicle (PPV). Infused with instantaneous torque, stealth capabilities, and exceptional performance attributes, the 2024 Chevy Blazer EV PPV has been meticulously engineered to handle a diverse range of demands.
A Glimpse at the Inaugural Chevy Blazer EV PPV Model
The illustrious Chevy Blazer, an emblematic SUV nameplate in the General Motors portfolio, is transitioning into the realm of electrification. Following a tantalizing preview at CES 2022, GM has officially taken the wraps off the Chevy Blazer EV this past July(2023).
While the electric Blazer adopts GM's contemporary design language, any parallels with its gasoline-powered counterpart conclude there.
Built upon the cutting-edge Ultium platform, GM has elevated the Blazer with a fusion of modern design, performance enhancements, and state-of-the-art technology. Initial announcements indicated that the Blazer EV would be offered in four trims: 1LT, 2LT, SS, and RS variants, along with a specially designed Police Pursuit Vehicle (PPV) edition.
In July (2023), an exclusive glimpse of the Chevy Blazer EV PPV was granted during the model's unveiling. GM communicated that the law enforcement-rated EV would be rooted in the performance-oriented "SS" model, incorporating the largest Ultium battery within its lineup.
GM's dedicated fleet management entity, "GM Envolve," has unveiled a new video, offering an up-close exploration of the distinct attributes anticipated from the Police-rated Blazer EV.
Distinguished by an array of law enforcement-specific features, the Chevy Blazer EV PPV encompasses certified speedometer calibration, a robust suspension system, underbody skid protection, and 20-inch steel wheels.
Propelled by a 400V all-wheel-drive system, the electric Blazer wields a commanding power output of up to 498 hp and an astounding 531 lb-ft of immediate torque. Facilitated by the Ultium platform, this configuration ensures optimal weight distribution and a lowered center of gravity, fostering a dynamic driving experience tailored to the exigencies of law enforcement.
Energized by a 105 kWh battery pack, the electric Blazer PPV boasts a GM-estimated range of 250 miles while accommodating traditional emergency equipment needs.
Chevrolet has thoughtfully incorporated an array of features to simplify law enforcement routines, including keyless entry and contactless ignition. Upon sensing the presence of the key fob, the vehicle initiates seamlessly. Meanwhile, should the key fob move away, the Blazer effortlessly transitions into "Protected Idle" mode, remaining powered and unlocked to facilitate rapid responses.
Within the interiors, the police-tailored Blazer EV showcases a selection of standard amenities, such as a rear camera mirror and optional disabled rear door handles, among others.
Facilitating convenience, the Blazer EV PPV embraces 400V DC fast charging, allowing a swift addition of up to 71 miles of range within a mere 10 minutes or a remarkable 141 miles in approximately half an hour.
Chevrolet has recently disclosed the finalized pricing and range specifics for various Blazer EV trims. Commencing at $56,715*, the 2LT AWD variant provides an estimated range of 279 miles. Meanwhile, the RS AWD and RS RWD versions start at $60,215* and $61,790*, delivering 279 miles and GM-estimated 320 miles of range, respectively.
Anticipating an imminent launch, Chevrolet projects that the Chevy Blazer RS AWD will debut this summer, followed by the RS RWD and 2LT AWD editions, poised to commence production during the ensuing fall season.
Miami Lakes Chevrolet
If you're interested in a Chevy Blazer of your own, check out our online new car inventory on our dealership website, Miami Lakes Automall. Once you find something to your liking, chat with one of our representatives for more information.
Photo Source/Copyright: Chevrolet Pressroom
* Plus destination fee