2019 Chevy Silverado – More options Than a Swiss Army Knife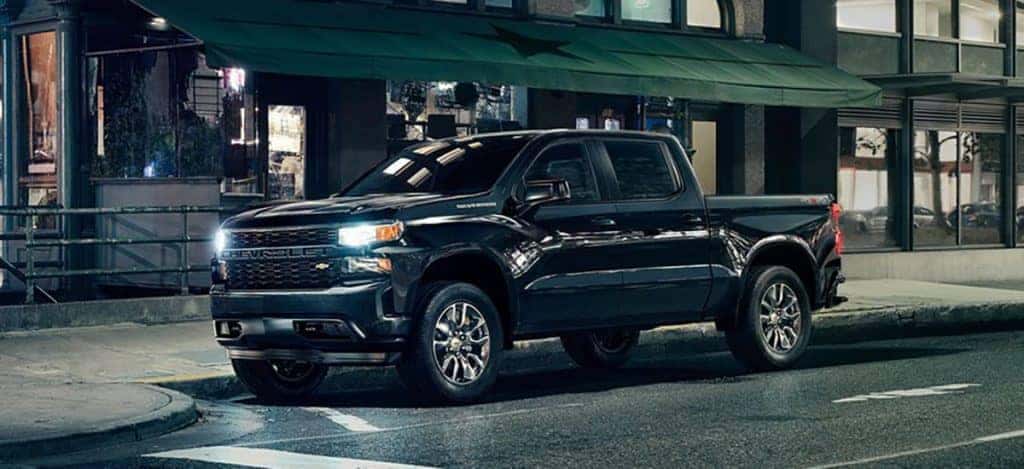 Photo credit: Chevy
The latest generation Chevrolet Silverado has taken the pickup industry and turned it on its head. Not many trucks can hold a candle to the 2019 Chevy Silverado, simply due to the innovation and high performance that makes this all-new Silverado as good as it gets. With six powertrains and a total of eight trims, customers are provided with a bevy of choices. Customers will love the fact that each engine, with the exception of the 3.0-Liter Diesel Inline-6, stocks a fuel management system to provide better fuel efficiency. This includes the all-new 2.7-Liter turbocharged four-cylinder engine, which provides upgraded performance and gas mileage. We'll get into all the nice, new details of this remarkable new generation Silverado pickup below.
More on the Silverado Options – Including 2019 Silverado Trim
The various trims go as follows: Work Truck, Custom, Custom Trail Boss, LT, RST, LT Trail Boss, LTZ and High Country. The latest 2019 Silverado 1500 will include a lighter, yet bigger and longer pickup size. The wheelbase is 3.9 inches longer than the 2018 Silverado and the overall length exactly 1.6 inches longer. So does bigger mean better? If a driver is looking for more legroom than yes! The rear-seat in the four-door crew cab has grown from 40.9 inches to 43.8 inches. Customers can also expect to haul more with every 2019 Silverado gaining a larger truck bed, nearly seven inches of extra floor width, and the available power-operated tailgate is a great new feature. The bed floor is also 1.5 times stronger than the 2018 Silverado. While those features are phenomenal, we're most impressed by the addition of new powertrain options available in the 2019 Chevy Silverado.
Which Engines Are Returning?
Chevrolet includes the 4.3-Liter V6, 5.3-Liter V8 with Active Fuel Management (AFM), the 6.2-Liter V8 and lastly, the 3.0-Liter turbocharged diesel inline-six. Added are the new 5.3-Liter V8 with Dynamic Fuel Management (DFM) and the aforementioned 2.7-Liter engine. The 2.7-Liter turbocharged engine will provide drivers with 310 horsepower and 348 lb-ft of torque. All engines are paired with the choice of three available transmissions, ranging from six-, eight- and 10-speed automatic transmissions.
Not every trim can include each powertrain or transmission option of course. The new 2.7-Liter turbocharged engine and 5.3-Liter V8 with DFM is available only with the 10-speed automatic. Dynamic Fuel Management debuts in this all-new Silverado and provides drivers with engine technology that cuts off fuel consumption to certain cylinders when a driver is coasting and not actively accelerating forward. The expected MPG for the powertrain options with DFM is 17 city and 23 highway mpg.
Final Thoughts on the All-New Silverado
There's something for everyone in the new generation Silverado. After shaving off 450 pounds from the previous model by losing 88 pounds off the frame and 88 pounds from the body and the added lighter material throughout, the lighter Silverado handles as well as ever. Redefining this vehicle is the aerodynamic efficiency, improving 7 percent overall with a steeper windshield and roof spoiler. Overall, the improvements Chevrolet has placed into this all-new 2019 Silverado have made this pickup impressive as any new light-duty truck on the market. The competition has to look out for this one, especially since the starting price will be just $29,795 MSRP (Plus destination).
Drive a New Chevy Today
If you want to drive a Chevy vehicle , we would love to show off with a test-drive just how amazing they can be at Miami Lakes Automall . Our friendly team is ready to assist you with any buying, leasing or trade-in offers. Let us be your guide to help you drive away happy.
* If you're in need of any maintenance work or repairs to your current vehicle, we'll happily help you out. Our professional service team is ready to bring your vehicle back to life and keep it running smoothly. Stop by today for all your automotive needs, even if you haven't shopped with us before. We hope to see you soon! *
Previous Post Update: The Chevrolet Blazer – Don't Call it a Comeback Next Post Hot Wheels is Alive and Well