HMG and Kia Sign New Memorandum to Produce Green Hydrogen from Food Waste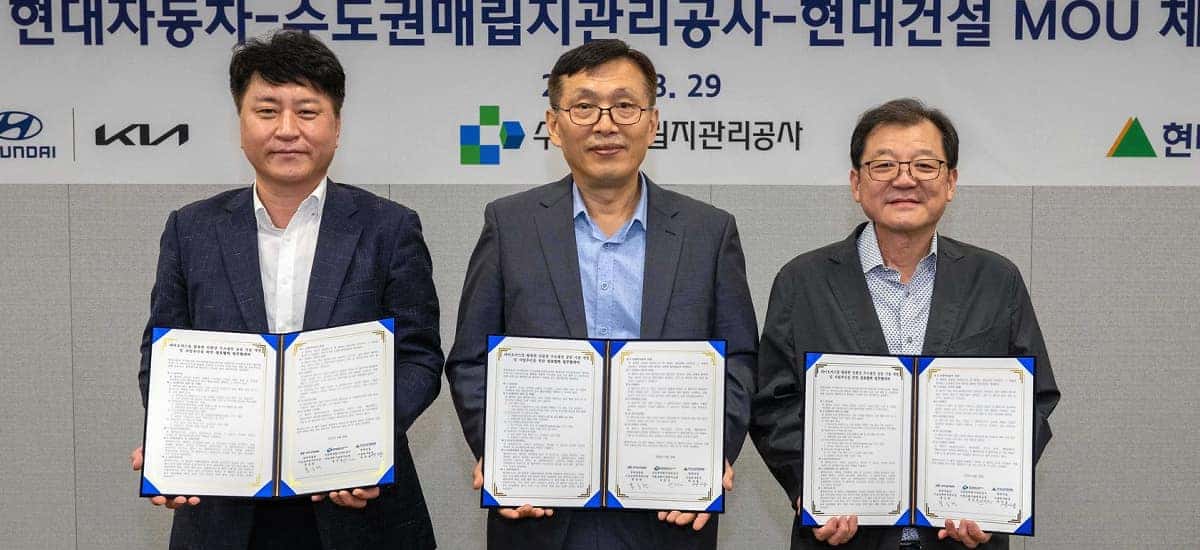 Even in the midst of the auto industry shifting towards battery-electric vehicles (BEVs) and autonomous self-driving cars, there are two other avenues that aren't blowing up just yet. They are known as purpose-built vehicles (BEVs) and hydrogen fuel cell vehicles (HFCVs). The Hyundai Motor Group (HMG) (parent group of the Kia Corporation) and Kia have been working on the latter for some time now. Kia even has its own hydrogen-powered vehicle coming up to match the HFCV in the Hyundai lineup. Announcing Hydrogen Vision 2040, both automakers have been joining together to sign agreements with third-party companies to make HFCVs the next big thing. The latest agreement is between HMG/Kia and the Sudokwon Landfill Site Management Corporation (SL Corp.).
"Through this agreement, we intend to conduct in-depth research and demonstrate resource-circulating energy technologies to achieve carbon neutrality…We are committed to leading the industry as a global carbon neutrality leader by developing high value-added technologies, such as e-fuel and renewable plastic interior materials production, in the future." – Seung Hyun Hong, Head of Materials Research and Engineering Center at Hyundai Motor and Kia
The SL Corp is an organization that places on focus on the proper treatment and recycling of energy from food waste to not only help the ecosystem but generate renewable energy sources from waste materials, essentially the 'waste-to-energy' concept of hydrogen production. America is one country that wastes a lot of food, whether in a grocery store or a food chain – Dunkin Donuts throws all day-old baked goods away at the end of the night instead of donating them to a shelter, for example. The SL Corp isn't having it and applies amassed waste collection techniques to produce methane as fuel to drive power generators.
What does methane have to do with hydrogen? The chemical formula for methane is three hydrogen molecules and one carbon molecule. Like electrolysis, which separates the hydrogen molecules from water, or H2O. With a process called the catalytic reaction process, scientists can change a compound on an atomic level and basically change its properties. Hyundai Motor and Kia are currently working on designing an integrated system for the catalytic reaction process to take the biogas (methane) the SL Corp produces and turn it into more hydrogen. Under the new agreement, this would result in producing 216 kilograms of green hydrogen per day over the next two years. It may not sound like a lot, but it's enough to power more than 34 units of NEXO, Hyundai Motor's HFCV.
A multi-part agreement, alongside using the biogas from SL Corp to further HFCV production, Hyundai E&C will be in charge of developing gas selection separation technology, such as the system for the catalytic process, for hydrogen production process. Simultaneously, the SL Corp. will study biogas pretreatment technology and provide research sites and facilities for HMG/Kia to utilize. On the other hand, HMG/Kia is working towards its ultimate carbon neutrality goal by researching other renewable synthetic fuel (e-fuel) production technologies to eventually generating renewable plastic materials by synthesizing clean hydrogen and carbon monoxide.