5 Reasons to Buy a Jeep Wrangler Unlimited | Jeep Dealer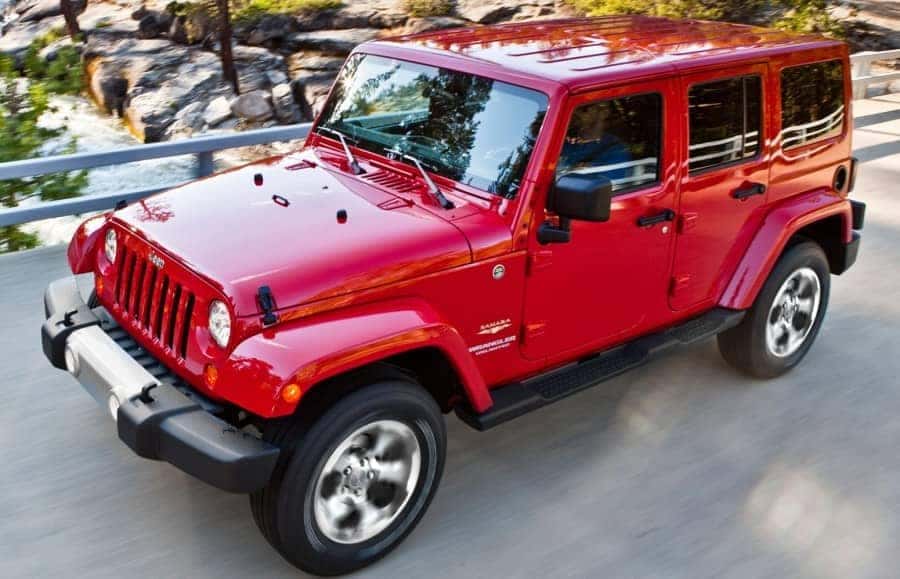 The Wrangler Unlimited is the king of off-roading. It boasts an upscale, highly adaptable interior while consistently demonstrating why it's worthy of wearing Jeep's Trail Rated badge.
Like the other models at your local Jeep dealer , the Unlimited doesn't notice boundaries; it's only focuses on the possibilities.
Open Up
With the Wrangler Unlimited , you get to choose from four different roof options: no top, hardtop, soft top, or color top. Whichever way you go, you can open up to the fresh air and enjoy the ride.
The Wrangler is also the only car in the world that gives you the option to remove your doors. That unique feature allows you to be as close to the outdoors as possible when you hit the trails.
Extra Cargo Space
The Unlimited offers an impressive amount of space for luggage or gear and an additional bin beneath the rear cargo area for storage.
The 60/40 split rear seats fold flat, giving you even more room to play with if you're packing for a serious trip.
Excellent Towing Capacity
We all know that Jeeps are for adventures, and if you're going on a road trip, you may want to take your motorcycle or trailer with you.
The Unlimited can handle up to 3,500 pounds of weight, opening up all kinds of opportunities. Its max capacity is 2,000 pounds greater than the standard Wrangler, so it's probably the model to go with if you're looking to tow.
You can also get the optional Trailer Sway Control for added safety when you're hauling. It kicks in automatically whenever it senses that assistance is needed.
Premium Interior
Comfort and refinement make this Jeep as impressively plush as it is athletic. From high quality, embroidered cloth seats, to a state-of-the-art Uconnect infotainment system, to a top-of-the-line sound system, the Unlimited is laden with stellar features.
But that doesn't make it any less ready for a challenge. The cabin is still constructed with tough, washable materials. And you'll still find drain plugs so you can get things good and dirty and then wash it right out.
Sharp Jeep Looks
The Unlimited has the iconic Jeep grille, round headlights, clean lines, and overall muscly appearance. Though its looks are utilitarian for sure, this four-door has a level of class that's hard to describe.
The latest fads in futuristic styling fade in and out, but the Unlimited's exterior is based on years of Jeep heritage, and that's lasting.
Previous Post How to Conserve Fuel in Your Jeep Next Post 10 Things to Keep in Your Jeep