The Complete History of GM's EV1 Electric Car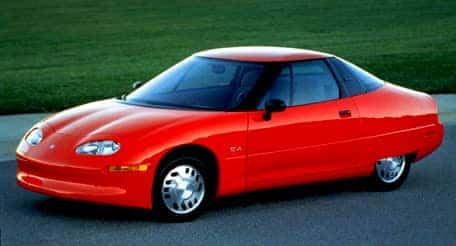 The story of GM's EV1 electric car boils down to an epic engineering feat overshadowed by a PR disaster.
The EV1 presented the automotive industry with an all-electric beauty. Its limited release meant it never appeared at any Chevy Dealers in Miami ; however, automotive experts are already scanning the horizon in hopes of a revamped re-release.
Beloved by those lucky enough to lease it, the ultimate recall of the EV1s in 1997 was a business move, arguably unavoidable. But EV1 enthusiasts took it personally and GM was vilified as the company that killed the electric car. * *
The Beginning: A Very Good Place to Start
The Problem
In the 1990's, California was in danger of losing its federal highway funds if it failed to satisfy the air quality requirements outlined in the 1990 revised Clean Air Act. The zero-emissions-vehicle mandate proposed that by 1998, 2% of California-sold cars would be zero-emission, increasing to 5% by 2001, and 10% by 2003.
The Players
Rick Wagoner, then GM CEO, partnered with AeroVironment CEO, Paul MacCready, who had designed the first human-powered aircraft to cross the English Channel and set about creating an aerodynamic electric car.
GM chief designer, Dennis Little, and lead designer, Mark Karki, were tasked with harnessing the aerodynamics of MacCready's flying machine into a car.
The Product
The result was a fully-electric, battery-powered, emissions-free, two-seater car. More than a car, according to one lessee in a letter to Wagoner, but "a path to national salvation."
Weather concerns, regarding the battery, geographically restricted its release to drivers in California and Arizona, and only 1,100 were available on a lease-basis only.
Lease options ranged from $250-500 per month, a steep fee that some believe GM thought would help offset its astronomical production costs. No such luck, which made the EV1 a car for the elite, not the everyman.
But the elite loved it and waiting lists for the EV1 grew longer. Surely a good sign for its future…or so it seemed.
The Bottom Drops Out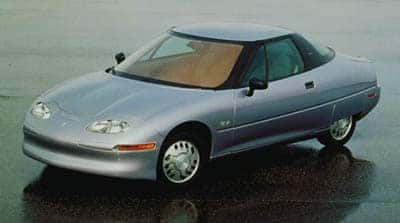 How does a waitlisted engineering triumph, beloved by environmentally-conscious, cash-laden celebrities, ultimately and literally end up crushed?
Because, as Mark Twain said, "The lack of money is the root of all evil."
Huh? Celebrities? Lack of money? This doesn't add up.
Well, it did for GM.
Consider the astronomical expense of manufacturing the EV1: the development cost alone was estimated at $340,000 per car, followed by the piece or marginal cost, which was estimated in 1992 at $16,000-18,000 per car. Half of those figures went toward the propulsion system alone.
In order to turn a profit, GM would need to sell the electric car somewhere in the range of $50,000-60,000. No matter how exemplary this electric car was, sales at that price would have been minimal.
Even exemplary automotive machines have their issues and the EV1 was no exception.
In addition to the heart-stopping production costs, the battery technology in the EV1 was just not ready to meet the demands of its consumers and certainly nowhere near poised to replace the internal-combustion, piston-powered engines.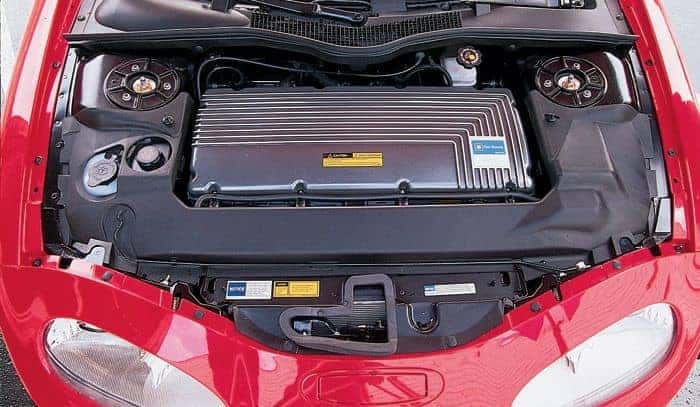 Additional limitations included it size and competing technologies shortened the EV1's lifespan.
Clearly a two-seater car is impractical for families, and with its hotly contested charge range (estimates range from 50-100 miles), this car was intended for commuting short distances. This car was in no way roadtrip-ready.
Of course, no one said it had to be. But competitors, like Tesla, boasted an all-electric car with a battery capable of going 265 miles before recharging. Tesla backed up this brag with a sticker price galaxies higher than the EV1. But, the point here is that the technology in the EV1 was lacking, overall.
Good-looking and fast, the batteries weighed down the EV1, making the handling feel wonky.
Perhaps more so than any other reason, the emergence of gas-electric hybrids, for example, the Toyota Prius, sounded the death knell for the EV1. Unlike purely electric cars, hybrids are able to recharge their batteries while en route, eliminating the reliance on plug-in availability.
Business, Not Pleasure

Michael Corelione of The Godfather series, played by Al Pacino, is famous for saying, "It's not personal…it's strictly business."
Sorry, Don, that's just not how the lessees saw it.
In fact, reaction to GM's EV1 recall in 2003 can only be described as outrage. Not only were the current lessees furious by the prospect of handing over their electric joys, the design team, known as EV specialists lobbied to keep the EV1 in production and individual lessees attempted to file court orders to keep their cars.
Candlelit vigils were held in honor of the EV1 and in protest of GM's refusal to budge on its decision to end production.
The emotionality associated with a discontinued product was unlike anything seen before, and culminated in a mock funeral on July 24, 2003, in Los Angeles' iconic Hollywood Forever Cemetery, complete with bagpipes and mourners.
Among the mourners were a few celebrities, including: Ed Begley, Jr. (Six Feet Under), Peter Horton (thirtysomething), Hart Bochner (Die Hard), Alexandra Paul (Baywatch), as well as a members of the original EV1 design team, and environmentalists from organizations, such as the Earth Communications Office, Coalition for Clean Air, and the Sierra Club.
Adding Insult to Injury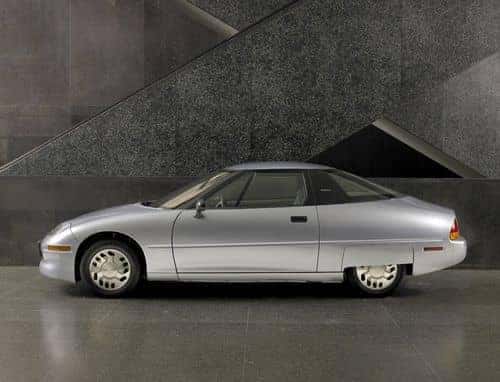 Amid lingering confusion over the recall, GM once again shocked and angered EV1 enthusiasts by implementing a "recycling program," meaning the recalled vehicles were taken to Arizona and crushed. This cemented GM's reputation as the company that killed the electric car.
Even Tesla's own Elon Musk was confused by GM's move, given the estimated $700,000,000 that GM invested in pursuit of its own all-electric car.
According to Jill Banazynski, the manager of the EV1 donation program, only 40 of the cars were preserved. Of those, most were sent to museums and institutions, while GM kept a few, presumably (hopefully?) for future research.
As of March 2005, the National Museum of American History (NMAH) has the only complete, fully intact EV1 model. Authenticity is a collection requirement so a single EV1 resides there, safe and sound, but likely never to be seen again.
However, Paul MacCready, in a speech at the EV1 funeral, changed up the mournful tone of the event, by saying: "It's a time for rejoicing…There will be more electric vehicles in the future, and it's all because of the EV1."
The question then becomes, can GM reinvent its reputation?
According to documentary filmmaker, Chris Paine, (2006, Who Killed the Electric Car ?), "California politicians and automakers get the credit for creating these magnificent cars, but they also get the blame for killing them when they are needed most."
Moving beyond the blame game and learning from past mistakes might be GM's only hope of resuscitating its electric pulse.
Previous Post Chevy Shows Off Futuristic Self-Driving EV at Shanghai Auto Show Next Post Chevy Accelerates Development on Bolt