Chevy and DoSomething.org Partnership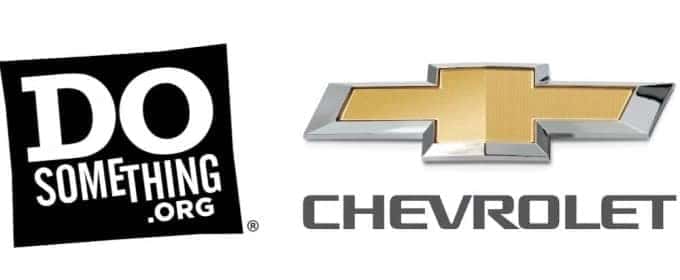 Photo credit: DoSomething.org
Chevrolet has partnered with DoSomething.org in a campaign to help teen drivers and promote friendship, safety when driving and making better driving habits among the youth. In a promotional public service announcement video, "Brake It Down", the partnership offers safety tips for young drivers in the form of a short quiz. The results from the quiz can be shared with all questions are formed around their friends, their driving habits and on-road mannerisms. We encourage all of our own readers to try the quiz and share with any young people they know that have started driving. The quiz by DoSomething.Org will be live through September 15.
What's on the quiz? Made for young drivers about their friends, their friends music tastes and favorite foods, the driving habits of their friends and how strong of friends they are. Various other questions are gathered into this quiz that hopes to encourage young people and young drivers to pay greater attention to their surrounding; especially when they are driving.
" Traffic crashes are a leading cause of death for young people in the US. No surprise, research shows that warnings from parents and scare tactics from ads are not enough. [Do you] Know what works? Peer-to-peer intervention! That's why we're thrilled to partner with Chevrolet on 'Brake It Down.' This campaign engages young people to be part of the solution instead of talking down to them," says Aria Finger, CEO of DoSomething.org.
The remarkable campaign using the help of acting talent David Mazouz, known for playing young Bruce Wayne on Fox's Gotham. The partnership with DoSomething.org, Mazouz and Chevy showcase various teen driver stereotypes, like drivers who are on the phone while driving and drivers that like to speed extra fast. This showcases what to do and what not to do when driving with other teens. Friends will be able to see and relate to the actor and accept the message with the help of the quiz.
Mazouz ends the public service announcement with a message to text BRAKE to 38383. By sharing their customized safe driving tips with friends, they join the contest that has a prize of a $5,000 scholarship from Chevrolet and DoSomething. Chevrolet has previously partnered with DoSomething.org for several years to encourage seat belt usage among teenagers to great success. This is just one of the ways that Chevy has gone the extra mile to help promote safe teen drivers.
More on the Efforts By Chevy and DoSomething.org
Chevy hopes to promote safer and wiser drivers in the future and this continued partnership is one of the many ways Chevy aims to make this possible. DoSomething.org is a program committed to helping mobilize young people in every US area code and in 131 countries to promote change in their community. From helping to clean areas, including 3.7 million cigarette butts, to helping cloth half of America's homeless youth, and running the largest youth-led sports equipment drive every year. These are only some of the remarkable efforts done by DoSomething.org. Together Chevy and DoSomething.org are helping lead the nation in ways to have the safest roads and teen drivers possible.
Looking To Find a Vehicle For Your Teen Driver?
We have plenty of pre-owned vehicles that will help any teen driver get accustomed to driving. Visit us at Miami Lakes Automall to find, buy, lease or sell your vehicle. We also accept trade-in offers and can help finance your choice with help from our financing department . This is an exciting moment for your teen! Let them test-drive with us today.
* If you need servicing or any repairs on your vehicle, now or in the future, we'll be here. Even if you didn't shop with us. With a simple appointment , we can help you out soon. Stop by Miami Lakes Automall for the total experience! *
Previous Post Hot Wheels is Alive and Well Next Post 2019 Chevy Express: Get One Before It's Gone