The Kia Optima Hybrid: Sporty Sedan Efficiency
The Kia Optima Hybrid: Sporty Sedan Efficiency
Seeing your favorite car brand get a major upgrade is always exciting. While many updated models feature all kinds of new amenities and improved performance features, there's also a concerted effort to maintain a consistent style throughout a model line - meaning more of what you want without having to give up the elements that you loved to begin with. And among those, few make us quite as excited as the improvements made to the 2016 Kia Optima with the release of the 2016 Kia Optima Hybrid.
Upgraded to be even more efficient, more aerodynamic, and fully outfitted with all the amenities an Optima driver might ever need, the Optima Hybrid opens the door to a whole new age of advanced Kia vehicles, which certainly excited us and, we assume, the rest of the Kia-lovers out there when it comes to advancing the cause for more efficient vehicles. For those drivers looking to cut out their harmful carbon emissions, nothing beats a hybrid Kia in Miami.
Interested in seeing how this fuel-saving system adds to the power of the Optima? Here's a quick look at some of the best features available on the new Optima hybrid, and why this might just be the efficient, sporty sedan you've been looking for all along.
An Efficient Hybrid Motor
With gas prices always on the rise and everybody concerned over climate change and carbon output, people seem more and more interested in the hybrid options out there today. Many drivers, however, find these models relatively disappointing when it comes to providing power under the pedals, and this has driven many to give hybrid vehicles a bad reputation when it comes to pickup and handling. The Kia Optima Hybrid, however, plans to change just that.
With an impressive 270-volt lithium-ion battery powering the electric motor, all mated to a powerful 2.4L 4-cylinder engine, the Optima Hybrid can pump out an outstanding 199 horsepower and 235lb.-ft. of torque for an all-around thrilling ride in any conditions. The system works by drawing all power from the lithium-ion battery during startup and light driving, while only activating the gas engine during periods of high acceleration. While cruising, the Optima Hybrid maintains efficiency by using only the gas engine at low RPMs, while regenerative braking technology helps recharge the electric motor as the vehicle slows down or brakes. The kinetic energy from the rotating tires is recaptured and stored for later use in the lithium-ion battery, meaning more power for you later on down the road and less frequent stops at the pump in the long run.
When functioning as it should, the Optima Hybrid can pump out an incredible 36 mpg city and 40 mpg highway for a whopping 38 mpg combined - all without sacrificing the power that we all love so much on the road. In the age of rising gas prices and worries over smog output, this system offers a real solution to a very present problem - and manages to delight drivers in the process; we'd call that a victory for the hybrid model.
Stylish, Aerodynamic Design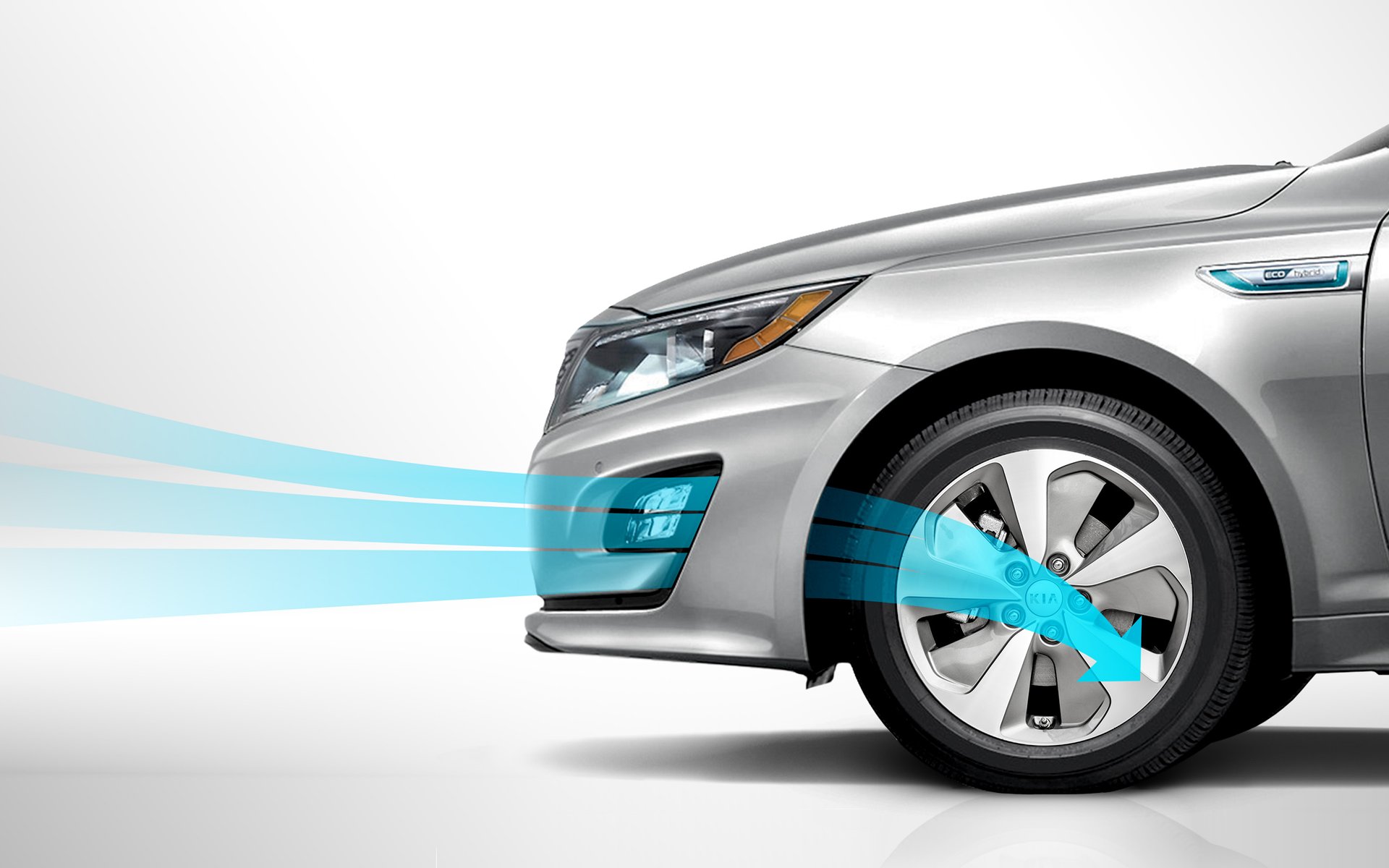 Of course, what good is an efficient engine if it's constantly battling heavy drag? That's why Kia designed the Optima Hybrid with efficiency in mind right from the start, making adjustments and upgrades wherever possible to boost aerodynamics and reduce drag as much as possible.
The Optima Hybrid features specially-designed air pockets on the front fascia to scoop air and redirect it in an efficient way, thereby reducing the force of drag as the Optima zips over the road, improving fuel economy while cruising. By venting air around the engine block and wheels, the Optima also manages to boost efficiency thanks to a steady supply of cool air to the motors, meaning less wear and tear for your Optima's inner workings and better fuel economy from a cooler engine.
Of course, while Kia focused on aerodynamic design from the beginning this was never meant to take the place of trying to make the Optima Hybrid as stylish as possible - and with bold lines curving gracefully along the length of this hybrid, we're confident in saying the Kia was able to do just that. Not only does this model retain the strong, flowing design of the original Optima but it also manages to throw in a few premium amenities, including High-Intensity Discharge (HID) headlamps, available fog lights for rough conditions, and LED taillights to leave a distinctive mark on everyone else you'll pass by on the road. These all come together to give the Optima Hybrid an unmistakably sleek style to match its highly efficient performance.
Outfitted For The Modern Driver
Of course, what good is a modern vehicle if it doesn't have all the great amenities and connectivity features that make the 21st century so amazing? Kia knows this, and that's why they've chosen to outfit the Kia Optima Hybrid with some of the most impressive safety, entertainment, and convenience tech around. With all these impressive features connected to an efficient hybrid engine, the Optima Hybrid may just be the perfect car for the forward-thinking consumer.
If you're content relaxing in your Optima Hybrid's optional white leather interior - with white leather upholstery and leather accents on the dash and side panels - and are looking for an easy way to get comfortable, you're in luck - the front seats come with a ventilation option, and front and rear seats can all come heated to keep everyone warm no matter the weather.
Whether you're blasting your favorite MP3, CD, radio, or streaming audio, you're sure to enjoy the excellent sound quality through the available 8-speaker Infinity Premium Audio sound system on any drive. Plus, with additional features like a push-button start, an electronic parking brake, and safety tech like a backup warning, blind spot detection, and Rear Cross Traffic alert all available on the Optima Hybrid, you're as safe as can be on the road with no worries about hurting your passengers or your precious hybrid vehicle.
So there you have it - the Kia Optima Hybrid offers easily one of the best, most efficient rides around. Starting at only $25,995, it's plenty affordable, too. So get on out there and see what you're missing in this great hybrid vehicle - the future is waiting.